Event Information
Location
https://zoom.us/j/631775427?pwd=aGt2bUwrU0JKQWsrN0htVEIvVjVvQT09
NSW
Australia
Description
In 2019 the Australian Government announced funding for the implementation of an Australian Farm Biodiversity Scheme to be developed and led by the National Farmers' Federation (NFF). As part of the Agriculture Stewardship Package, the aim of the scheme is to reward farmers for managing biodiversity on farm through market-based mechanisms and thus enable the continued provision of natural capital benefits to the wider community.
The Australian Farm Institute (AFI) has been appointed to conduct Phase 1 of the Scheme, focused on desktop and consultative research, reviewing international best practice management standards for relevant agricultural biodiversity programs. The project for this phase will assess commonalities in existing methods and determine their potential applicability in Australian agricultural systems, and these findings will then underpin the practical development and trial of biodiversity market mechanisms to be developed in phases 2 and 3.
An integral part of Phase 1 is a series of consultative online forums held between March and May to identify critical success factors that will be required for implementation of biodiversity schemes in Australia.
Date and time
Location
https://zoom.us/j/631775427?pwd=aGt2bUwrU0JKQWsrN0htVEIvVjVvQT09
NSW
Australia
Organiser of GRAINS FORUM: Farm Biodiversity Certification Scheme Trial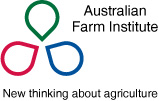 The AFI conducts independent research into public policy issues impacting on the Australian farm sector and promotes policy solutions that maximise the economic and social wellbeing of farmers and the agricultural sector.