Description
"Farm Animal Rescue are delighted to present a unique opportunity to learn about gourmet vegan cooking from Michelin-star rated Executive Chef Alejandro Cancino."
Not only is Alejandro a celebrated chef, he is a friendly guy with a great sense of humour. This cooking demonstration will be both inciteful and enjoyable, as Alejandro takes you on a taste and texture journey that is unique and personal.
Alejandro creates meals that abound with mystical and unique flavors. This event is a must for anybody who wants to create vegan magic in their kitchen. This is an unprecedented event, Alejandro and his staff will show you how to create gourmet yet simple vegan dishes to wow not only yourself but your friends and family.
Your ticket includes the 2 hour cooking demonstration with Alejandro, a welcome glass of wine and a four course lunch of magical flavours dancing on your tongue.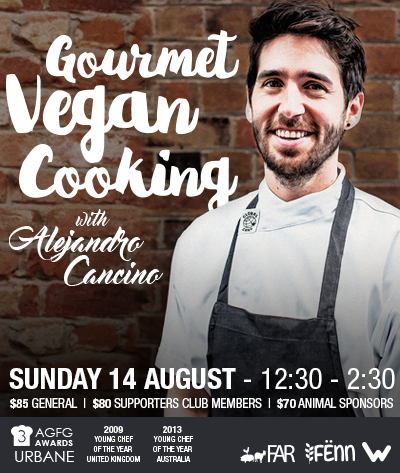 When : Sunday 14th August 12.30-2.30pm
Where: Wandering Cooks - 1 Fish Lane South Brisbane (Cnr of Fish Lane and Cordelia)
Concessional ticket prices are available for animal sponsors and Supporters Club participants.
For more information please email carol@farmanimalrescue.org.au