Description
---
Please note this is a government event, and only open to public service employees.
Registration closes 6pm Monday 18th February.
Laptops are required. To ensure that training runs smoothly, please confirm that your laptop has access to Google before training.
---
A lot of information and free tutorials exist online about website analysis and Google Analytics.
These are largely designed to help businesses sell things rather than using website analysis for the simple sake of providing great online government services to everyday Australians.
GA360 training is targeted to digital professionals in government who analyse data as part of their role in policy, performance or business. If you use Google Analytics to track the use of your websites and have access to your accounts, this is for you.
Participants can come to one or all of the sessions below.
---
Thursday 21st February 2019
10:00am to 1:00pm - Custom Tracking in Google Tag Manager
Format: Interactive workshop, laptops essential
About: Google Tag Manager is the key to building custom Google Analytics tracking for websites. This hands-on interactive session walks you through setting up tracking for forms, buttons, and PDF downloads using repeatable methods that you can take away and use on your own agency websites.
Who should attend: Ideally, you'll have some experience with HTML and CSS, and an awareness of how stuff like Event Tracking appears in Google Analytics reports. You don't need to be a current GA360 customer, but you do need some knowledge of Google Analytics concepts in order to get the most out of this session.
Friday 22rd February 2019
10:00am to 12:00pm - Campaign Tracking in Google Analytics
Format: Presentation with exercises, laptops essential
About: Google Analytics is great at telling you where your traffic came from - or is it? This session explores how Google Analytics classifies traffic, and how you can get more control over how traffic appears in your Acquisition reports. Includes hands-on exercises with campaign naming, real-time testing, and formats for managing campaign links across multiple stakeholders.
Who should attend: Partly presenter-led, and partly hands-on, this session is designed for folk who already know their way around Google Analytics, and who want to get a better handle on their campaigns and communications. It goes without saying that you should be involved in running campaigns to get much out of this session, but otherwise you'll need an inquisitive mind and a willingness to see behind the curtain.
1:00pm to 4:30pm - Data Studio Workshop - Building a Dashboard
Format: Play-along, laptops essential
About: Google Data Studio is a free and full-featured dashboard design tool from Google. It plugs directly into your Google Analytics account, and gives you free reign in how data is displayed, visualised, and classified. This follow-along session walks you through connecting your own data sources to Data Studio, making adjustments to layout and design, and displaying data from multiple sources side-by-side.
Who should attend: This session is designed for folk who are comfortable with Google Analytics, particularly in metric and dimensions and where to find answers to questions in reports. If you want to speed up the efficiency of your reporting, or if you want your dashboards to look beautiful, then this session is for you.
---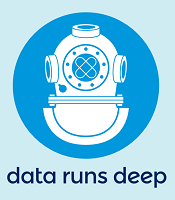 Data Runs Deep is all about chasing the spark. We love to help people to the point where they can see the insight behind the numbers, when they can see how data helps them paint a picture.
We do this with a world-class mix of strategy, implementation & analysis backed up by training and mentorship. We're proud of our approach to doing business which revolves around one simple principle: to be the nicest person that the person you're talking to has dealt with all day.