Description

PLEASE NOTE: ATTENDANCE LIMITED TO FIRST 35 PEOPLE WHO SECURE A TICKET HERE. YOU'RE WELCOME TO GIFT OR TRANSFER YOUR SPOT TO A FRIEND IF YOUR PLANS CHANGE. JUST LET US KNOW IN ADVANCE.
Join us for our 96th dinner at Molly and Steve's Hands On Gourmet in San Francisco's Dogpatch neighborhood.
Expect cocktails at 6:00 and our speaker around 6:45 with a family style feast introduced around 7:00, prepared by our professional chef. Wines will be thoughtfully paired with the menu.
ATTIRE: Attire is relaxed and informal.
About GOOD PEOPLE: Most of the enjoyment we gain from an experience has more to do with who we're with than what we're doing. Good People is about inspiration, community and friendships. Who are good people? They're our best selves, when we rise above tribalism and explore big ideas.
OUR SPEAKER: Bart Campolo:
Over three decades of Christian ministry, Bart became increasingly committed to building loving relationships, working for social justice and cultivating a sense of gratitude for the wonders of life. Now, as a community builder, counselor, podcaster, and humanist chaplain at the University of Southern California, he inspires and supports non-believers who are banding together to actively pursue goodness in an openly secular way.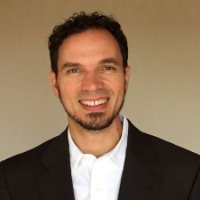 THE CHEF: Jesse Bloom is a chef and facilitator. He's the founder of Sacred Kitchen, a community that brings people together to cooperate in making food and sharing heartfelt connections.
THE MENU:
To Start:
You-Make-It Appetizer stations-
Lettuce Wraps with Sweet Chile and Homemade Peanut Sauce
Ahi Tuna Poke Bites
Mains:
Local Greens Salad with Sesame Chevre and an Asian Vin
Korean Style Braised Beef Korean Style Braised Tempeh (vegetarian option)
Furikake Sticky Rice
Ginger Mushrooms and Baby Bok Choy
To Finish:
Build Your Own-Peach Cobbler Bar-Served Family Style
Gingered Peaches with Homemade Whipped Cream and Waffle Crisps
If you're vegetarian or have other dietary needs or restrictions, please contact Raman at least 72 hours in advance.
Drinks at 6:00, dinner at 7:00. Though a cocktail and some wine will be provided, guests are welcome to bring a bottle of wine to share. Menu update coming soon to help you choose your bottles. We always make sure vegetarian friends will have plenty to eat. Please contact Raman if you have any other dietary restrictions.
If you are wondering how you were included in this invitation, or would like to be removed, please contact ramanfrey@gmail.com
To sign up for future events, please register at www.goodpeopledinners.com