Location
Centenary State High School.
1 Moolanda Street
Jindalee, QLD 4074
Australia
Join us for a combined 9:30am Good Friday Service at Centenary State High School, Jindalee!
About this event
The crowd gathered.
They gathered to hear Jesus preach and teach with authority.
They gathered to see miracles and healings.
They gathered to cheer and welcome Jesus as he entered the gates of Jerusalem.
And as crowds gathered to mock and jeer him as he was led to the cross, they gathered to witness his death.
Unrecorded in the Bible, but surely on the lips of those who were there, was probably this simple question: "Why?" Why would they crucify Jesus? Why would Jesus allow this?
This Good Friday we are gathering as one church to ask – and answer – those same questions.
We are excited to be able to have an all-in church-wide meeting together again in person on Sunday at 9.30am in the Sports and Recreation Centre in Centenary State High School, Jindalee.
Although there is NO kids church this week, we will be having a special kids spot during the service itself. So ensure that your child is registered with you.
Lunch options are available, and a few people have indicated a sports afternoon! Please register ASAP for what promises to be a great day!
Families can bring along your picnic mats to the hall to sit together, there will be chairs available too. It is catered for the whole family with a kids spot during the service.
Registration is required to attend this service.
To assist with event management, ALL attendees of this event must register through Eventbrite. This includes ALL children you intend to bring to this meeting.
We will not be able to cater lunch orders for anyone registering after 11 April 2022, 12 noon. We will try to fulfil orders if there are spares on the day. Please check with our serving team at the food collection point.
When you arrive for Good Friday Service.
We ask that you arrive up to 10-15 minutes earlier (9:15 AM) to check-in and catchup with those attending the service. Our hosts will check you in upon entry.
We strongly encourage all attendees to wear a mask, practice good hygiene AND maintain 1.5m distance between people during service.
If you are feeling unwell, please get tested and isolate yourself until you receive your results. Our hosts will lovingly ask for you to leave the premises if you are displaying any COVID symptoms upon arrival.
Lunch & Sports after Service
Two lunch options available are:
Gluten free option available. Please indicate in the registration. For any other dietary requirements, please contact SLE Church via eventbrite.
1) Chicken Rice $8.50 served in a 650ml container with divider.
Contains: Gluten, Soy, Sesame
2) Chicken Hor Fun (Flat Rice Noodles) $8.50 served in a 650ml round container.
Contains: Gluten, Soy, Sesame, Egg, Fish
If you're registering for lunch, please make payment immediately after registration.
Please make fund transfer to either:
BSB: 084 424 ACC: 396 558 544 OR PayID email: info.cccbsle@gmail.com
Please reference your order number in your transfer details. Your order number (10 digits) can be found on your ticket upon registration.
Please note that we do not offer refunds for lunch orders past 11 April 2022, 12 Noon.
Sports would be available on premises after service for those who would like to join in after lunch to play or to watch and cheer the teams on. Just show up on the day to join in the fun.
Sports & Recreation Centre & Parking
We will be meeting in Sports and Recreation Centre. Please park at the carparks by Yallambee Road or Curragundi Road, there is ample street parking along Moolanda Street as well.
There are very limited parking lots in Staff carpark. It will be used for loading and unloading of equipment, elderly drop off and disabled parking.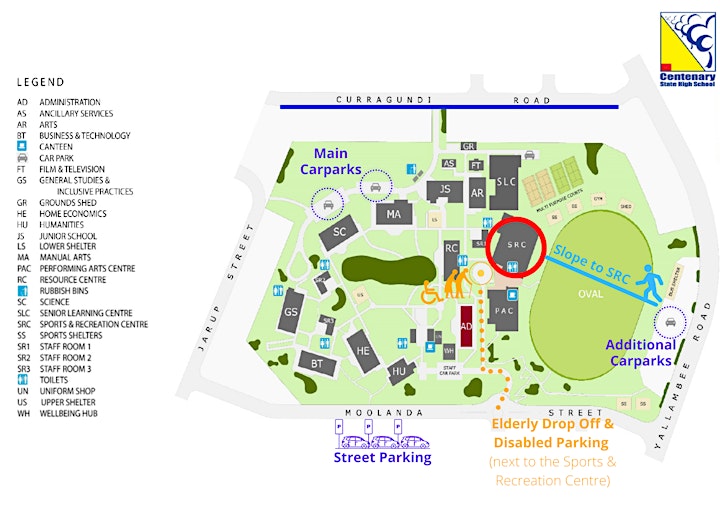 Important health and safety information.
Please note that to ensure public safety, several COVID-Safe measures will be in place during service. This includes a required registration process (through Eventbrite) safeguarding the ability to contact trace if required and manage crowd numbers.
In addition, a number of proactive methods have been implemented to ensure attendee wellbeing during the service, including:
On-ground hygiene stations, with regular use encouraged
Imposed social distancing of 1.5m between persons (except if within the same household)
Cleaning measures are in place that is in line with the COVID Safe Industry Plan for Places of Worship in Queensland
Per Queensland Government guidelines, SLE Church retain the right to refuse attendees from the event if they are displaying COVID-like symptoms. If you or your attending household member(s) begin to feel unwell at our event please speak to on-ground host / inform host and leave immediately.
If you suspect you have COVID symptoms after attending our event, please get tested and isolate yourself until you receive your results. Please also contact us at health@sle.church to inform us too.
For more information about how SLE Church's policies and protocols during COVID-19, please visit https://sle.church/covid19.