About this Event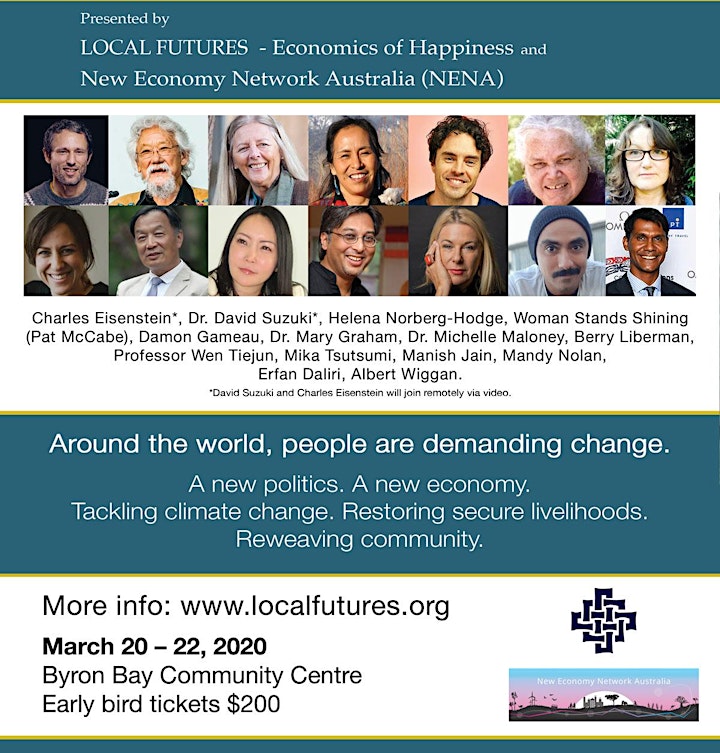 The goal of this 3-day ideas festival is to explore and explain how we can shift direction—from a single globalized market towards economies that support renewal, resilience and greater human and planetary wellbeing. This gathering will emphasize the systemic root cause of our many interconnected ecological, social and economic crises, and identify key strategic shifts towards economic localization that can solve them.
From food, land, water and human settlements, to businesses, knowledge systems, innovation, production and consumption, this festival focuses on translating understanding into action.
Within this context, the 2020 Conference has three key themes:
Understanding the dominant economic system and global market
and its impact on democracy and local economies
Showcasing and amplifying strategies for reclaiming local economies for the benefit of people and planet
Registration [plus Eventbrite booking fees apply]
Early bird tickets have been extended until 20 January 2020
Standard: $200
Concession: $140
Registration AFTER 20 January 2020
Standard: $250
Concession: $180
Key Dates
28 August 2019 - Call for Proposals and Registration opens
10 December 2019 - Call for Proposals closes
20-22 March 2020 - Ideas Festival, Byron Bay
More Information
Web: neweconomy.org.au/going-local / www.localfutures.org
Facebook: https://www.facebook.com/events/2366494266900648/
Email: events@neweconomy.org.au / info@localfutures.org
Proudly co-hosted by The Economics of Happiness and New Economy Network Australia (NENA) .
To become a sponsor or partner of the 'Going Local' ideas festival, please email: events@neweconomy.org.au / info@localfutures.org
Cancellation Policy
Request for a refund anytime UP TO 3 weeks from the event - 80% of paid price Request for a refund anytime UP TO 2 weeks from the event - 50% of paid price
No refunds if the request is less than 2 weeks before the event