About this Event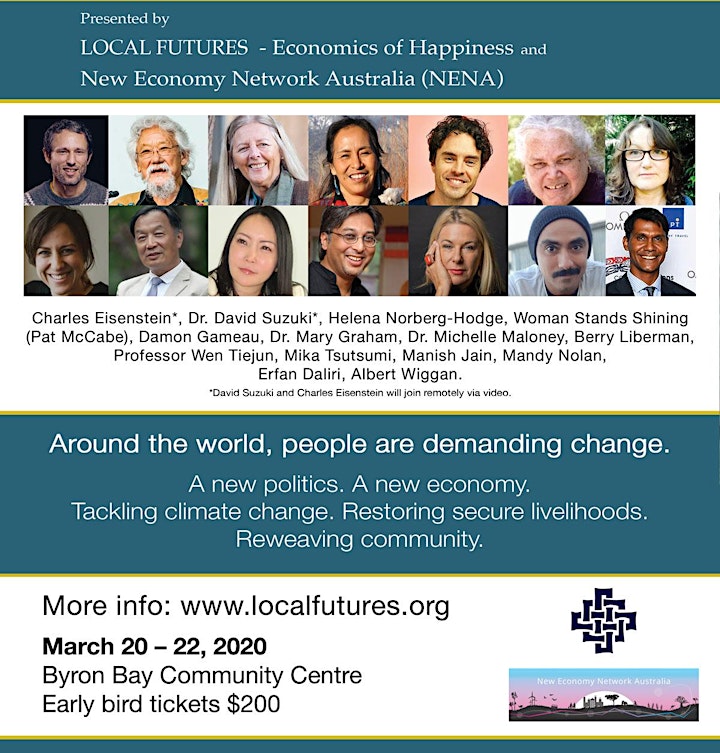 ***OUR GOING LOCAL CONFERENCE HAS BEEN POSTPONED DUE TO COVID-19***
WE ARE NOW HOSTING AN ONLINE WEBINAR ON SUNDAY MARCH 22ND 9.30 am - 3pm. For more information and tickets CLICK HERE
The webinar, 'Going Local: Hope in a Time of Crisis' will bring together pioneering thinkers and activists from the worldwide localisation and 'new economy' movements, including Charles Eisenstein, Damon Gameau, Helena Norberg-Hodge, Dr Michelle Maloney, Mandy Nolan, Aidan Ricketts and Ella Noah-Bancroft. See below for full speaker bios.
Sunday 22nd Online Program:
9:30 am
We will hear from Charles Eisenstein, who will be joining us from the US. Charles will explore the interlinkages between the crises humanity faces in today's world. He will frame the economic, philosophical and spiritual transition we need to make. Charles will be taking questions from webinar participants.
10:15 am
A conversation between Damon Gameau and Helena Norberg-Hodge will be live-streamed. In this discussion, the two experts will tackle some of the biggest questions: What is the most strategic path towards fundamental economic change? What is working around the world? What does localisation really mean, and how can we see through some common misconceptions surrounding it? What do localised futures look like?
11 - 11:30 am webinar participants will engage with the experts in a Q&A session.
11:30 am -1 pm: LUNCH BREAK
1pm – 1:15: Mandy Nolan: post-lunch energising and introduction to afternoon session.
1:15 – 1:45: Dr Michelle Maloney on Earth Laws, New Economics and bioregionalism, includingshort Q&A.
1:45 – 2:15: Aidan Ricketts on activism and change making in a time of crisis, including short Q&A.
2:15 – 2:45: Ella Noah Bancroft and Helena Norberg-Hodge in conversation about cultural and spiritual renewal in post-colonial societies, and rediscovering feminine, nature-based and indigenous ways of being.
2:45 – 3pm: Wrap-up and next steps with Helena Norberg-Hodge. Big-picture activism, grassroots initiatives for local food, and community building.
Local Futures will be sending you a resource package after the webinar, including access to pre-recorded talks and a guide 'Steps to Localise for the Byron Shire'