Description
GENERATE LEADS DURING SALES TRAINING
Payment Plan available - EMAIL lorraine@district32.com.au for more info
Sales are the lifeblood of your business. Not only that: increased sales are what help you grow to that next level. In order to grow your sales and measure that growth, you have to know where you are right now.
How many customers have you averaged each month over the past year?
What dollar amount is your average sale?
Has there been any growth or shrinkage in your numbers over the past year?
Now, decide what you want to achieve?
The GO HARD OR GO HOME Sales and Marketing Play Book has helped businesses to earn over $2 billion dollars in revenue. Helping hundreds of small businesses to change the way the game is played ..and win.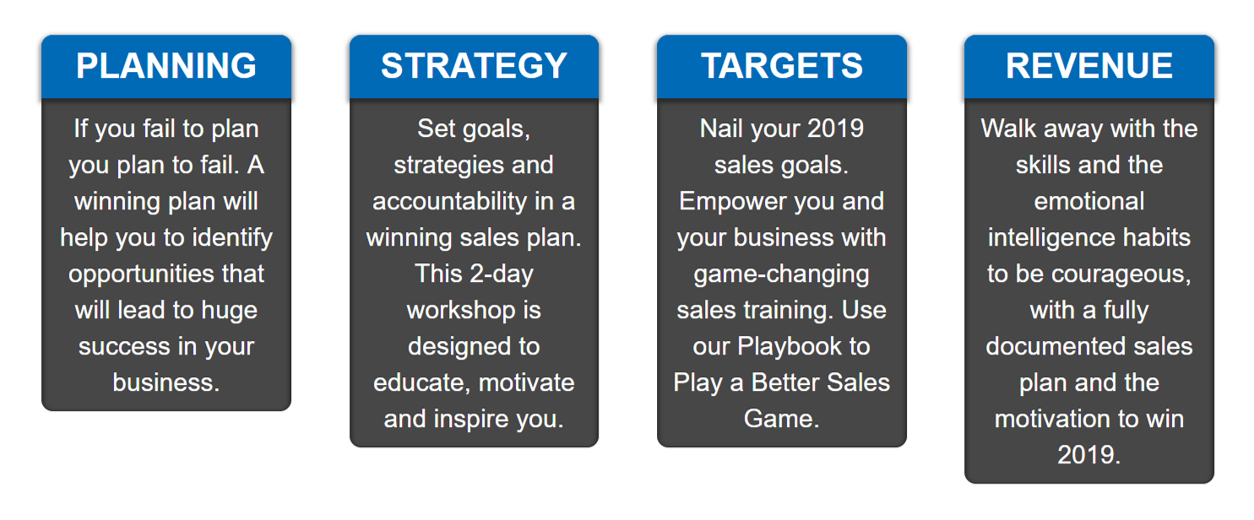 What to Expect
Identify target market & ideal clients
Understand what your chances of success are given current plan
Determine strengths and weaknesses
Set achievable sales targets
Paint a full picture of success
Understand what's holding you back
Write and comprehend value proposition
Write and practice sales pitch
Re-evaluate beliefs around money
Understand and practice sales conversations
Understand and practice closing techniques
Write sales scripts: phone and email
Practice cold calling
Develop a 90-day contact plan with unique touch points
Understand and develop unique sales pipeline
Develop a referral program
Develop a 12-month sales plan (into 90-day plans)
Understand and develop a winning sales week - know how to motivate yourself


Trainers
Lorraine Garvie - Become a 'Game Changer'
A leading Sales & Marketing Strategy expert, Lorraine has become a popular presenter. Gaining valuable qualifications across Business Sales and Marketing. Her experience extends across IT, CRM, Sales Funnels and the latest online and sales automation tools.
Her proven skills in business advisory, leadership coaching and sales training have also lead being a published author of numerous, very popular business articles.
THE EMPATHY OF EXPERIENCE.
Experience - the difference. CEO of District32, Lorraine Garvie is a self-made business woman, who knows how you feel. In a career spanning 20 years, Lorraine's depth and breadth of 'hands-on' experience, means that Lorraine has drawn on practical experience in corporate management and business development roles to develop the GO HARD OR GO HOME SALES TRAINING.
What this means to you, is that the GO HARD or GO HOME Workshop will be of IMMEDIATE USE to YOUR ROLES and YOUR INDUSTRY.
Dean Keating - Learn how to 'direct' your sales
In his current role of Director of Sales of District32, Dean Keating LOVES TO GROW AUSTRALIAN BUSINESSES. As Director of Business Development at District32, he is fast becoming a highly sought after entrepreneur, mentor and speaker who specialises in implementing out of the box sales strategies that produce tried and proven first class results. Dean is constantly being asked to share his expertise with various business groups and franchise units.
During the last 5 years, Dean has utilised this experience to assist both start ups and established businesses to grow their turnover. His unique sales approach and ability to impact the growth and profit of any business through enhanced sales strategies combined with his ability to quickly form long lasting relationships has seen him generate over $2b in sales for clients.