Description
What distracts us from inner peace and contentment is our ego and expectations. The ancient spiritual practice of Gnana Yoga reduces ego and quietens the mind by offloading expectations and other mental baggage. As a result you become calm and composed, enabling you to handle life's challenges with dignity, poise and ease.
Gnana Yoga is an essential spiritual practice, designed to prepare your mind for meditation. When your mind is prepared, your experience of meditation becomes effortless and profound.
Join us for this unique one-day urban retreat on the 20th August 2017 at the beautiful Point Walter Reserve in Perth. And learn how to fill your life with peace, love, joy and contentment by incorporating the ancient spiritual practice of Gnana Yoga into your daily life.
View our Retreat Video: https://youtu.be/6fwf_bYphj0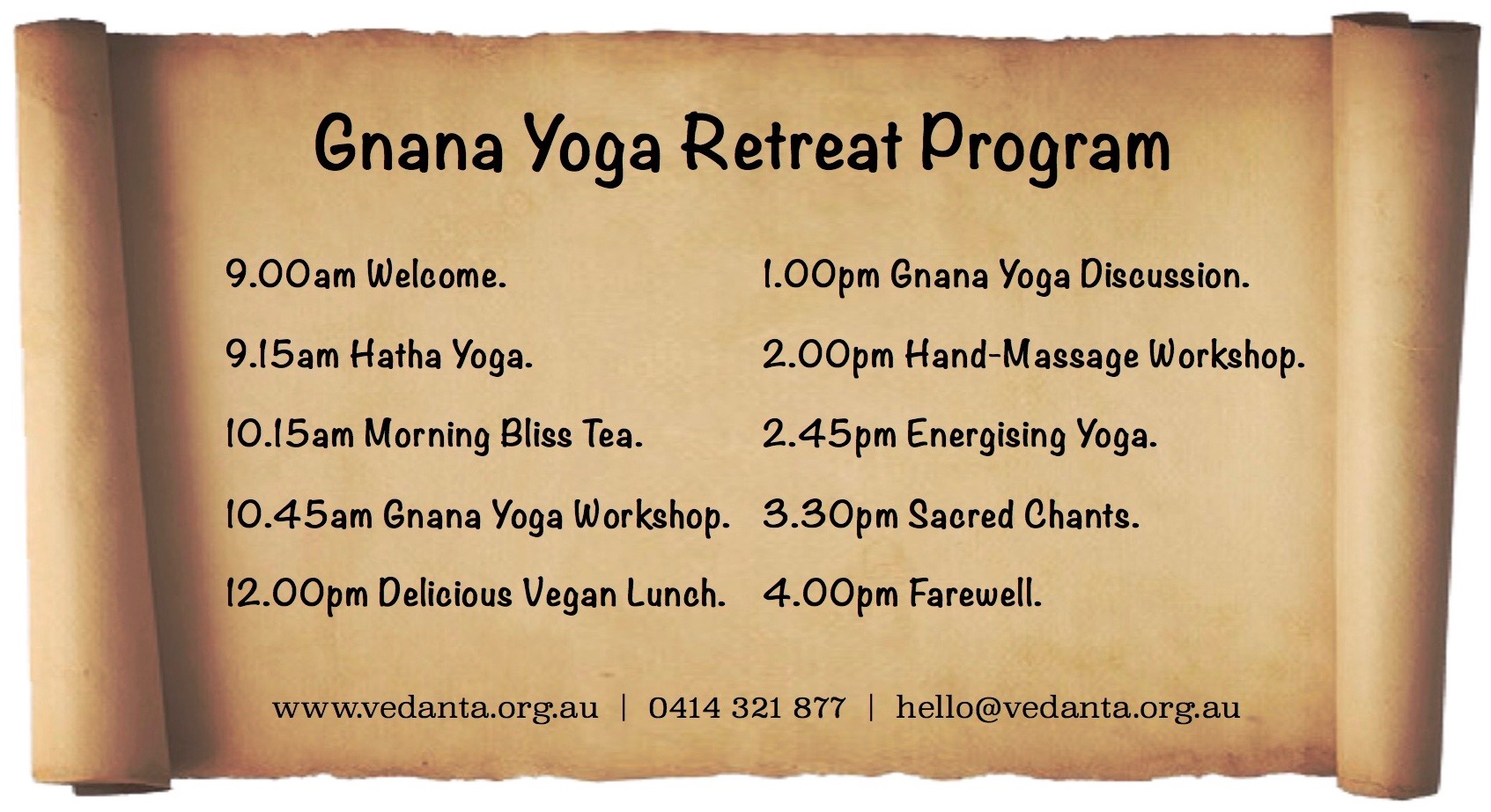 What people say about our retreats
"It was a luxury to have a whole day to stop, be calm and reflect on my true Self. Thank you for sharing your knowledge and experience." —Hayley Bullimore
"The retreat was excellent. It put me back on track. Many thanks. It would be great to have this kind of retreat more often during the year." —Violaine Grimwood
"Just brilliant! Loved everything about it. #yoga #time management #food #discussions #meditation." —Giorgio Ciraulo
"A fantastic experience. I learnt an enormous amount: useful tools to deal with stress and direction in life. Thank you." —Sarah Jeffrey
"This was my first retreat and I cannot wait for the next. Thank you for such an insightful and thought provoking day. The structure of the retreat was great and the food was delicious." —Lea Hunter
"Thank you Meredith and your amazing team for a wonderful day. I am going home feeling peaceful, focused and refreshed, with a much clearer direction in life." —Kate Floyd
"Thank you Meredith. This was a wonderful retreat. I got so much out of today: especially how to move forward and keep focused on this big important direction in my daily life." —Trish Horgan
"The retreat was well organised and structures. Loved the meditative walk, the chanting, group discussions and the food was fantastic. Loved being surrounded by like-minded people and learning about Vedanta." —Renae Gibb


Retreat Facilitators
Meredith Forder
Meredith is a philosopher, teacher and Vedanta practitioner, who has spent many years in India studying the ancient wisdom of Vedanta at the Vedanta Academy, under the leadership of Swami Parthasarathy.
Today, Meredith offers the essence of Eastern philosophy to our Western society, bringing a balance between outer success and inner peace of mind.
Aasha Broad
Aasha is a qualified yoga instructor who grew up with parents who were students of Vedanta. As a teenager Aasha traveled to India to learn Vedanta at the Vedanta Academy, under the guidance of Swami Parthasarathy.
Since returning to Perth, Aasha has become a secondary school mathematics teacher and a mother—and continues to share her passion for learning about life and yoga with others.
Jazz Bailey
Jazz is a remedial massage therapist, holistic health coach, dōTERRA wellness leader, wife and mother of two little kids. Educating, inspiring and helping others live a healthier, more natural, toxic free lifestyle is what she does best. At the retreat Jazz will be showing the Aroma Touch hand technique to help you relax, unwind and nurture each other using pure dōTERRA therapeutic grade essential oils.
Karolina Anna Koziara
Karolina Anna Koziara is an inspired yoga instructor, whose love for yoga has sprung from a search for peace in a chaotic world. Karolina is energetic and full of fun. She loves to incorporates philosophical messages into her yoga classes and has found the study of Vedanta to be an integral part of her practice. During the retreat Karolina will focus on helping you find inner peace and joy by connecting with your true Self through yoga.
Kat Manning
Kat is a qualified yoga instructor, who has been in the health and fitness industry for over ten years. Kat teaches a variety of yoga styles in a number of studios throughout Perth. In her early 20's she studied dance, before turning her passion to teach group exercise in 2007. During the retreat Kat will take you through a relaxing and invigorating Vinyasa flow, focusing on technique and creating balance within the mind and body.
http://www.vedanta.org.au/gnana-yoga-retreat-perth/