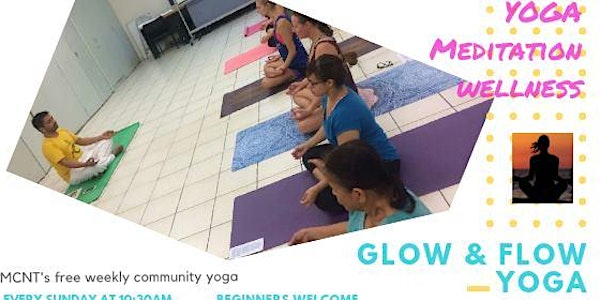 Glow and Flow Yoga Classes. (Now at Filipino Hall) FROM 9.30AM NOW
Glow and Flow is conducted by an experienced male yoga teacher, of Indian heritage, taking you through much deeper science & art of yoga.
About this event
Yoga, an ancient well-being technique practised in India and around. It is now spreading across the world due to its wide-ranging benefits for the current fast-paced, low nutritious lifestyle.  Yoga place should be considered as a gym, school and place of worship hence working on body, mind and spirit. Yoga has been practised in India for well over 3000 years for optimal body and life attitude useful to humans of all ages. It is not only flexible for men and women, but also for kids and people of old age. Also doesn't require machines, tools or large investment and uses the bodyweight as the resistance.
The objective is that the practice brings a visible Glow outside and from within arising out of clarity of mind/body and contentment. The flow aspect is to do with improvement in the fluids, muscles and information flow to improve in a much more elegant presentation & movement of self through our body.
With the help of an experienced male yoga teacher of Indian heritage, we have been conducting yoga for the last three years and wish to spread the word further to the benefit of a wider community around Darwin. The regular yoga session includes some meditation, prayers, relaxations, pranayama, sun salutation, asanas, complete wind-down and close. We also have an additional one hour before for discussion, medication and advance posture experimentation. These sessions are open to all.
Yoga in its purest sense means union, with everything inside and outside us, becoming one with our inside nature and the outside nature. Constantly in change and micro aligning to maintain the stability within and outside. It's not about perfection but about being wholesome.
Yoga does more than burning calories and strengthening muscles, it provides the following key benefits:
• Improves posture •Increases flexibility • Builds muscle strength • Boosts metabolism • Helps in lowering blood sugar • Increases blood flow • Greatly increases immunity •Increases self-esteem • Improves lung function • Helps you sleep better
 Yoga is a growing trend that has shown a multitude of benefits towards physical health and mental wellbeing. It is getting widely accepted worldwide. World yoga day celebrated every year across the world was approved on the initiative by the Indian Government at the United Nations with over 135 countries supporting the cause, among the largest ever united vote for a cause.
It is conducted at Filipino Hall this dry season. Introduced to all ages over 12 to interested participants, once a week every Sunday from 9.30 am to 11.00 am. Bring a yoga mat, towel and water bottle if necessary. 
Join anytime, and the aim is to eventually be able to make it part of your routine and experience a life-changing difference. All support will be provided to eventually gain success in making it a regular habit. Initial efforts and regular participation will be your key contribution. Admission is $50 for 10 sessions or $10 for one. Please contact the teacher if you are facing financial difficulty, to attend for free.
Organiser of Glow and Flow Yoga Classes. (Now at Filipino Hall) FROM 9.30AM NOW
The Multicultural Council of the Northern Territory (MCNT) is a community-based non-profit organisation that advocates and provides direct services for individuals, families and communities from culturally and linguistically diverse (CALD) backgrounds in the Top End of the Northern Territory.

The MCNT was established in 1977 as the Ethnic Communities Council of the Northern Territory (ECCNT). In 2000, the name was changed to Multicultural Council of the Northern Territory in order to reflect the inclusive and diverse nature of the organisation and to forge greater outreach with the wider community.