About this Event
Register here to attend the Sydney event in person
Use this link to view the global program and register to attend virtually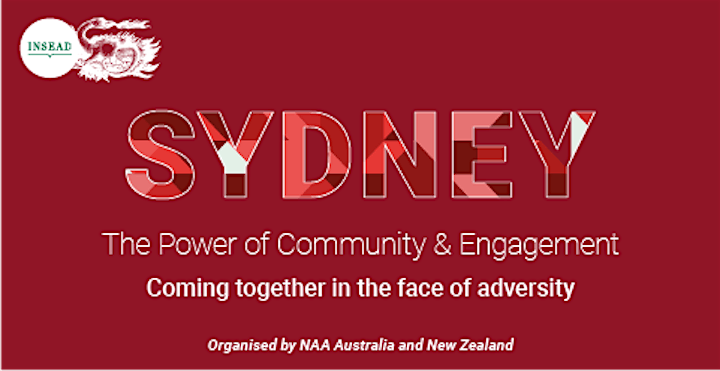 Our event #GlobalINSEADDay
Please join us for an engaging conversation with Christine Holgate, CEO of Australia Post, Dr Lisa O'Brien, CEO of The Smith Family, and Dr Simon Longstaff AO, Executive Director of The Ethics Centre.
All businesses have an impact on their local communities, but few have the kind of outsized influence and role held by a company such as Australia Post. Not only does Australia Post provide postal services that connect Australian communities and businesses with each other, as well as the rest of the world, its post offices often also serve as community hubs providing other essential services (e.g., banking).
Nonprofits and other NGOs also have an important role in local communities, often helping to meet needs unaddressed by government or business. The Smith Family seeks to break the cycle of disadvantage by focusing on young Australians and helping to support their education. The Ethics Centre provides services, experiences, and other opportunities to bring ethics into both personal and professional life.
From the bushfire crisis to the continuing pandemic, organisations have both adapted and grown to meet the needs of the communities they serve. What have been the biggest challenges and how have they responded? How does a major company like Australia Post balance the tension of ensuring commercial return vs. providing community benefits for the greater good? How do nonprofits like The Smith Family prioritize their resources when there is so much widespread need? What can for-profit businesses and nonprofits learn from each other and how can they come together to better serve their communities?
A big thank you to our event sponsors

Panel Members
Christine Holgate
Group Chief Executive Officer & Managing Director, Australia Post
Christine Holgate joined Australia Post as Group Chief Executive Officer and Managing Director on 30 October 2017, after nearly 9 years as the Chief Executive Officer of Blackmores Ltd. Christine has more than 30 years of diverse international leadership experience in highly regulated industries, including healthcare, media, telecommunications and finance. She has more than 20 years of public board experience as either a non-executive director or CEO and has held senior management positions in Asia, the Americas and Australia. Christine is the inaugural Chair of the Board of the Australia-ASEAN Council (which supports the development of trade and cultural relations between Australia and the 10 member countries of the ASEAN region). She also serves on the board of the Collingwood Football Club. Christine's past appointments include time as a non-executive director of Ten Network Holdings Limited.
Dr Lisa O'Brien
CEO, The Smith Family
Dr Lisa O'Brien has been the Chief Executive Officer of The Smith Family since February 2011.
Dr Lisa O'Brien leads Australia's major education–oriented children's charity and has driven a five year plan to grow the effectiveness and reach of The Smith Family's education–oriented programs to support more disadvantaged children and young people.
Lisa has worked in leadership roles across the public, not–for–profit and commercial sectors over the last two decades. She is a Non–Executive Director of BUPA Australia and New Zealand, a Council Member of the University of Technology Sydney, a member of Chief Executive Women and a former CEO of the Skin and Cancer Foundation Australia. Lisa is currently a member of the National COVID-19 Coordination Commission Charity, Philanthropy and Fundraising Group and the Charities Crisis Cabinet, both formed as part of the COVID-19 response. Lisa was also a founding member of Sydney's Lou's Place, a drop–in centre providing respite and support for women in need.
A Medical Practitioner registered in New South Wales and a Fellow of the Royal Australasian College of Medical Administrators, Lisa also holds a Masters of Business Administration and a Masters of Human Resource Management and Coaching.
Dr Simon Longstaff AO
Executive Director, The Ethics Centre
Simon Longstaff began his working life on Groote Eylandt in the Northern Territory of Australia. He is proud of his kinship ties to the Anindilyakwa people. After a period studying law in Sydney and teaching in Tasmania, he pursued postgraduate studies as a Member of Magdalene College, Cambridge. In 1991, Simon commenced his work as the first Executive Director of The Ethics Centre. In 2013, he was made an officer of the Order of Australia (AO) for "distinguished service to the community through the promotion of ethical standards in governance and business, to improving corporate responsibility, and to philosophy." Simon is an Honorary Professor at the Australian National University, a Fellow of CPA Australia, the Royal Society of NSW and the Australian Risk Policy Institute. He serves on a number of Boards and Committees and as Independent Integrity Adviser to the Australian Taxation Office.
Time & Location:
Friday, 11 September
13:00 - 14:00 AEST (main event)
14:00 - 14:30 AEST (light refreshments)
Live webinar + Mirvac offices @ Level 25, 200 George Street, Sydney
Price:
$0 - virtual attendance only / please register via webinar separately
$30 - financial members of the NAA ANZ
$50 - non-financial members of the NAA ANZ and non-Alumni
Light refreshments will be served afterward.
This event will also be available for free via webinar. You may register for the live webinar here.
COVID Safe guidelines: In-person attendance will be limited to ensure adherence to COVID Safe protocols and that an abundance of space is available for physical distancing. If you are experiencing ANY COVID-19 symptoms, please choose to attend virtually via webinar instead. For the latest COVID-19 information in NSW, please refer to https://www.nsw.gov.au/covid-19.