Description
Global Citizen Is Excited To Announce Our Global Citizen After Hours Event Series 2019!
At our core, Global Citizen is a movement of passionate individuals committed to achieving an end to extreme poverty. We know our Australian Global Citizens are informed and engaged about the world's biggest challenges and we want to meet you. In 2019, we are hitting the road and hosting revealing conversations, moving performances and networking opportunities around Australia. Please join us!
-----
Next Up: SYDNEY!
Immunisation saves millions of lives every year and is widely recognised as one of the world's most successful and cost-effective health interventions. Yet, there are still nearly 20 million unvaccinated and under-vaccinated children in the world today.
Access to basic vaccines against crippling diseases are still denied to millions of children because of conflict, geographic isolation and extreme poverty. For pregnant mothers, newborns and children a healthy life requires vaccines and access to healthcare. Educated and healthy children can then lead their communities out of poverty and build the thriving nations of tomorrow.
"Health and education are the twin engines of economic growth." - Melinda Gates
Please join us for a critical conversation with pioneering change makers delivering these services to communities in some of the most dangerous parts of the world, and find out how you can take real action on this issue with Global Citizen!
#VaccinesWork
-----
Drinks and nibbles from 6.15pm provided by WeWork, followed by a colourful panel conversation and the opportunity to meet other people just as passionate as you!
---
Speakers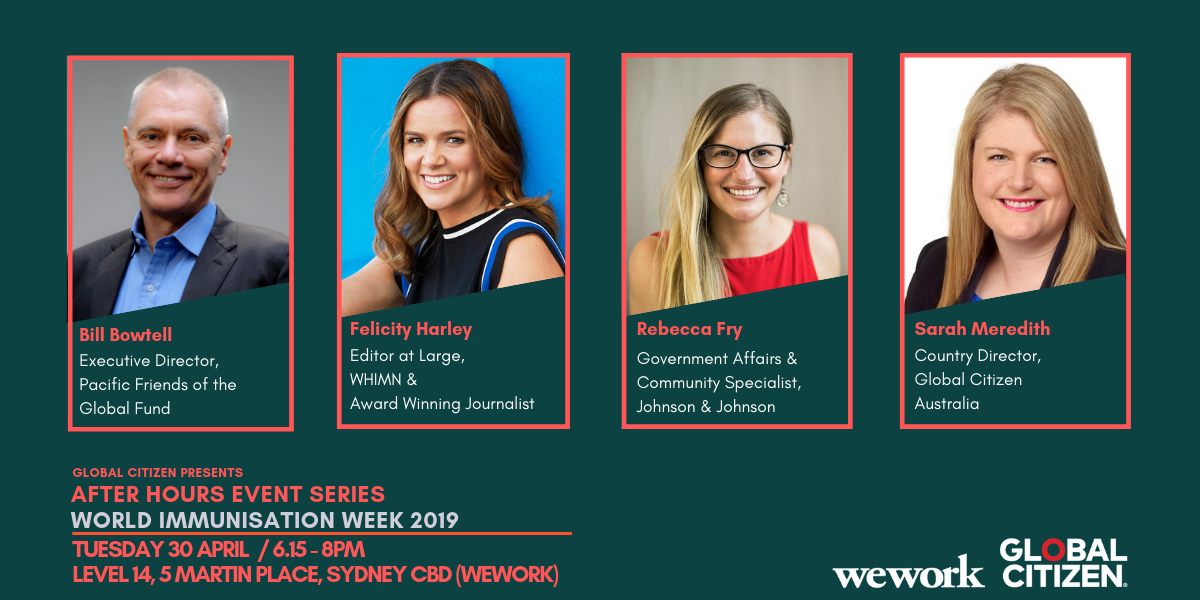 The Global Fund is a $4 billion partnership between governments, business and civil society working internationally to accelerate the end of AIDS, tuberculosis and malaria as epidemics. Ensuring Australia and our region plays its part is Bill Bowtell, executive director of the Pacific Friends of the Global Fund. As a former political adviser working on the introduction of Medicare and long-time campaigner, Bill will share the extraordinary strides we've made in conquering these diseases and the work that remains to get the job done.

Felicity Harley's quest for a healthier life is as dynamic as her media career, which for the past 18 years has seen her work across Australia's leading women's magazines and websites. From Girlfriend, Cleo, Cosmo and the founding editor of Women's Health magazine, Felicity is currently editor-at-large of News Corp's leading women's site whimn.com.au. Her talent for communicating complex health-related issues to a mainstream audience also sees her as a regular on Channel 7's Sunrise. But Felicity's passion for the topic of vaccines is intensely personal; her baby son was hospitalised with a disease that could have been prevented by immunisation. Felicity will share her first-hand experience of what happens when vaccines do not reach every last child.

Rebecca Fry has worked in the healthcare industry for over 11 years, spending the last six years at Johnson & Johnson working in Government Affairs & Corporate Social Responsibility. Rebecca has also held many senior leadership positions within Rotary over the past 13 years. Through Rebecca's work at J&J and involvement in Rotary, it's unsurprising she is particularly passionate about leveraging strategic partnerships for greater social impact. Both J&J and Rotary International have extensive global public health programs, providing access to life-saving immunisations to the world's most vulnerable communities. Rebecca will share examples of where partnerships have accelerated the world's efforts to end preventable diseases once and for all.

-----

WeWork is the platform for creators. We provide beautiful workspace, an inspiring community, and meaningful business services to tens of thousands of members around the world. From startups and freelancers to small businesses and large corporations, our community is united by a desire for our members to create meaningful work and lead meaningful lives—to be a part of something greater than ourselves. Co-founded by Adam Neumann and Miguel McKelvey in New York City in 2010, WeWork is a privately held company with over 3500 employees.