This thought leadership event explores the ethics of COVID-19 vaccines and draws lessons for the future of the pharmaceutical industry.
About this event
To join, click this link:
https://teams.microsoft.com/l/meetup-join/19%3ameeting_YTVmMTllMzQtODVmZi00MjFhLWJjOWItNDBhMGNiYTZiM2Yw%40thread.v2/0?context=%7b%22Tid%22%3a%22d1323671-cdbe-4417-b4d4-bdb24b51316b%22%2c%22Oid%22%3a%22a8be76a2-51e7-4dc1-8a35-9baa10332979%22%2c%22IsBroadcastMeeting%22%3atrue%7d&btype=a&role=a
Hosted by RMIT's Business and Human Rights Centre, this forum brings together global experts in vaccines and clinical trials:
Professor David Heymann of The London School of Hygiene & Tropical Medicine who headed the WHO global response to SARS
Tom Buis, Global Health Advocate at Wemos who advocates the realization of equitable access to affordable medicines and medical technologies worldwide
Professor Kim Mulholland, Australian Professorial Fellow and member of the WHO Strategic Advisory Group of Experts (SAGE) on Immunization
Dr Rebekah Farrell, Manager of Legal Policy at the Law Institute of Victoria and expert on clinical trials and global governance frameworks.
The rapid rate of vaccine development and distribution is nothing short of miraculous. More than 5.6 billion vaccine doses have been administered worldwide, equal to 73 doses for every 100 people. Yet, distribution has been marred by inequality. While some countries reached a vaccination rate that allowed citizens to resume something close to normal life in relative safety at the start of 2021, 24 countries are yet to vaccinate 1% of the population in September 2021. Covid-19 related deaths have reached 4.55M globally, and while they have slowed in vaccinated countries, they continue at unacceptable rates in those without access to vaccines. Particularly disturbing is the fact that some of those countries that lack access to COVID-19 vaccines are those in which clinical trials occurred. There are concerns that the quality of vaccines distributed to poorer countries is lower than those enjoyed in richer countries.
This event will explore lessons for the long term global governance of vaccines and how the pharmaceutical industry can act ethically in the absence of international intellectual property reform.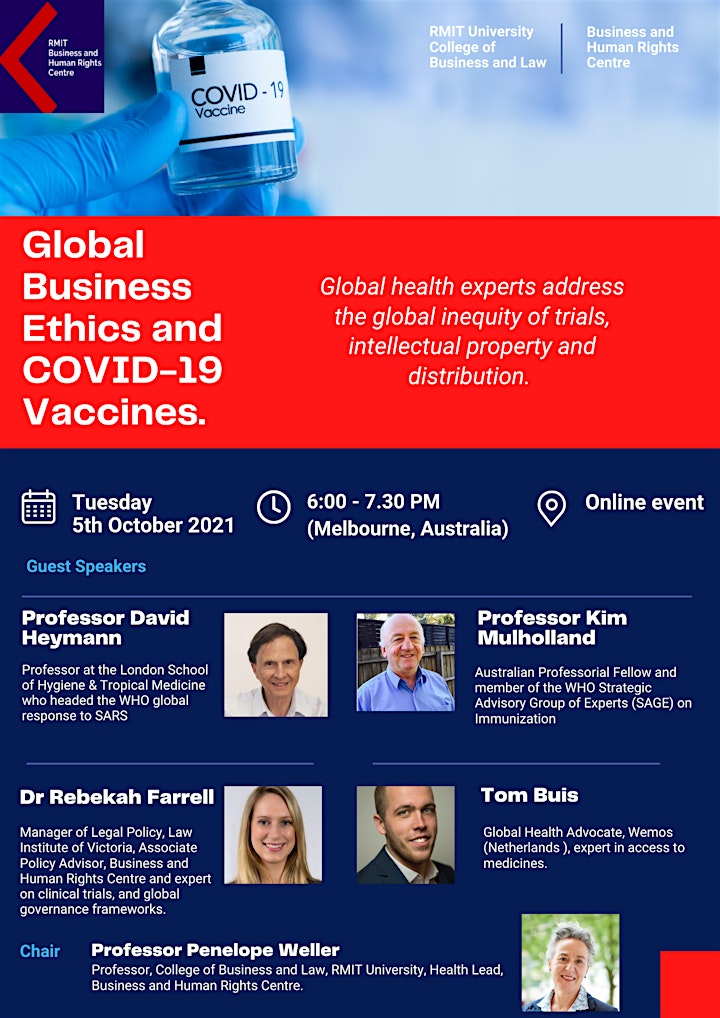 Speakers
Professor Kim Mulholland,
Professorial Fellow, University of Melbourne Department of Paediatrics, Australia
Kim Mulholland has been involved in the oversight of many vaccine trials, serving on steering committees or DSMBs for a range of vaccines including Pneumococcal, Dengue, RSV and Covid-19 vaccines. He is currently a member of the WHO Strategic Advisory Group of Experts (SAGE) on Immunization, and has served on Working Groups covering pneumococcal vaccines, measles & rubella, Covid-19 vaccines and Covid-19 vaccine safety. He is currently Co-Director of Global Health at MCRI.
Mulholland an Australian paediatrician, trained at Melbourne University and the Royal Children's Hospital, Melbourne. With post-graduate training in immunology, respiratory medicine and tropical medicine he joined the Medical Research Council Laboratories, Gambia in 1989, guiding WHO policy and oxygen and antibiotic management for hospitalized children with pneumonia. His Hib vaccine trials were the first to demonstrate the capacity of conjugate vaccines to prevent bacterial pneumonia. At WHO he helped design the RESPIRE study. He was one of the founders of the Global Action Plan for Pneumonia, and one of the leaders of the successful Hib Initiative project that saw the introduction of Hib vaccines into the poorest countries of the world.
Professor David Heymann,
The London School of Hygiene & Tropical Medicine
David Heymann is a medical epidemiologist and Professor of Infectious Disease Epidemiology at LSHTM. From 2009 to 2017 he was chair of Public Health England, and during this period he also led the Centre on Global Health Security at Chatham House (London). From 1989 to 2009 Heymann held various leadership positions in infectious diseases at WHO, and in 2003 headed the WHO global response to SARS in his role as executive director of communicable diseases. In 1976, after spending two years working in India on smallpox eradication, Heymann was a member of the CDC (Atlanta) team to investigate the first Ebola outbreak in DRC and stayed on in sub-Saharan Africa for 13 years. Heymann has published over 250 peer reviewed articles and book chapters, is editor of the Control of Communicable Diseases Manual, and is an elected member of the UK Academy of Medical Sciences and the US National Academy of Medicine. In 2009 he was named an Honorary Commander of the Most Excellent Order of the British Empire for services to global health.
Tom Buis, Wemos 
As a global health advocate, Tom focuses on advocacy to strengthen health systems and to increase global access to medical technologies.
Over the last years Tom has been involved in several pharmaceutical policy discussions in The Netherlands that promote access to medicines and vaccines. Tom was a civil society representative during the negotiations for the Socially Responsible Licensing toolkit that was made for Dutch medical universities. The aim of this toolkit is to provide ready to use legal clauses that universities can take up in their licensing agreements with pharmaceutical companies in order to increase affordability, availability and transparency. More recently Tom was responsible for directing some of the political discussions in The Netherlands to have a more international health equity lens. This resulted in several adopted motions in the Dutch parliament stating the support for international Covid-19 technology access initiatives, such as WHO's Covid-19 Technology Access Pool.
Dr Rebekah Farrell, Law Institute of Victoria
Dr Rebekah Farrell is the Manager of Legal Policy at the Law Institute of Victoria where she works on high level advocacy to influence and shape state and federal law and policy. Rebekah's academic journal articles and doctoral thesis addressed multinational accountability frameworks, specifically looking at regulation and governance of pharmaceutical companies conducting clinical trials in developing countries, and is dedicated to seeking global reform.
Admitted to the Supreme Court of Victoria in 2012, Rebekah has worked as a senior lawyer and consultant across non-governmental and governmental organisations including the Law Council of Australia, the Human Rights Law Centre and at the United Nations Human Rights Council (Geneva). Rebekah is also the former Managing Director of RMIT University's Business and Human Rights (BHRIGHT) Centre. For over ten years, Rebekah researched and lectured in the College of Business and Law and the School of Global Urban and Social Sciences at RMIT in areas of international law and global governance.