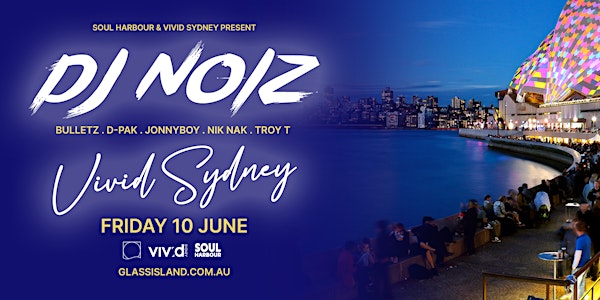 Glass Island pres. DJ NOIZ - VIVID Sydney - Friday 10th June
Location
Glass Island - check event info for Wharf Details
Sydney Harbour
Darling Harbour
Sydney, NSW 2000
Australia
Glass Island is excited to have DJ NOIZ return for a special VIVID Sydney show
About this event
GLASS ISLAND PRES. DJ NOIZ
When: Friday 10th June 2022
Where: King Street, Wharf 8, Darling Harbour
Arrive: 6.15pm (please have your ticket ready)
Depart: 6.55pm sharp
Disembark: 10.30pm
Glass Island is excited to have DJ NOIZ return for a special VIVID Sydney show.
With a large open plan layout across 3 levels you have the choice to book a General Admission Ticket (GA) or larger groups can book a table on our MIDDLE DECK or TOP DECK.
General Admission Tickets (GA): seating is limited and on a first in first served basis – we do not reserve seating for GA.
If you book a table on the TOP DECK and the weather forecast shows a high chance of rain (we will check the day before the cruise takes place) those guests will be notified and offered the option to move to the middle deck (subject to availability), or change to another date.
We have a number of private tables available for groups of 6, 8 or 10.
- Tables must be booked as a whole table, not individual tickets.
- If the table you require for your number of guests is not showing or sold out please contact us so we can try and help to accommodate your booking request (subject to availability).
VIP TABLE BOOKINGS
Book a VIP Bottle Service package and take your Glass Island experience to a whole new level – we have a number of bottle service packages available affording you and your guests the ultimate VIP experience.
Please email vip@glassisland.com.au for all VIP Bottle Service Booking Enquiries.
GENERAL
Glass Island cruises are over 18's events. Please ensure you have valid photo ID to produce on request.
Food & beverage is not included in the ticket price.
We ask all guests to check the weather conditions and dress appropriately.
Please wear appropriate footwear. We would advise against high heels. Please take extra care whilst using the stairs onboard and hold onto the handrail.
Security reserve the right to refuse entry to any group or guest.
For further information or enquiries please email: info@glassisland.com.au
This event is being held in line with NSW Government Health and COVID restrictions.