Soul Harbour will be cruising every Sunday through Summer.
About this event
GLASS ISLAND: CHIEFROCKERS SOUL HARBOUR TAKEOVER
When: Sunday 5th December 2021
Where: King Street, Wharf 6, Darling Harbour
Arrive: 6.00pm (please have your ticket ready)
Depart: 6.45pm sharp
Disembark: 10.15pm
Chiefrockers Soul Harbour Takeover !
The Chiefrockers are DJ crew known for rocking concerts & clubs & tours all across Australia.
Sunday December 5, they're taking over Soul Harbour, and on the top deck are launching the " Afro Soirée " playlist, with DJ Naiki & DJ Kimani playing non stop Afrobeats!
The lower levels will be all Hip-Hop, RnB, Dancehall and more with DJs Nino Brown, Mo, Just1 & Mixking.
As always Voli K & Lady Lyric will be performing live!
This is the Soul Harbour you don't want to miss!
Check Instagram @soul_harbour & @afrosoiree for competition details once you have your ticket !
With a large open plan layout across 3 levels you have the choice to book a General Admission Ticket (GA) or larger groups can book a table on our MIDDLE DECK or TOP DECK.
General Admission Tickets (GA): seating is limited and on a first in first served basis – we do not reserve seating for GA.
Important Information: Glass Island is a 3 level boat with music programmed on the two main levels. Like other boats on the harbour there is a legal capacity limit imposed on our top deck which is there for our customers safety. Once we reach the limit we have to pause access until patrons leave the top deck. In this instance priority is given to customers waiting to go up with vip wristband as it means they have purchased our booths on the top deck. Sooner or later everyone will get up onto the top deck and we respectfully ask our guests to be patient and we will get you upstairs as soon as possible.
If you book a table on the TOP DECK and the weather forecast shows a high chance of rain (we will check the day before the cruise takes place) those guests will be notified and offered the option to move to the middle deck (subject to availability), or change to another date.
Unfortunately, due to the restrictions it is not possible to move all guests down to the middle deck if that level is at capacity and we appreciate your understanding should this situation arise.
We have a number of private tables available for groups of 6, 8 or 10.
- Tables must be booked as a whole table, not individual tickets.
- If the table you require for your number of guests is not showing or sold out please contact us so we can try and help to accommodate your booking request (subject to availability).
VIP TABLE BOOKINGS
Book a VIP Bottle Service package and take your Glass Island experience to a whole new level – we have a number of bottle service packages available affording you and your guests the ultimate VIP experience.
View our VIP Packages HERE
Please email vip@glassisland.com.au for all VIP Bottle Service Booking Enquiries.
GENERAL
Glass Island cruises are over 18's events. Please ensure you have valid photo ID to produce on request.
Food & beverage is not included in the ticket price.
We ask all guests to check the weather conditions and dress appropriately.
Please wear appropriate footwear. We would advise against high heels. Please take extra care whilst using the stairs onboard and hold onto the handrail.
Security reserve the right to refuse entry to any group or guest.
For further information or enquiries please email: info@glassisland.com.au
We ask guests to familiarise themselves with our COVID Safe Plan - https://www.glassisland.com.au/covid-safe
This event is being held in line with NSW Government Health and COVID restrictions.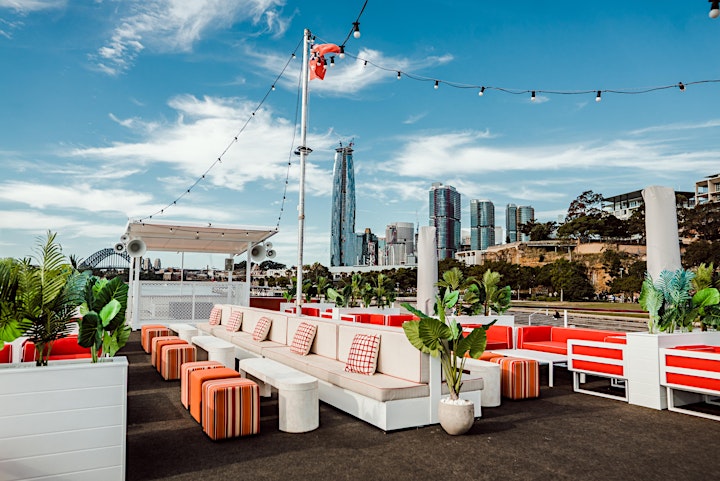 Organiser of Glass Island - Chiefrockers Soul Harbour Takeover - Sunday 5th December