Multiple Dates
Glass blowing: adventures with a Venetian maestro in the Hot shop
Description
Teacher: Davide Savadore Murano, Venice, Italy.
Davide Salvadore is an 11th generation (on his mother's side) glass artist from Murano, Venice, Italy who is internationally recognised and exhibited and who has taught widely in Europe & the USA. Salvadore has devoted his career to reinterpreting and modernizing the traditional Muranse techniques and aesthetics he uses in his work. Salvadore is also a founding member of Centro Studio Vetro, in Murano, a nonprofit association that aims to promote the culture and art of glass.
Learn more at: www.davidesalvadore.com and on his Facebook page - Davide Salvadore Glass Art

---
Programme: 4 day programme 18 Feb 2020 - 21 Feb 2020

9.00 am - 5.00 pm daily.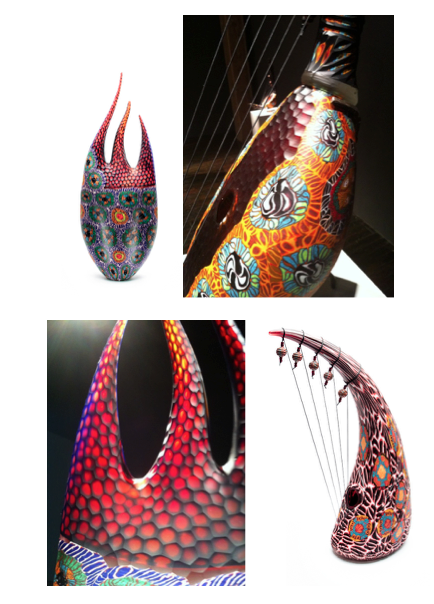 Students will gain an understanding of a Muranese technique called tociar piere, also known as the roll–up technique. It consists of putting a composition of canes, murrine, tesserae, etc., on an iron plate, fusing them together in the glory hole, then rolling the flat glass onto a blow pipe, and working it into the desired shape or form. Students will learn how to create complex murrine and cane designs, in addition to learning techniques such as incalmo and rotation of the axis. Davide will share his special techniques for doing this work especially exploring non-traditional murrini-making techniques and how to employ the tiny detailed pieces in compelling ways.

The program will include demonstrations in the mornings and hands on practice sessions in the afternoons under Davide's tuition. It will be adapted and added to depending on the specific progress, interests and skills of those attending.
Prior furnace glass experience essential - a minimum of 2 years experience in the hotshop is required.

---
Tools will be provided but please bring your own safety gear.

---
Workshop Fees:
50% DEPOSIT - DUE ON REGISTRATION.

BALANCE - DUE PRIOR TO THE FIRST DAY OF THE WORKSHOP. YOU WILL BE SENT A TAX INVOICE FOR THIS AMOUNT

Maximum 8 participants
---
FAQs
DO I NEED TO WEAR SPECIFIC CLOTHES?
Working with hot glass has specific safety requirements that need to be followed.

Personal Safety requirements
I. Clothing
• Wear natural fibre clothing.
• Wear closed toe shoes; have a pair of "studio shoes".
• Use a lab coat, cotton or leather apron, Kevlar sleeves or a long sleeved shirt with natural fibres (cotton or wool).
• Long hair should be tied back. Do not wear loose or hanging jewellery.
II. Habits
• Keep the workplace tidy and organised.
• Drink lots of water to prevent dehydration.
• Stretch and/or move around periodically.

III. Special Conditions (chronic illness, pregnancy, etc.)
• Please discuss risks with your doctor before attending a workshop involving hot glass.

WHAT IS YOUR WITHDRAWAL POLICY?
1. Workshops with the 2020 Festival's Resident Artist/s
The Festival of Glass committee has to plan these workshops many months in advance and ensure that each one will be self-financing; only then can we invite our Resident Artist/s to travel to the 2020 Festival.

If a workshop has more than the minimum number of attendees, a potential attendee who withdraws prior to 18th December 2019 will forfeit 75% of their deposit.
Any potential attendee who withdraws after 17th December 2019 will forfeit their deposit.
If a workshop is cancelled at any time, potential attendees will receive a full refund of the fees that they have deposited.

2. Workshops run by exhibitors at the 2020 Festival Expo
These workshops aren't planned as far in advance, so the withdrawal policy is more flexible. For each of these workshops, if a deposit has been requested by the tutor, we will apply the following policy:

A potential attendee who withdraws before 17th December 2019 will receive 75% of the fee that they have deposited.
A potential attendee who withdraws after 17th December 2019 will forfeit whatever fee they have deposited.
If a workshop is cancelled at any time, potential attendees will receive a full refund of the fee that they have deposited.

Anyone who has booked into a workshop and wishes subsequently to withdraw should notify the Workshop Co-ordinator by e-mail (festivalofglassdrysdale@gmail.com). The Workshop Coordinator will acknowledge receipt of the request to withdraw and arrange to refund the appropriate percentage of the fee that the person has deposited.

DO WE PROVIDE OUR OWN LUNCH?
Yes, you will need to provide your own lunch. There are several venues nearby in Red Hill - please use this link to see some of the options available. Lunch around Red HIll.

WHAT TRANSPORT AND ACCOMMODATION OPTIONS ARE THERE?
There are many transport options for getting to Red Hill. Red Hill is on the Mornington Peninsula, Victoria, Australia.
WHAT OTHER EVENTS IS THE FESTIVAL OF GLASS RUNNING AT THIS TIME?
Please visit our Festival website to see other events you may wish to participate in at this time. http://www.festivalofglass.net.au