Sponsored by the Climate Justice Network and University of Tasmania Faculty of Law.
About this event
Book your ticket to join in person or by Zoom webinar.
Giving Future Generations a Voice
Public Forum
The interests of young people and future generations are ignored in policy responses to the existential threat of climate change. Systemic short-termism and institutional bias are key barriers to effective, just and inclusive action. Panellists look at the case for reform and real world political options for institutions that give future generations a voice and so could be part of the solution not the problem.
This session will also see the launch of the new book Giving Future Generations a Voice, with contributions from UTAS and Australian and international experts.
Moderator:
Robin Banks, former Tasmanian Anti-Discrimination Commissioner
Panellists:
Professor Jonathan Boston (Professor of Public Policy, Wellington School of Business and Government, Victoria University of Wellington, New Zealand)
Associate Professor Bridget Lewis (School of Law, QUT)
Dr Peter Lawrence, (Senior Lecturer, UTAS Faculty of Law )
Jan Linehan (Adjunct Researcher, UTAS Faculty of Law)
Dr Phillipa McCormack (post-doctoral researcher Adelaide Law School, Adjunct Lecturer UTAS Faculty of Law)
Nicky van Dijk (PhD-candidate, UTAS Faculty of Law)
Cleo Hansen-Lohrey (PhD-candidate, UTAS Faculty of Law)
Participants are welcome to submit questions in advance for the panel's consideration. Questions can be emailed to nicky.vandijk@utas.edu.au
About the Speakers
Professor Jonathan Boston, ONZM, is Professor of Public Policy in the Wellington School of Business and Government at Victoria University of Wellington, New Zealand. During 2021 he is also serving as a principal adviser to the Ministry for the Environment in New Zealand. He is a leading authority on governance (especially anticipatory governance) and his research includes climate change policy (both mitigation and adaptation), child poverty, public management, and tertiary education. Recent books and major reports include: Governing for the Future: Designing Democratic Institutions for a Better Tomorrow (2017); Safeguarding the Future: Governing in an Uncertain World (2017); and Foresight, Insight, and Oversight: Enhancing Long-Term Governance through Better Parliamentary Scrutiny (with David Bagnall and Anna Barry) (2019).
Associate Professor Bridget Lewis (School of Law, QUT) is an expert in human rights whose work explores the protection of human rights in various contexts. Bridget is an internationally recognised scholar in the field of environmental human rights, which aims to transform the legal relationship between the environment and human rights. Her work in this area focuses on environmental rights and climate change, with a particular emphasis on protecting the rights of future generations and ensuring intergenerational justice.
Dr Peter Lawrence is a Senior Lecturer at the University of Tasmania Faculty of Law where he teaches international law and is co-convener of the Climate Justice Network. Peter has written extensively in the field of international environmental law and is author of Justice for Future Generations, Climate Change and International Law (2014) and a contributor to the Oxford Handbook on International Environmental Law. Peter is a singer with a YouTube channel which includes climate activist songs: see 'Peter Lawrence baritone climate songs'.
Jan Linehan is an honorary adjunct researcher in the Faculty of Law at the University of Tasmania and co-convenor of the UTAS Climate Justice Network. She is a former government international lawyer and negotiator, with experience in several fields, including climate change. Her research interests include climate justice, human rights law, and policy-making and public engagement.
Dr Phillipa McCormack  is a postdoctoral researcher at the Adelaide Law School, The University of Adelaide, and Adjunct lecturer at the University of Tasmania. She researches in the areas of environmental law and public governance, with a particular focus on climate change adaptation. Phillipa's recent work focuses on legal aspects of climate-driven species translocation, ecological restoration and bushfire, accountability mechanisms for government decision-making, and the application of international conservation laws to invasive species management.
Nicky van Dijk is a PhD candidate in the Faculty of Law at the University of Tasmania, Australia. She has a research master degree in Philosophy from the Utrecht University, the Netherlands. Nicky's research interests are interdisciplinary, combining her background in philosophy with law, and focus on climate ethics, environmental law, policy-making, and intergenerational justice. Nicky is also the convenor of activism group Fossil Free UTAS, runs support groups for queer people, and owns a dance school, for which she has recently been awarded the Premier's Volunteer of the Year Award.
Cleo Hansen-Lohrey is a current doctoral candidate in the University of Tasmania Faculty of Law working in the field of public international law. Cleo's research spans international refugee, human rights, humanitarian and treaty interpretation law, with a special emphasis on displacement in the context of climate change.
Robin Banks has worked in government, private and not-for-profit legal roles, including as Tasmania's Anti-Discrimination Commissioner and CEO of the Public Interest Advocacy Centre (NSW), which has a particular interest in the operation of international human rights law for Australians. Robin also worked at the Canadian Human Rights Commission and has a strong background in disability rights. She is a PhD candidate at UTAS researching discrimination law reform.
Check-in: Arrival at 5:15pm is encouraged to allow for health screening and check-in via the Check-in Tas App.
About the Venue: Aurora Lecture Theatre, IMAS Building, 20 Castray Esplanade, Hobart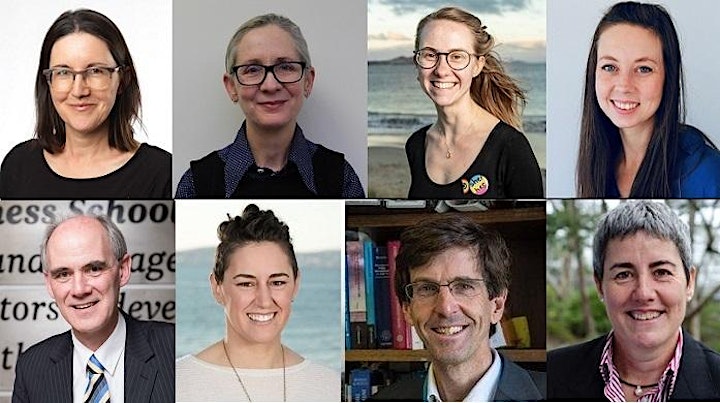 Organiser of Giving Future Generations a Voice public forum
Welcome to the University of Tasmania


Changing the world is not simple. It takes thought, time, persistence, and insight. But most of all, it takes something extraordinary. So at the University of Tasmania, we've made the pursuit of the extraordinary a never-ending commitment.
It influences everything we do. The way we teach. The way we research. The way we learn. And the way we live.

An environment made for learning

Welcome to one of the world's most spectacular natural environments. Framed by beaches, snowfields and wilderness, from our stunning island home in Tasmania we're free to think on a bigger scale. Whether it's in our teaching, research, or even student lifestyle, this unique landscape has prepared us to connect to the world. We're also fortunate to be right in Tasmania's vibrant cultural heart. From our MONA inspired arts boom to our established food, wine and coffee culture, Tasmania's towns and cities are as cosmopolitan as anywhere in Australia. Friendly, vibrant and always changing, Tasmania's as good a place to live, as it is to learn.


From the bottom of the world, to the top

Our ranking in the top two per cent of universities worldwide reflects our willingness to constantly challenge ourselves. We've never been afraid to take on the world – something we pass on to each of our more than 29,000 local, national and international students. Throughout their careers, this underpins the success of the 130,000 alumni we have spread across more than 120 countries.


Internationally recognised teaching programs and research institutes like the Australian Maritime College (AMC), Menzies Institute and Institute for Marine and Antarctic Studies have built our reputation. With their vision and success, we're standing out as an educational beacon and a global voice of learning.


Our commitment to the extraordinary tells the world one thing. Wherever you're from – and wherever you're headed – at the University of Tasmania you have the opportunity to use education to become whoever or whatever you want.
The University of Tasmania collects your information in order to assist us to deliver public events. We may also share your information with our event co-hosts and partners. We will not share your information with other organisations which are not involved in an event for which you have registered.