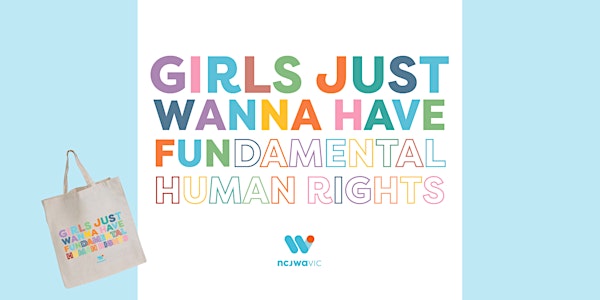 Girls Just Wanna Have Fundamental Rights - Tote Bag Fundraising
Location
191 Balaclava Rd
191 Balaclava Road
Caulfield North, VIC 3161
Australia
Buy a tote bag and support women's health and freedom of choice over their own bodies.
About this event
The decision to overturn Roe v Wade jeopardises American women's choice and access to safe and dignified reproductive health options.
NCJWA Vic is committed to advocating for human rights, including women's reproductive rights and the freedom of women to have control over their bodies and their lives.
NCJW America created the Jewish Fund for Abortion Access, in partnership with National Abortion Federation, to directly support real people who need abortions in the US by funding access to transportation and lodging, as well as providing abortion care at NAF-approved clinics.
We share the view that every person should have the power to make their own informed decisions about their body, sexuality, and future.
We have created this tote to advocate for women all over the world and raise funds to support both the NCJW Jewish Fund for Abortion Access and NCJWA Vic's advocacy work.
Totes will be ready for collection from July 27th from our temporary offices at 191 Balaclava Rd Caulfield North - enter via Kinross Ave. Please call 9523 0535 when you arrive to collect.
Buy one for yourself, a friend, daughter or sister and help us spread of the word… GIRLS JUST WANNA HAVE FUNDAMENTAL RIGHTS!