An interactive session starting with the best G&T you'll have had for ages and leading you through the process of making and tasting Gin
About this event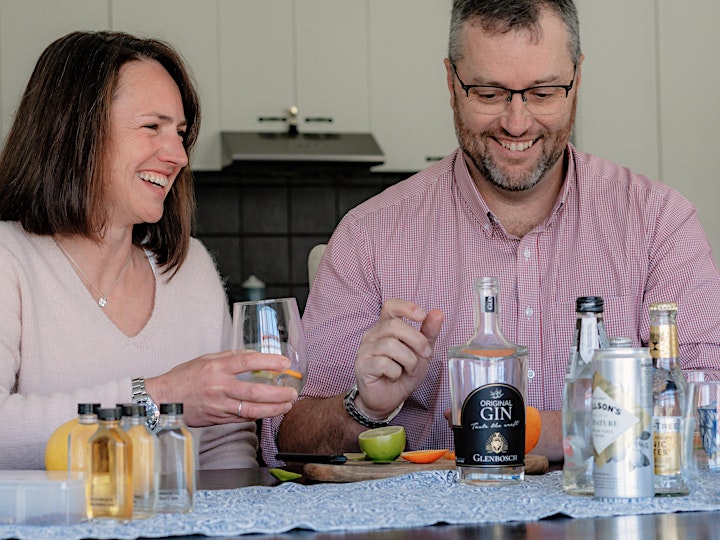 Gin Appreciation
It was once said, 'something appreciated will always do more than expected.' Even if you already love gin, the sky's the limit when it comes to appreciation; as long as people continue to make new gins, you can be pleasantly surprised!
Speaking of new gins - have you ever had a rooibos gin? Rooibos is a plant that grows in South Africa, its name meaning 'red bush.' In gin it throws a gorgeous auburn colour and, as an added bonus, is full of antioxidants. As a tip of the hat to their roots in South Africa, Dirk and Nika Bester of Beechworth's Glenbosch Wine Estate have created their very own Rooibos Gin blended with Australian botanicals which (for lucky virtual delegates) will be showcased in their very own kitchen…
Join Dirk for an in-depth journey into all things gin where you'll taste four diverse representations, learn to hone in on their botanicals and qualities, and make your very own 'bathtub gin'- just like they did during the prohibition era (and you'll learn about that too!)
In this flavour-packed brand new High Country at Home experience, those new to gin and avid gin-lovers alike will each walk away with a wealth of knowledge and skill to take into their next gin encounter.
What's included:
500ml Glenbosch Craft Original Gin
Botanical box featuring eight botanicals
Citrus - lime, orange, grapefruit
5 x 50ml of: a craft gin, an Australian commercial gin, an international commercial gin, Glenbosch Craft Rooibos Gin and commercial vodka
Botanical wheel & tasting quadrant
What you'll need to supply:
Cutting board
Knife
6 x glasses
3 x tonics (different) but 1 sugar free
Ice
Tea Strainer