Description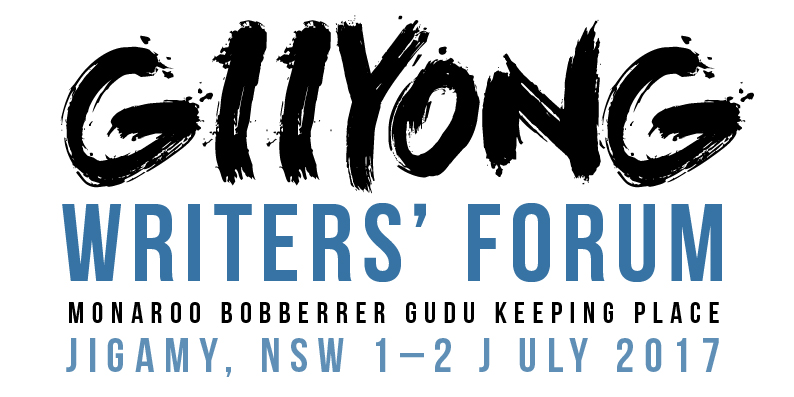 A two-day forum that celebrates Aboriginal literature will be held at Jigamy, a property just north of Eden, NSW owned by Twofold Aboriginal Corporation,1–2 July 2017. The Giiyong Writers Forum is one of three lead-up events to the Giiyong Festival in September 2018, which will be the first all-encompassing Aboriginal cultural festival for South East NSW. The festival is being produced by South East Arts, in collaboration with Twofold Aboriginal Corporation and Eden Local Aboriginal Land Council, and is made possible through funding from Create NSW.
The Giiyong Writers' Forum will take place in the Monaroo Bobberrer Gudu Keeping Place. The event is open to anyone interested in exploring Aboriginal stories, issues and identity and a unique opportunity for people interested in developing their own writing skills. On Saturday 1 July, some of Australia's leading Aboriginal authors will give presentations and readings from their work and take part in panel discussions. The Sunday program offers a range of two-hour workshop covering fiction writing, poetry, writing for screen, playwriting and how to get published.

The Giiyong Writers Forum is generously supported by the Mumbulla Foundation and Create NSW through the Regional Partnership funding program.
Program (subject to change, updates at https://southeastarts.org.au/giiyong/giiyong-writers-forum/ )
A variety of ticket types are available including concessions.
SATURDAY 1 JULY
This day is booked as one whole ticket.
9:00am – 9:30am Registrations
9.30 – 10.00 Welcome Ceremony & Dance Performance by Duurunu Miru Dance Group
10.00 – 11.15 KEYNOTE SPEAKER: JEANINE LEANE
Writing Country back to nation: Aboriginal literature of Australia
Panel Discussion
DR JARED THOMAS – FICTION
LISA FULLER – PUBLISHING
ALI COBBY ECKERMANN – POETRY
11.15 - 11.45 Morning Tea (provided)
​11.45 - 12.15:

Our Languages Matter: Reflections on Teaching and Learning Language in Communities -

Noeleen Lumby​
12.15​ - 1.00​

THE STORYTELLER An Indigenous Cultural Education Resource Workshop - Glenn Shea
1​.00​ - 1.45 Lunch (provided)
1.45 - 2.45 Playwriting & excerpt from 'The Visitors' an exciting new play by Jane Harrison
2.45 - 3.15
South Coast Aboriginal History - Writing with local voices

- Liddy Stewart & Sue Norman
3.15 - 3.45 - South Coast Culture & Local Dreamtime Stories - Warren Foster
From 3.45 - Afternoon Tea (provided) & readings by Elizabeth Wymarra, Dr Jared Thomas, Ali Cobby Eckermann and Jeanine Leane
5.00 - 5.40pm - Indigenous Literacy for Life Program - Ruth Ratcliffe & Mary Waites
5.40 - 6.00pm Book signings and sales
SUNDAY 2 JULY
Workshops are to be booked individually. Be sure not to book for workshops whose times clash.
9.30 - 11.30
Room 1 - Jane Harrison - Writing for TV & TheatreOR
Room 2 - Ali Cobby Eckermann - Poetry
12.00 - 1.00
Room 1 - Lisa Fuller - Publishing and Getting Published
1.00 - 3.00
Room 1 - Jeanine Leane - Poetry/Fiction
Room 2 Dr Jared Thomas - Playwriting/Fiction
Program (subject to change, updates at https://southeastarts.org.au/giiyong/giiyong-writers-forum/ )
Image by Amanda Gunston
We acknowledge Aboriginal people as the traditional custodians of the land on which we work and live and pay our respect to Elders both past and present.
Organiser of Giiyong Writers' Forum