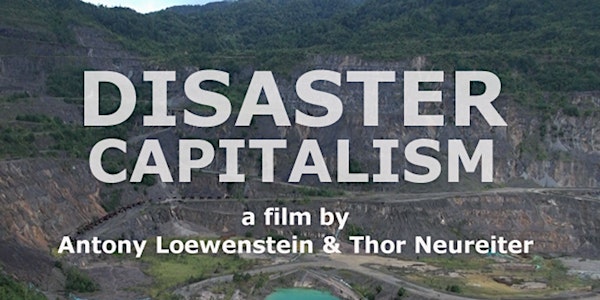 G&G Research Network Film Screening: Disaster Capitalism
Location
Mathews Theatre C [UNSW MAP Location K-D23-303]
UNSW Sydney
Australia
Description
The Globalisation and Governance Research Network is inviting you to the screening of 'Disaster Capitalism' followed by a Q&A session with Antony Loewenstein, the writer and co-producer of the documentary. The session will be facilitated by Professor Marc Williams, Associated Dean International and Professor of International Relations of the School of Social Science.
Disaster Capitalism is a compelling documentary that goes inside Afghanistan, Haiti and Papua New Guinea to reveal the dark side of moneymakers and aid exploiters unafraid to make a killing from the misfortune of others. Best-selling journalist and author Antony Loewenstein joins award-winning filmmaker Thor Neureiter on a six-year journey through the world of shady miners, resilient locals, and secretive governments.You can watch the documentary trailer here: http://disastercapitalismfilm.com/trailer
Antony Loewenstein is an independent journalist who has written for the New York Times, BBC, the Guardian, the Nation, the Washington Post and many others. His latest book is Disaster Capitalism: Making A Killing Out Of Catastrophe (Verso, 2016) and he's the author of three best-selling books, My Israel Question, The Blogging Revolution and Profits of Doom: How Vulture Capitalism is Swallowing the World. He is co-editor of After Zionism and Left Turn and co-writer of For God's Sake. His books have been translated, and his journalism has been a finalist in many global awards. He appears regularly on Al Jazeera English, the BBC and ABC Australia. He's currently working on a book about the global "war on drugs".
Professor Marc Williams is Associate Dean International and Professor of International Relations at the Faculty of Arts and Social Sciences, UNSW Sydney. His current research focuses on environmental security in the Pacific; transnational civil society and the world trading system; the politics of sustainable consumption; the political economy of genetically modified food; and race and the international order.
When: 5-7pm, 10 May 2018
Where: UNSW Sydney, Mathews Theatre C | K-D23-303 (Map Reference)