Learn professional selling skills and strategies to help you close more sales than ever before
About this Event
It should come as no surprise that the success of your business depends on your ability to make a sale. But, how do you get that all important 'Yes' from your customer? Believe it or not, there are many proven techniques that can help improve your sales success in just about any setting. Let us show you how at the Getting to 'Yes', Essential Sales Skills workshop.
PLEASE NOTE: This workshop will be held as an IN-PERSON event unless regulation changes require us to deliver it as a webinar event.
What you'll learn at this workshop:
• The mindset you need for success sales
• How to build rapport and trust with your customers, and create credibility
• Understanding buying styles and how people make a buying decision
• Targeting decision makers, and tips for getting past the gate-keeper
• The common reasons why sales fail, and how to avoid them
• Questions you can ask that create need, urgency and action
• Minimising sales resistance with your sales process
This is a workshop you won't want to miss.
Book today. Seats are limited.
Who this workshop is for?
Business owners and employees wanting to learn how to improve their sales skills.
About the Presenters: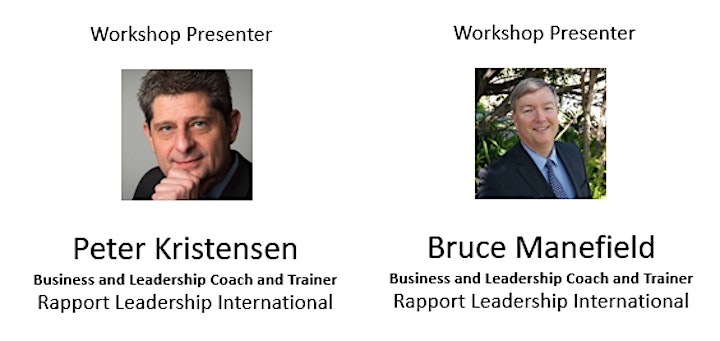 Peter Kristensen is a leadership coach and trainer for Rapport Leadership and brings a huge amount of business knowledge gained both in Australia and internationally from working with a diverse range of companies both small an large. His passion in life is empowering, motivating and educating people to improve capability and performance.
With a track record that speaks for itself, Peter has held roles including Managing Director of global organisation Up with People, National Account Manager for the largest exhibition and conference centre in Denmark and was the Scandanavian Sales Manager and Trainer for Lyreco in Denmark before moving to Australia in 2006 to establish Lyreco's training department in Australia, overseeing the training and development of over 300 employees in the learning and development space.
Bruce Manefield is a business and leadership coach and trainer for Rapport Leadership. Having worked for both corporate and fast growth SME companies, Bruce brings a wealth of experience to assist organisations wanting to transition through change. His passion in life is educating people and organisations to improve capability and performance.
With a diverse career, Bruce started his working life as a business analyst and has held senior management roles including General Manager of the Value Group, CEO of Redicar, Executive Officer of Childcare NSW, Board Chair of KU Childrens Services and most recently, Board Chair of Gunawirra.
Bruce understands SME businesses and the unique challenges they face having previously been a business owner himself. His collaborative leadership style and interpersonal skills gives him the ability to build rapport and trust allows him to engage employees at all levels within a business.
Bruce holds a Bachelor of Science in Mathematical Statistics and is a Fellow of the Australian Institute of Company Directors.
Other information:
The Business Success Program is a series of business education workshops for businesses of the greater Blacktown area, and is an initiative of Blacktown City Council in partnership with CGU and Rapport Leadership International.
For further information about this event contact David Somerville, Head of Blacktown Council Economic Development Department on 9839 5914.
We look forward to meeting you and being of service.