Learn the fundamentals of Photoshop, navigating, editing images and layers and exploring image retouching.
About this event
Photoshop is the go to application for editing images, but let's face it, there are so many tools and options it can be bewildering. Our hands-on course will explain the fundamentals and have you up and running in no time. Learn to edit photos like a pro, repair images and remove unwanted elements, resize images, then work with layers and selections.
Understanding the fundamental elements will help you to build a solid foundation to work from. This session is designed to get your creative juices flowing and show you how to produce top quality digital images, saving time and money in the process.
This is an introductory level course.
What you get
Class size kept to a maximum of 6 participants.
Qualified, experienced and approachable facilitators.
Training materials and take away practice files.
Lifetime post course support.
We encourage you to bring along your own laptop so you are familiar with its layout and functionality. If you do not have a laptop, we can supply one on the training day
Getting Started with Photoshop Course Content
Photoshop Essentials
The Photoshop Interface
Navigation Tools
The History Panel
Snapshots
Digital Image Basics
Image Resolution, Dimensions and File Size
Understanding Colours
File Formats
Starting with Images
Creating New Documents
Cropping & Rotating
Changing Image Sizes
Upsampling & Downsampling Images
Correcting Images
Understanding Image Histograms
Using the Levels Command
Adjusting Colour Balance
Editing Hue and Saturation
Working with Selections
Lasso and marquee Tools
Quick Selection and Magic Wand Tools
Feathering Selections
Retouching Techniques
Removing Imperfections
The Clone Tools
Healing Brush Tools
Working with Layers
Building a Multi Layered Document
Adding Transparency
Moving, Scaling and Rotating Layers
Locking and Protecting Layers
Merging and Flattening Layers
Printing and Saving
Printing from Photoshop
Save for Print and Web
Image Compression and Optimisation
If you need to book a course after the ticket sales have closed, please get in touch and we'll do our best to accommodate you.
See here for terms and conditions.
Organiser of Getting Started with Adobe Photoshop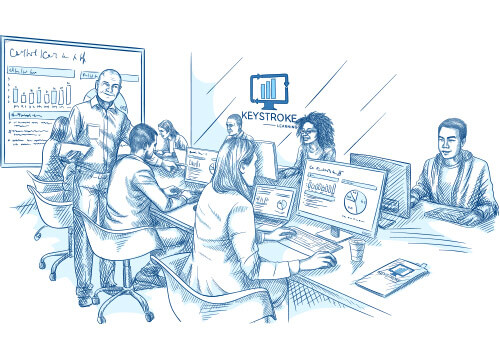 At Keystroke Learning our goal is simple, to provide an unforgettable learning experience. Our speciality is customised half day computer courses ranging from beginners through to advanced levels. We work with Microsoft Office and Adobe Creative Cloud applications, as well as the latest rapid development eLearning software. We focus primarily on skills that can be immediately applied in your workplace. As well as providing traditional training, we have developed innovative services such as Self-Paced Assisted Learning and Live Online Training.