Description
Complimentary one-hour introductory sessions so you can understand how Getting Video Smart can work for your business.
These Smart Sessions are a great way to start your day. Lively and enlightening. You'll clearly understand how your business will benefit from a smart approach to video. Sessions run for an hour and coffee is on me.
It's the video age. Video job applications, customer explainer videos, video emails. The expectation that we know how to present and make videos is upon us. Every business needs video-literate and video-confident people. Discover how the smartphone - that pocket-sized TV studio sitting idle on everyone's desk - can fast track you, your team and your business into having an unfair advantage in your marketplace.
Learn from a world-class videographer his unique methodology that takes the mystery out of making videos and removes the fear of being on video.
COME TO THESE SESSIONS IF YOU WANT TO
Be able to create short purposeful videos that people want to watch
Better connect with customers, staff, peers
Generate more leads
Build trust
improve community engagement
Improve your 'likeability' factor on video
Appear confident and relaxed in your videos
make double the videos in half the time
Build morale within your business
Improve employee engagement scores
Be more productive in less time
Get personal messages to more people without having to be there in person
Bridge the generation gap between leadership and staff
and blow customer satisfaction through the roof
Learn how the Get Video Smart workshop will get you above the line. How you will leave a casually confident video presenter and on your way to being utterly compelling.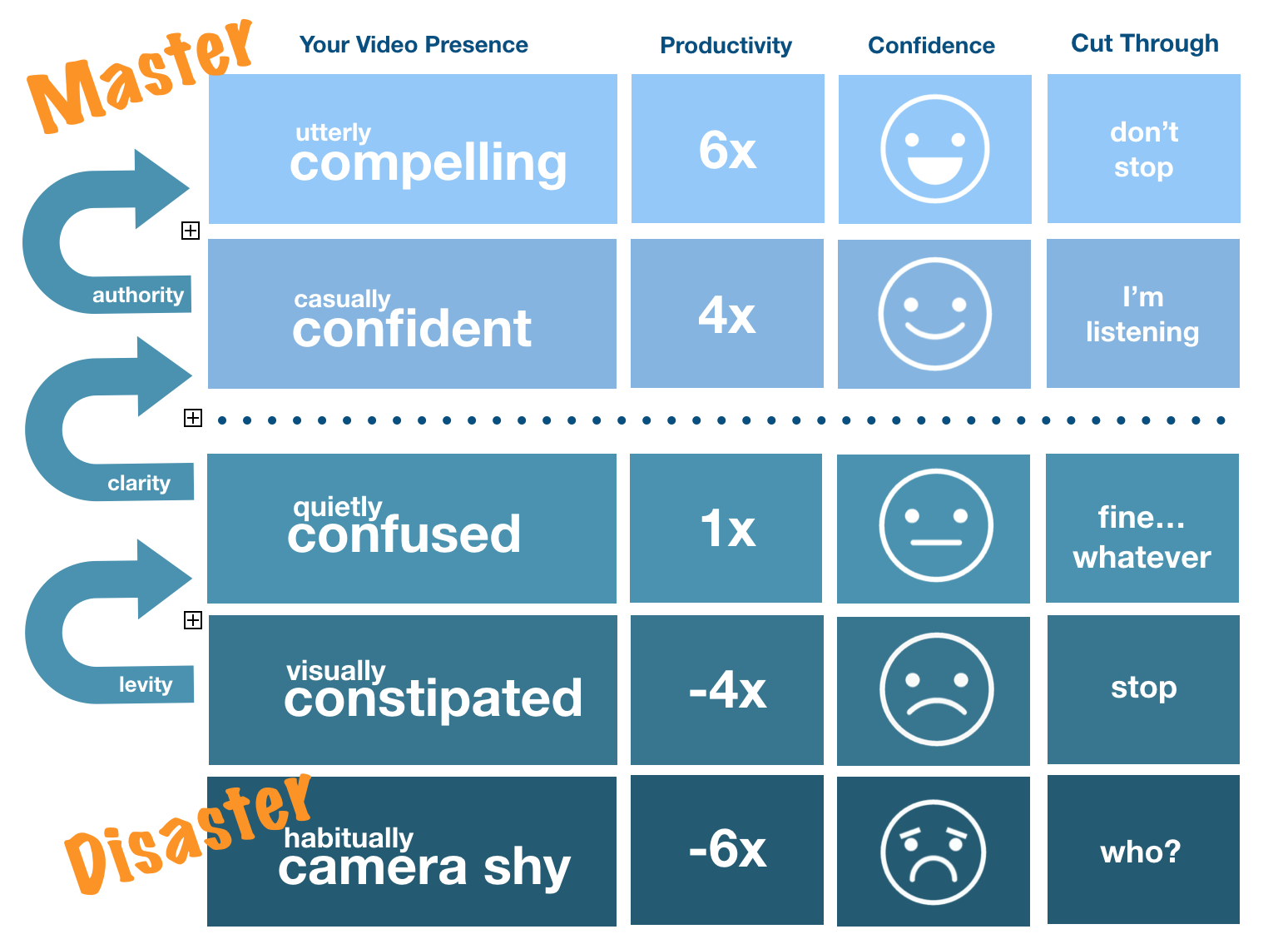 YOU LEARN THE 9 STEPS
...that takes you from video presentation DISASTER to video presentation MASTER; from being stuck making DUMB videos that no one wants to watch to making SMART videos that your market watches.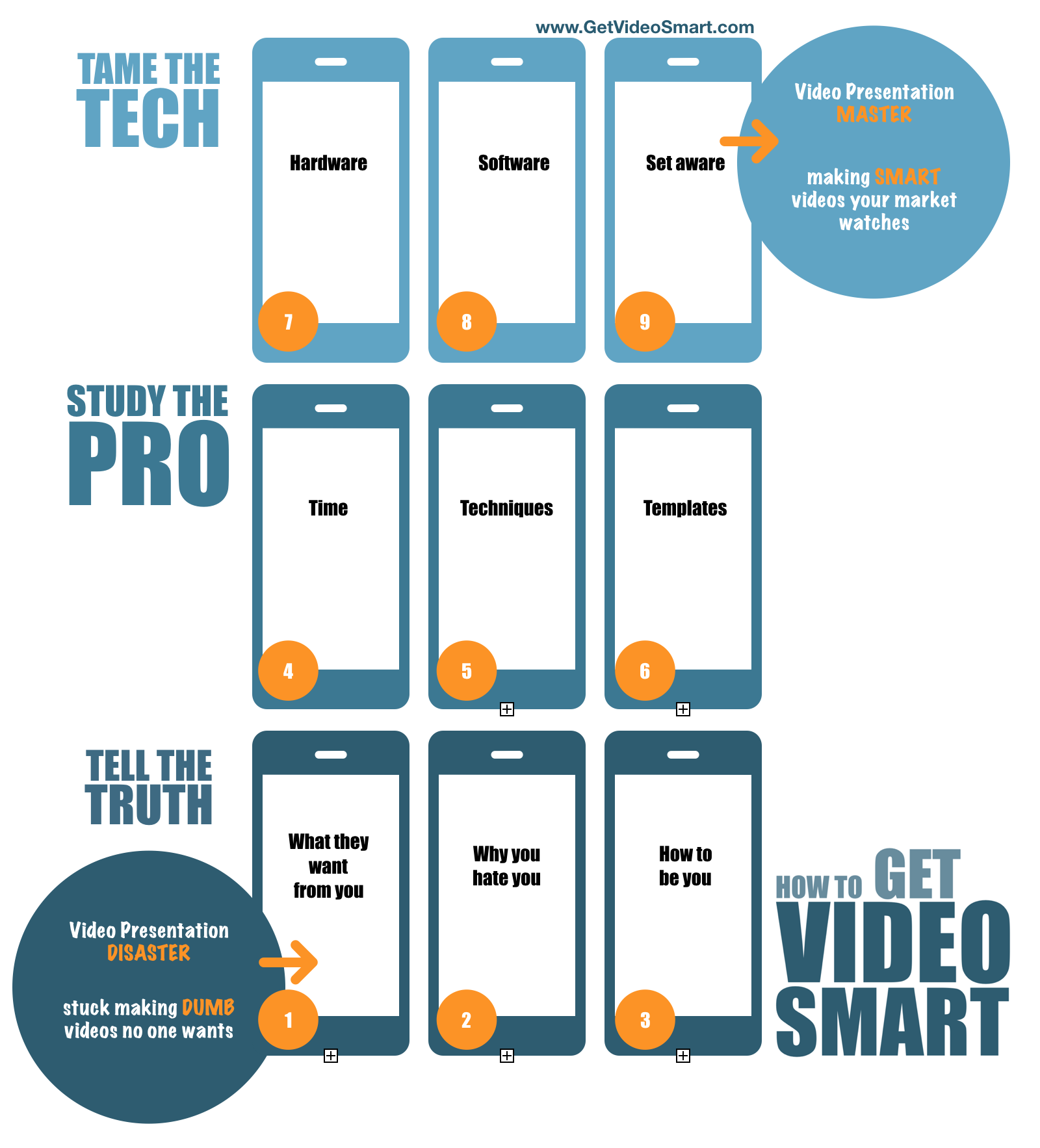 including
How To Fix Your Nervousness
How To Make the Smartphone Make You Look Smart
How To Get Clear Sound First Time, Every Time
How To Look Younger on Video Without Plastic Surgery
Why You Don't Like Watching Yourself On Camera And How To Get Over It
How To Be Yourself: Because an Original Is Worth More Than A Copy
How To Write A Script To Build Instant Rapport
How To Tame The Technology So You Control It, Not The Other Way Around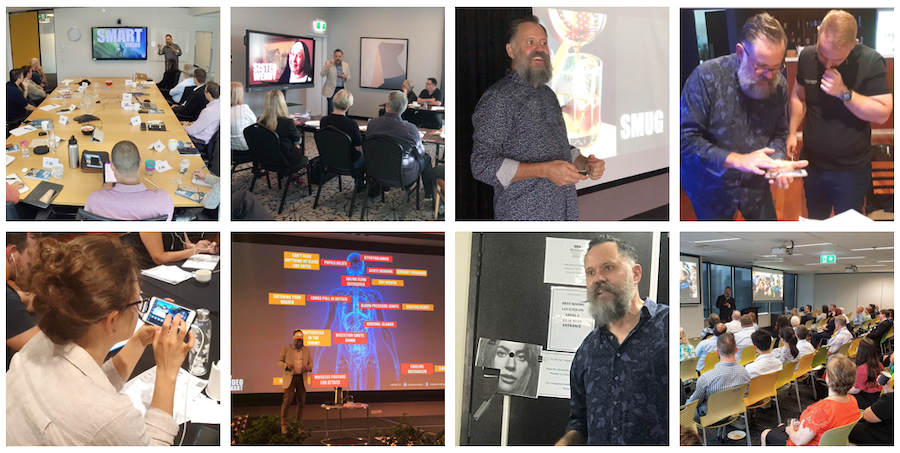 BENEFITS
Productivity boost #1: You'll make much greater use of the $1500 productivity tool (smartphone) in your pocket.
Productivity boost #2: You won't spend 3 hours making a one minute video. I will get you making videos up to 6 times faster.
You leave with the tools and techniques and strategies that will boost your business.
You'll be able to integrate video into your business immediately.
The Cut-Through Video Presentation Skills I share with you will not just prepare you for the camera, it will help you shine on stage, whether that is in the boardroom or before 500 people.
You'll get script templates to 'smarten up' your messages and speed up your production.
You will learn video tips that most video experts still don't understand.
You and your team will become more confident, both on-camera and off.
You'll save potentially thousands of dollars by not buying useless, over-hyped, unnecessary equipment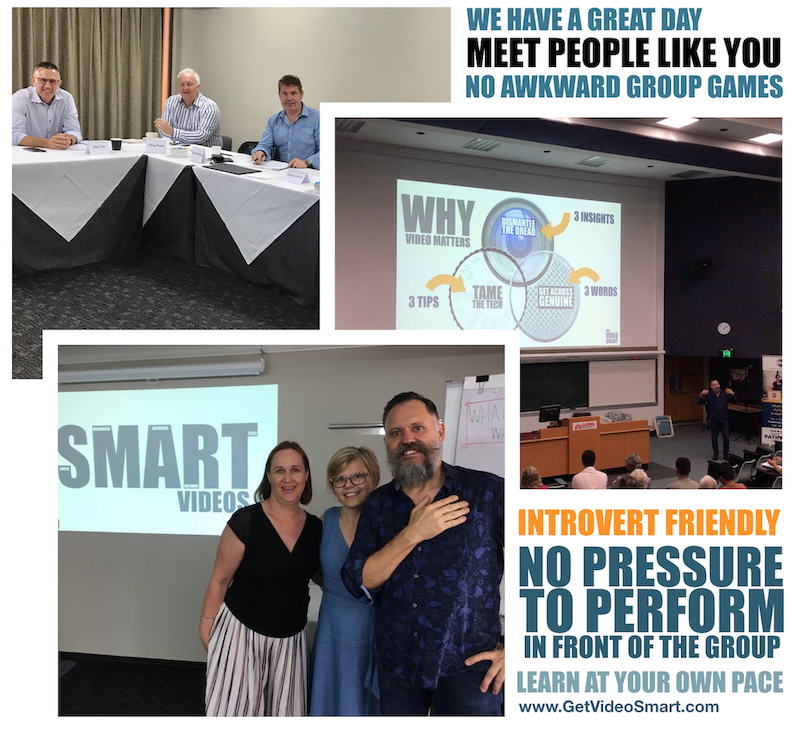 WHO SHOULD ATTEND?
Anyone in Sales wanting to

introduce new products
send personalised thankyou's to customers
introduce themselves to new customers
create explainer videos for customers
Mid to Senior Leaders / Business Owners wanting to

help their people understand WHY?
welcome new members when they can't be there in person
make brief announcements about job openings, compliance requirements
reduce the time they spend on emails
keep their team current
give progress updates
Anyone involved in training and educating their teams
give the opportunity to staff to take ownership of the experience and knowledge they have. Creating in-house training is straightforward, exciting, morale-boosting, cost-effective, quickly updatable.
Anyone wanting to make outstanding video job-applications
make yourself stand out from the rest
get yourself seen inside an organisation before ever stepping a foot in the door.
INCLUDED IN YOUR WORKSHOP PACKAGE
5 hours of easy to understand, easy to action training
Your copy of the book 'Get Video Smart'
Access to the (upcoming)Get Video Smart online community. Joining fee waived ($197) + one free month membership ($19.99/month)
tea/coffee
lunch break
My deep experience. I will answer specific questions. I will stay until every question you have is answered.

*No one is required to perform in front of the group. This is an embarrassment-free zone.
**SPACES ARE LIMITED. BOOK YOUR SPOT NOW SO YOU DON'T MISS OUT.
Does it matter if my phone is iOS or Android?
No. Get Video Smart is platform agnostic. Both Android and iOS are on equal grounds in my workshop. You will be pleasantly surprised at what you can achieve with your smartphone, regardless of its digital religion.
PAYMENT PLAN:
3 x $100 payments = $300
Start your payment on this page
https://www.julianmather.com/offers/sDqwBHa2

Note: No discount codes can be used on the payment plan
REFUNDS: I honour your paid ticket until you use it. If you cannot make this session notify me as soon you can. I'll reserve a seat for you at the next Get Video Smart workshop. If you can't make that, then we rinse and repeat until you can.
VENUE: The Holland Park Hotel is easy to get to at 945 Logan Road, Holland Park. Take the Marshall Rd exit off the S.E. Freeway and you'll be at the hotel with 4 minutes.
Lots of parking safe parking in the hotel carpark behind the hotel. As you walk towards the hotel from the carpark there are two entrances. Head to the right-hand side entrance and instead of going down and into the main hotel, veer left and take the small flight of stairs to the doorway. You're there!
Look for these signs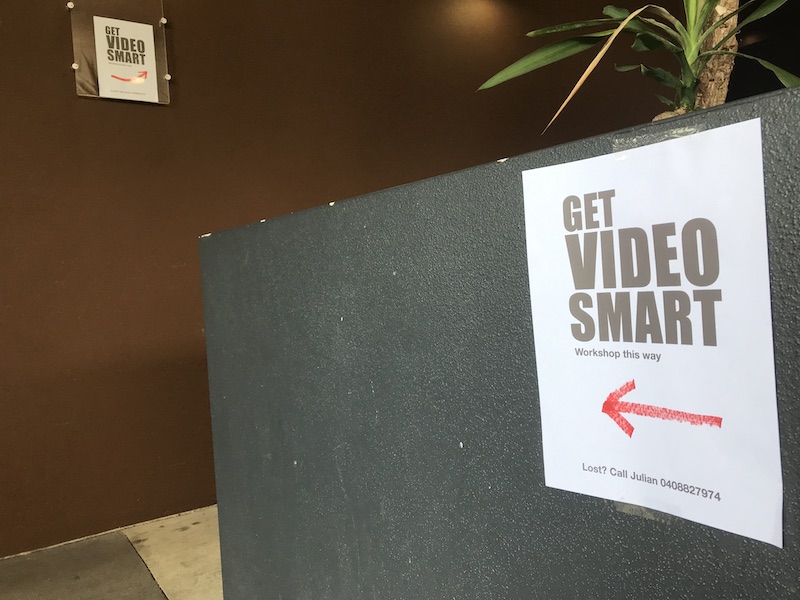 You can order lunch at the hotel bistro or head across the road to the cafes. We wrap at 3 pm but I will stay and answer your questions. I want you to leave feeling ready.