Description
***EXCLUSIVE EVENT FOR ARTSOURCE ARTISTS***
Get Illuminated with Light Application on 27 June 2017 when they open their busy factory for a one night only event. Join the guided tours and technical demonstrations of their services and equipment designed to give you an insight into their capabilities and inspire artists to expand their arts practice.
Experienced public artists, Rick Vermey and Dawn Gamblen, will share their workflow and offer first-hand experience into incorporating light in the fabrication of artworks.
Stay for a Q&A session with the artists and specialists from Light Applications.
This event is exclusively for Artsource Artist members only (ACCESS/PLUS/MAX). Light refreshments will be provided. Please RSVP for this event as spaces are limited.
Light Application's enthusiasm to take on challenging and unique projects is commendable. Their professional, highly skilled staff enabled our concept for an animated lighting artwork at Perth BusPort to become a reality. Special thanks to Ben for his programming expertise, patience, and practical assistance – Brilliant! - Dawn and Phil Gamblen, Visual Artists
IMAGE ABOVE: Rick Vermey, Sky Ribbon, 2015. Photographer: Artist Liaison.
About Light Application
Light Application is one of Perth's most experienced specialist LED Lighting and Lighting Control companies working with Artists and stakeholders on projects ranging in size from the very small to full scale projects such as the technical design, supply and commissioning of the integrated lighting, monitoring and control systems for Elizabeth Quay. http://lightapplication.com.au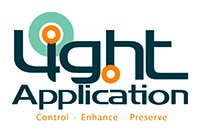 About Rick Vermey
Rick Vermey is an accomplished contemporary artist, based in Perth, WA. He uses traditional and digital media tools, in a wide-ranging visual art practice that incorporates print & photomedia, painting, sculpture and public artworks. Vermey's approach to creativity is to make ideas central to the art-making process.
Vermey has a substantial exhibition history and maintains an ongoing studio practice. His primary field of endeavour is site specific commissioned artworks for the public realm. He frequently works in collaboration with architects and other professionals on artworks for integration within the fabric of buildings. Over the past 20 years, he has created 21 significant public artworks. Through hands-on experience, he has acquired a breadth of skills and expertise covering the conceptual, technical and aesthetic aspects of artistic design, along with a depth of knowledge about production of artworks for the public realm. Vermey's public art projects are often distinguished by innovative exploration of new materials and manufacturing techniques. A notable recent example is the Sky Ribbon Gateway installation on Tonkin Highway at the International Airport entrance, which features unique fabrication methods and dynamic programmed colour-changing lighting.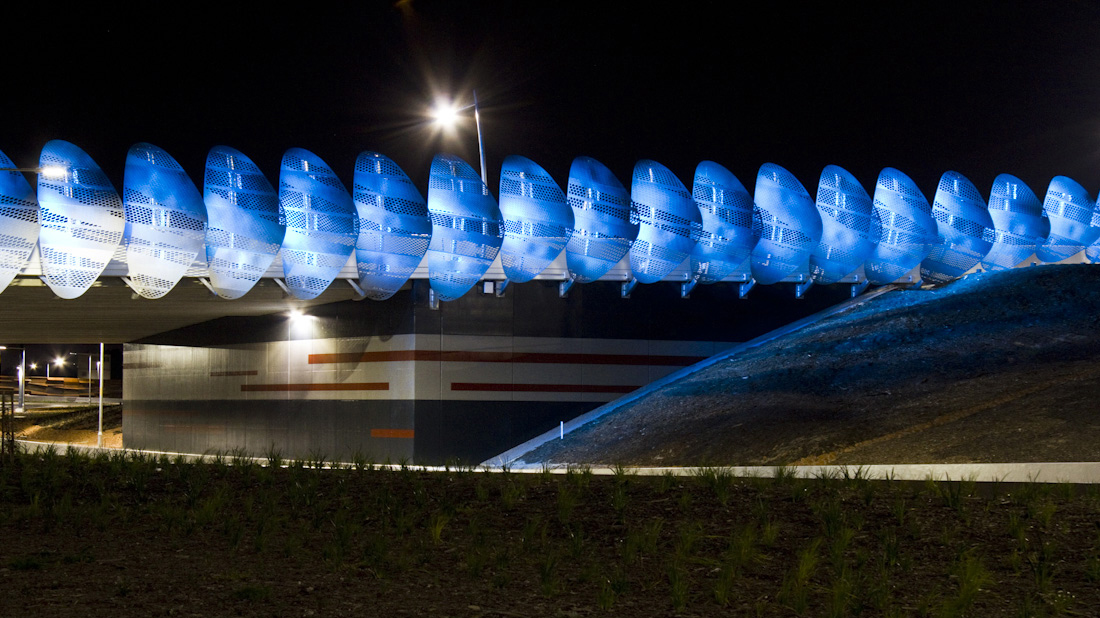 IMAGE: Rick Vermey, Sky Ribbon, 2015. Photographer: Artist Liaison.
About Dawn Gamblen
Dawn Gamblen graduated from Curtin University of Technology (Fine Art) in 2002 after three years at Claremont School of Art majoring in sculpture. Dawn's art practice focuses upon the creation of site-specific sculptural works that respond to their surrounding environment and encourage active and imaginative responses from the viewer. Much of her public art practice has been concerned with change & movement - both implied and actual, with lighting increasingly becoming a significant part of this. Her interest lies in creating artworks that are inclusive of the local environment and the viewer. Her strong interest in nature, movement, physics, science and biology, has been used in the past as both a medium for, and as the expressed idea within her artworks. Now working as a member of the artist team Midnight Tuesday she is continuing to create large scale, sculptural commissions for public spaces.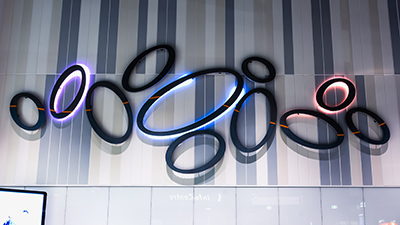 IMAGE: Dawn and Phil Gamblen, Round Trip, 2016. Perth Bus Port East Portal. Photographer: Jun Kendricks.