Description
About the masterclass
In this masterclass acclaimed ceramic artist Andrew Bryant will share his discoveries in wheel throwing. You'll gain insight into Andrew's specialised and unique techniques that result in sculptural work, including his signature spiral forms, faceted towers and animal skulls which are all created on the wheel and assembled thereafter. Students attending this class will be assisted to make their own sculptural ceramic piece on the potter's wheel. No previous wheel throwing experience is required.
What you'll get:
Your own original artwork made under the guidance of Andrew

On request, student work produced at the workshop will be bisque fired at 'Makers Gallery'

All equipment and materials supplied

Tea, coffee and snacks
What to bring:
An open mind

And closed in shoes

Lunch
About Andrew
Andrew Bryant's ceramic practice deconstructs the wheel thrown functional vessel and reassembles it into an alternate form based on the principles of biomimicry.
Andrew is a well-seasoned teacher of ceramic arts and has a 25 year experience in the ceramic industry. He is an automatic fixture of all ceramic conferences around Australia and has exhibited widely. His workshops are designed to be a fun filled and engaging experience for all ceramic enthusiasts, from beginners to the professional.
This workshop is part of a series of Masterclasses brought to you by the Objects of Desire: Contemporary Clay exhibition, curated for Artisan by Australian Ceramics Association President Shannon Garson. Andrew Bryant is one of the ten Queensland ceramic artists chosen for this extraordinary exhibition. See Objects of Desire: Contemporary Clay on display Gallery Artisan (381 Brunswick St, Fortitude Valley) from 13 September to 19 November.
Objects of Desire is supported by the Visions regional touring program, an Australian Government program aiming to improve access to cultural material for all Australians.
---
About Makers Gallery
Makers Gallery is the realisation of Stephanie Outridge Field's long held dream of having a dedicated display space for ceramic and other genres of art. The gallery opened on the 12th of December with an exhibition simply called "Friends". Please visit this page regularly for details of past, current and future exhibitions and events.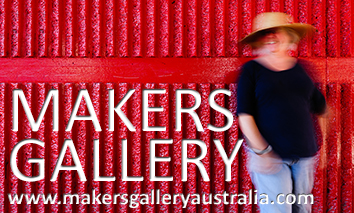 ---
Workshop Cancellation Policy
Please note that if minimum numbers are not reached this workshop will be cancelled. Participants will be notified of cancellation a week prior to the workshop date and refunded accordingly.
Participant Cancellation Policy
Bookings cancelled up to one week prior to the start of the workshop will be fully refunded.
Bookings cancelled within a week prior to the start of the workshop will receive a 50% refund.
Bookings cancelled after workshop has begun will NOT be refunded.