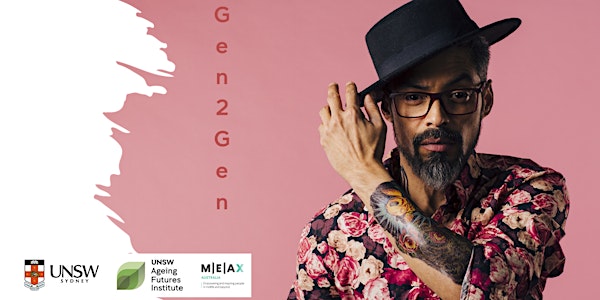 Gen2Gen - Intergenerational Collaboration and Mentoring #AgeDiversity
An opportunity to collaborate and learn from older mentors about career progression in contemporary age-diverse workplaces.
About this event

Background
With a growing ageing population, demographic trends are impacting the way we live and work with up to five generations working together in the modern workplace. Opportunities for adapting to and navigating our new longer 'multi-stage' lives require an age-diverse approach. Strengthening age-diverse collaborations has the added effect of expanding skills, knowledge and reducing unhelpful negative age stereotypes and assumptions about the different cohorts with which we work.
In this UNSW Diversity-fest session, the UNSW Ageing Futures Institute joins forces with the Modern Elder Academy (MEAx) - the world's first Wisdom school for navigating midlife and beyond. We will hear from guest presenter Nim de Swardt (MEAx) about her experience as working in a 'Chief Generations Officer' and her current work involving intergenerational collaboration.
The webinar will also provide participants with a working definition of 'Intergenerational collaboration' and describe the benefits of mentoring and working in a more collaborative way across generations in knowledge-sharing and the cultivation of wisdom, providing an opportunity for different generations to discuss modern workplace needs from a generational perspective.
An added opportunity will be for participants to have a brief 15-minute mentoring session (in break-out groups) with a 'Modern Elder' to discuss anything from CVs and interview tips to broad work/life balancing acts and techniques for career advancements.
Speakers
Guest presenters: Nim de Swardt & Gabriela Domicelj
Nim is an Australian 'intrapreneur' turned social entrepreneur, the world's first 'Chief Next Generation Officer' and currently is founder and 'lifestorian' at the WIN|WIN - a platform that uses the power of human stories to build new bridges of empathy and connection across all ages. Nim grew up in a treehouse in North Queensland and has lived on 4 continents and travelled to over 60 countries. Nim can be found @nim.deswardt or at nimdeswardt.com
Gabriela is a management consultant turned 'midlife pivot' explorer. After 25 years in corporate jobs, where she managed complex change projects and worked with creatives to produce meaningful brands, she has turned her attention to the emerging fields of midlife wisdom and intergenerational collaboration. Gabriela has lived in 9 cities in 7 countries and, like Nim, has travelled to over 60 countries. She currently leads a start-up in Australia, to bring the world's first midlife wisdom school, the Modern Elder Academy, to Asia Pacific. The team comprises 15 enthusiastic volunteers, ranging in age from 35 to 80. See meax.com.au .
Convener of Gen2Gen event: Dr. Natasha Ginnivan
Natasha is a research fellow with the UNSW School of Psychology, an associate investigator with the UNSW Ageing Futures Institute, and the ARC Centre of Excellence in Population Ageing Research (CEPAR). Her research focuses on investigating implicit and cultural attitudes to ageing, age stereotypes and self-perceptions of ageing. Natasha and her AFI & CEPAR colleagues are currently investigating workplace interventions to improve attitudes to older workers and evidence-based age-diversity & inclusion intervention training programs to maximise knowledge exchange and reduce ageism.
This event is supported by the UNSW Division of Equity Diversity & Inclusion, as part of Diversity Fest 2021.

Organiser of Gen2Gen - Intergenerational Collaboration and Mentoring #AgeDiversity