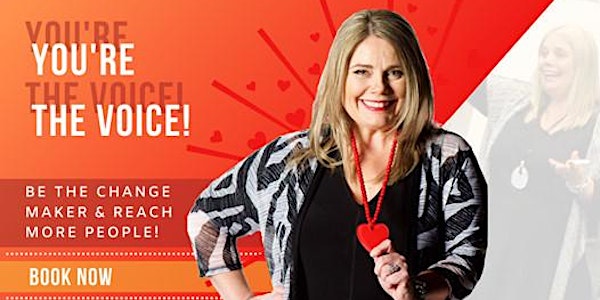 Geelong Free Public Speaking Training - You're the Voice
Event Information
Location
Novotel Geelong
10-14 Eastern Beach Road
(Peninsula room)
Geelong, VIC 3220
Australia
Live Event: Learn Techniques That Professional Speakers Use and Make an IMPACT! BE A CHANGE MAKER AND REACH MORE PEOPLE
About this event
YOU'RE THE VOICE WORKSHOP
BE A CHANGE MAKER AND REACH MORE PEOPLE
Live Event: Learn Techniques That Professional Speakers Use and Make an IMPACT!
Are you so passionate about sharing your message with the world, you feel ready to burst? This training is for YOU!
If you want to grow your business and reach more people who need what you offer, then you need to get in front of more potential customers and have them connect with your message.
When you discover the authentic public speaker in you, you can change more lives! 
Speak on camera, create workshops and online courses using speaking techniques that world famous public speakers like Tony Robbins use and make an IMPACT!
Public speaking is, hands down the fastest way to build rapport, trust and authority.
Which, in turn gives you influence you can turn into new clients and buyers.
This is your opportunity to be the change maker you've always wanted to be!
Here are a few of the proven strategies you'll discover …
A reliable way to eliminate your nerves in a split second so you can jump up at any time, ready to present like a professional speaker
How to speak from a place of authenticity so your audience knows you are the real-deal and not a fake
Language which repels your audience, and language which draws them in. You'll know what to do … and what to avoid in your next presentation
Different personality types you'll have in your audience, and simple ways to connect with all of them and bring them on the journey with you
Clever ways to simplify your message so your audience 'gets you'
A special way to open a speech which has your audience leaning in and hanging off your every word from the start
And how to build influence quickly and win over your audience to turn them into high figure clients and sales
What people often don't trust about speakers, and how to tackle these objections quickly so they suddenly flip and are on your side.
Why allowing yourself to be vulnerable is perfectly OK, and in fact creates trust almost instantly
Why your story matters, and how to use it and create an unbreakable emotional bond with your audience
FAQ's
Will I just learn about public speaking in this training?
Oh you will learn so much more. You will learn simple strategies of self-empowerment that will help support you in all other areas in your life.
What level of experience do I need for this training?
Finding your Voice training is for those just starting out, to those that have had some experience in speaking and want to continue to develop their skills even more. It is not for the seasoned professionals. We have our more advanced speaking courses, Empowered Speaker and Masters Facilitation course that is suitable for the more advanced.
Will Janelle be at the live training?
Yes, you will be coached directly by Master Coach Janelle in the room. She will be there to support you & challenge you to success.
Do I have to stand up in front of people and speak?
No..I understand you may feel a little nervous, that is so normal and exactly the reason that you are perfect for this training. You are completely in charge of what you decide to do in the room. By the end of the training day, you will be itching to stand up and speak.
Does Janelle do private coaching for Public Speaking?
Yes however there is a waiting list and Janelle only takes 5 one to one clients per year. With Public Speaking, the learnings are intensified when you are practicing in front of a live audience which makes the group training and ideal learning platform.
MEET YOUR MASTER COACH, JANELLE JOHNSTON
Janelle Johnston is an International Speaker & Leadership Trainer with extensive experience as a Human Behavioural Specialist working with top companies & individuals to achieve peak performance.
Janelle is committed to self-development and is a Transformational Life Coach, Speaker, Leadership Educator, Trainer & Master NLP Practitioner, Master Deep State Re-Patterning, Master Hypnotherapist, Accredited Extended DISC® Behavioural Profiling Consultant/ Trainer, Accredited Cert IV Trainer & Assessor and Landmark Graduate.
JJ, as Janelle likes to be called, has studied with the leaders in Personal Development from Dr Demartini, Benjamin Harvey, Anthony Robbins, Taki Moore & Sharon Pearson.
She has travelled to many different countries around the world and had over 20 years experience in the Personal Development space.
Janelle is constantly researching & up skilling to enable effective delivery of cutting edge training & advanced coaching for her clients that exceeds their expectations.JJ understands the power of people and strongly believes that the most powerful competitive advantage in any business is achieved by utilising & developing people's potential
JJ has worked with clients such as Melbourne Airport, Freedom Furniture, Territory Discoveries Travel, Australia Post, The Good Guys, McDonalds, just to name a few and coaches individual clients & facilitates training programs all around the world.
"My personal mission is to assist companies & individuals to BREAKTHROUGH any barriers that are limiting their potential & to implement strategies that achieve Outstanding Results.I have a burning insatiable Passion to stretch people & accelerate their learnings so that they can BE MORE & HAVE MORE of what they want in their life.
As a Human Behavioural Specialist, I thrive on Innovating & Creating programs that will expand thinking, develop skills & create results that are beyond the expectations of what was even first thought possible. It gives me great pleasure to delight & surprise my clients with the Rapid Transformation that is achieved through tapping into the resources that are already within them together with implementing strategies of personal excellence.
I have a Vision of creating a community of individuals who experience the incredible life changing ability to "Shine" and have the gratitude & willingness to mentor others & create a powerful positive ripple effect in the world. This will be my legacy of contribution." 
Janelle has worked with clients such as Mars, Wrigley, Melbourne Airport, Freedom Furniture, Territory Discoveries Travel, Australia Post, The Good Guys, McDonalds, just to name a few and coaches individual clients & facilitates training programs all around the world.
"Thank you Janelle for your amazing knowledge and skills!! Since I have completed your speaker course, I have so much more clarity and laser beam focus on the direction of my business. I have so much more confidence presenting in front of an audience that I have since gone on to achieve amazing success speaking to a room full of people about my personal story. If it wasn't for Janelle, I would have never volunteered to not step, but leap outside my comfort zone and speak up about domestic violence. Thank you for empowering me to become the best version of myself."
Chelsea Dolby Executive Regional Vice President Arbonne  Australia & New Zealand
"Wow! Janelle and her courses are outstanding. The content and delivery far exceeded my expectations. The positive impact on my business, even after implementing just a fraction of what I have learnt from her, has been amazing and so rewarding. I'm super excited to continue on the journey of growth and continue implementing her teachings."
Yvette Timmins Director Bloom College
"Janelle's course is more than just a speaker course. It takes you on a journey of self discovery both personally and professionally. You are stretched way beyond your comfort zone and find yourself confronted with challenges that you never thought you would overcome. Even though I had delivered training and spoken at events in the past, I feel that I am now more than 10 times better at presenting. And much to Janelle's delight (and amazing support), I no longer need my PowerPoint 'crutch'! I highly recommend taking the time to challenge yourself with this course."
Carli Saw  Director Strawberry Seed Consulting
"As a real estate agent who speaks everyday I have picked up bad habits of talking fast and sometimes speaking too much with my hands. I took Janelle's Speaker workshop as I wanted to refine how I spoke during presentations and to learn to slow things down. I can honestly say she was fantastic. I learnt how to stand strong, relax more and deliver my message more clearly. I would highly recommend trying one of her workshops or consulting her for a one on one as she will only add value and you will come out a better speaker 100%. Thanks JJ."
Stacey Hayes Director/ Sales Hayeswinckle Real Estate
"Before doing the speaker course with Janelle I was nervous and afraid of not only public speaking, but approaching people at networking events. Since finishing the course, I have been attending networking events which resulted in 3 guest speaking invites. One of those was a gala event with 200 people. It has completely transformed my business."
Michelle Bloom Director Time to Bloom Coaching
Date and time
Location
Novotel Geelong
10-14 Eastern Beach Road
(Peninsula room)
Geelong, VIC 3220
Australia
Refund policy