We're Re-imagining Healthy Masculinity. Welcome home. To a safe, connected space where men express themselves freely, openly & courageously.
About this event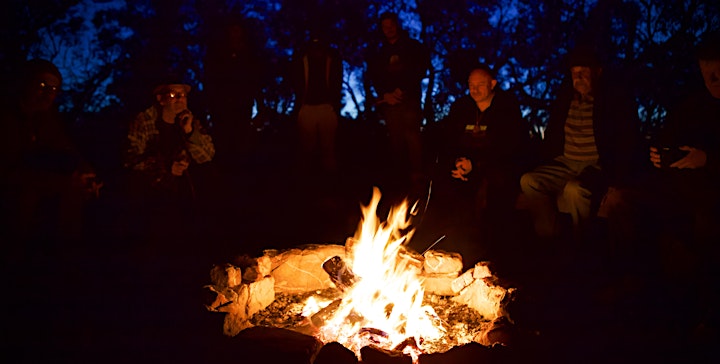 DATES
Our dates for our Spring Gathering Men 2021 are confirmed for 2 nights & 3 days from 3:00pm Friday 15th - 5:00pm Sunday 17th October, 2021. All men welcome.
BACK ON-COUNTRY
In Spring 2021 we're heading back out On-Country. To the place it all began. The best news? You're invited. We'll be gathering at tanderrum, a stunning 100 acre property on sacred Djaara - Dja-Dja-Wurrung Country. Near Hepburn Springs in the shadow of Lalgambook (Mt Franklin). We are 90 minutes from Melbourne. 10 minutes from Daylesford. This land has called in & safely holds our gatherings.
COVID-SAFE
We're all about Men's Health & Well Being & we believe Australian Men deserve connection now more than ever. So, in the lead up to our gathering we will continue to monitor developments carefully & to listen to a broad range of expert health opinion. We take our duty of care & responsibility for this event extremely seriously. We remain 100% committed to delivering a a COVID-Safe Gathering for a very special group of men.
CONNECTION
Our core theme is Connection:
• Connection to ourselves as individual men
• Connection to one another in a circle of men
• Connection to mother nature & this beautiful Djaara - Dja-Dja Wurrung country
• Connection to & respect for first nations wisdom & culture
• Connection to the people & communities we love most in our lives
TOGETHER
Together, we're reimagining what it takes to be a healthy man. Together, we're challenging the stereotypes around men's mental health & masculinity. Now's our time. Let's slow down & breathe deep. Tread lighter & drop deeper. Join us on the journey this Spring.
WHY CONNECTION?
Gathering Men is all about connection, authenticity & brotherhood. It was created & crafted with Men's health firmly in focus. In response to calls from all sorts of good men. Some had attended Men's gatherings in the past & expressed interest in something fresh & different. For others it was their very first experience of this kind.
What we have since crafted together is a rare opportunity to spend quality time amongst good men. Away from the demands of everyday life. Providing us all with the space to slow down. The time to breathe in. To tread a little lighter with ourselves & explore a lot deeper too.
- How am I really feeling?
- Where am I honestly at?
- What is actually going on for me?
- Am I truly satisfied with the man I am right now?
- Given the chance, what might I shift about my life?
Together, we move out of our heads & back into our hearts. Creating a simple, safe place to share our stories. A space to listen and learn deeply from one another.
RE-IMAGINING HEALTHY MASCULINITY
Together, we are challenging the stereotypes one man at a time. Redefining how emotionally balanced Men truly connect. With themselves. With other men in circle. With Mother Earth & the powerful First Nations lore & culture of this land. And most importantly with the peope in their lives that they love & that love them.
FIRST NATIONS WISDOM
We acknowledge the traditional owners of the land we gather on. Sacred Djaara - Dja-Dja-Wurrung Country. Always was, always will be. On this land the Jaara people performed age old ceremonies of celebration, initiation & renewal. We honour their living culture & deep connection to country. Our deep respect to elders past, present & emerging.
We honour 'Djandak' (Country) the sacred land itself & all the ancient Story & Songlines that live here. We honour 'Murrup' (Spirit) alive & well in the water, the birds, plants, animals, earth & rocks. We honour 'Martinga Kulinga Murrup' (Ancestral Spirits) & the sacred places that surround & hold us safely. Lalgambook (Mt. Franklin), Larne-ne-barramul (plains of the emu), Leanganook (Mt Alexander), Tarrangower (Maldon) & Kooroocheang (Smeaton Hill).
We feel so blessed to be journeying this path with the support of our First Nations Uncles & Brothers. Djaara - Dja-Dja-Wurrung Elder Uncle Rick Nelson, Gunditjmara / Djabwurrung / Bundidj / Kooray Kooray Elder Uncle Ted Egan Lovett & Gunditjmara, (Keerraay Woorroong / Peek Woorroong) man Will Austin. We also involve other First Nations special guests wherever possible. Understandably, it is not guaranteed that our Elders are always available for our gatherings. Their presence with us is a privelage, not a given. We do all that we can to have them alongside us. We always pay them for their time & energy.
THE RIPPLE EFFECT
At each Gathering Men, the team witness & hold space for strong, brave, courageous, heart centred men. Men who are trusting their flow & never saying no. We have so loved having you all here, journeying deeply with us on country at tanderrum.
This recharged connectedness has rippled out gently through these men to their partners, children, families, loved ones, friends, colleagues & communities. How do we know? Because the men & their families tell us so.
Naturally, given our gathering is all about Connection, this is an alcohol, drug & digital device free space. For the entirety of the gathering. All men, 21 years of age & over, from all walks of life & all persuasions are welcome at this gathering. We welcome diversity in all its precious forms.
DATES & TIMES
• Arrival: 3:00pm Friday 15th 2021
• Departure: 5:00pm Sunday 17th October 2021
This Gathering format begins on a Friday afternoon running through until Sunday late afternoon. 2 nights & 3 days. Enabling us to slow down, connect & travel deep together.
Late arrivals &/or early departures work against the natural flow of the gathering. All men wishing to join us should be available for the entire duration of the gathering. If this is genuinely not possible for you, please discuss with Andrew or Brett prior to the event.
VALUE / LIMITED NUMBERS
This gathering, we are inviting men to invest in themselves, the gathering itself & the land upon which we meet. Your investment secures your place at our gathering. It honours some of our time & energy spent creating, crafting, catering (6 meals) & delivering the gathering. It acknowledges the energy that our indigenous brothers & Uncles bring to this space when in attendance. It also contributes towards the ongoing costs of using tanderrum for this work. Your attendance is confirmed once your ticket is purchased.
Experience tells us that less is often more. We like to keep our gatherings safe, focussed & intimate. Spaces are strictly limited to the first 12 men to purchase a ticket. The event will proceed regardless of final numbers. Your attendance is locked in once you have purchased your ticket. See below.
TICKETS
Limited tickets now released & on-sale for Gathering Men • Spring • 2021. First in best dressed.
As at previous gatherings, we will, at our discretion, offer a discounted rate for up to 2 men wishing to attend who are experiencing genuine financial difficulty. These tickets are made possible by men at previous gatherings who have chosen to pledge & pay forward a donation in kind. All pledges & donations towards our work are gratefully accepted.
CANCELLATIONS / REFUNDS
Cancellations more than 7 days out from the gathering: 50% of the full fee paid is forfeited with the balance refunded. 100% of the fee paid is transferable for use at another Gathering Men On-Country Gathering.
Cancellations less than 7 days out from the gathering: 100% of the full fee paid is forfeited & transferable for use at another Gathering Men On-Country Gathering.
Within reason, no shows, early departures or late arrival, 100% of the applicable fee paid is forfeited.
LOCATION / DIRECTIONS
tanderrum, 181 Lithia Lane, Shepherds Flat, VIC 3461
https://goo.gl/maps/eya4Cn33NqE2
For those of you visiting tanderrum for the first time, the easiest way from Melbourne is this. Over the Westgate Bridge, exit at the Western Ring Road, then on to the Western Freeway. Exit on to Ballan-Daylesford Rd (C141) & head up to Daylesford. Right at the Howe St / Raglan St round-about then a left up at the Midland Hwy. Turn left into Carroll's Lane off the Midland Highway just after passing Lalgambook (Mt. Franklin). Left into Lithia Lane. Travel about 1.65km, past the large holding dam on the left. Head down through a little dip in the road then enter first driveway on left with stone wall entrance. Look for the signs that say tanderrum & "181". Follow driveway till you arrive at the shed. Park. Turn your phone off & put it in the glove box. Get out & breathe the rarified air. Car pooling is a fine idea.
WHAT TO BRING
We will all be camping under the stars. Regardless of the weather. We will review & check-in with you on the weather forecast during the week of the gathering. Please be prepared for all weather conditions. It can be warm during the day & cool at night in the Central Highlands of Victoria. Though in late Autumn in can also get extremely cold. Down to single figures at night. Please come prepared. Bring clothes for both warm (hat, sunscreen, sunglasses etc) & cool / wet conditions (rain jacket, jumper, fleece, scarf, beanie, warm sox & boots, etc).
WHAT NOT TO BRING
Dogs / Pets
Mobile Phones
Alcohol
Drugs
Cigarettes (an opportunity for you to finally kick it?)
CAMPING GEAR
Swag or tent, sleeping mattress, sleeping bag, extra blankets, pillow, torch, water bottle, folding chair, hammock, walking boots, bathers & towel, musical instruments, games & whatever else you feel to bring.
• Note, we have a small number of high quality fully enclosed tent style double & single Southern Cross Canvas swags. Swags are available by request for the duration of the gathering for a cash hire fee of $50 for a roomy double & $40 for a comfortable single swag. If you would like to reserve a swag, pls contact Brett on 0414 827 556. Mattresses provided. Please bring your own fitted sheet, pillow & all required bedding.
CATERING
This event is fully catered in our bush kitchen. We will be catering for & providing up to 6 meals (with vegetarian options) and healthy snacks across the gathering. If you have any specific dietary requirements, please let us know. If you have any special food that you'd like to bring or share, please feel free to do so. We are blessed with fresh rain water & mineral water on site. And a composting toilet or three.
GATHERING MEN VOLUNTEERS
Deep learning opportunities for good, heart felt men 21 years & over. Note that prior attendance at 1 or more Gathering Men • On-Country Gatherings as a participant, is a prerequisite for all volunteer positions with us.
Come & work with us at Gathering Men Australia. Support the core team & the men that attend our Gatherings.
In return, experience & learn about the journey of creating & holding a sacred men's space of connection & authenticity. Glean a first hand insight into First Nations culture & wisdom alongside our Aboriginal Elders & community leaders. Naturally, as a volunteer, your entry to the Gathering is heavily subsidised with meals & camping accommodation included.
CONTACT US
We are very much looking forward to this gathering of men. If you have any questions, comments or thoughts, please connect in with Brett Ellenport on 0414 827 556 or Andrew McSweeney on 0408 170 769
Let's Stay Connected,
🙏🏼
The Gathering Men Team
Like, follow, share