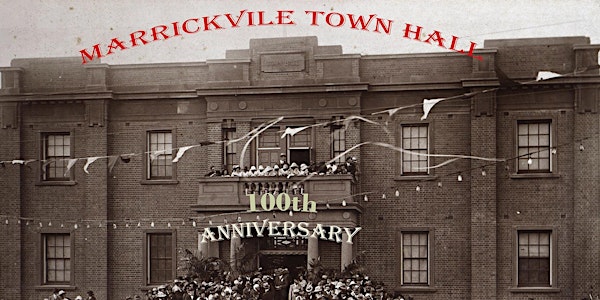 Garden to Pardon - Marrickville Town Hall 100th Anniversary History talk
Location
Marrickville Library and Pavilion
313 Marrickville Road
Marrickville, NSW 2204
Australia
Garden to Pardon 100th Anniversary of Marrickville Town Hall
About this event
100th Anniversary of Marrickville Town Hall
Marrickville Town Hall was officially opened on 11 February 1922. To commemorate the 100 year anniversary local historian Chrys Meader reflects and unpacks the eclectic range of events and community engagement that has occurred in Marrickville Town Hall. From the site's history as a market garden to the official opening, from the roaring twenties to the present day.
Marrickville Town Hall has also hosted many industrial exhibitions, it's been a rock 'n' roll venue in the 1950s, and a home base for multicultural events from the 1970s onwards. It was also famously the set design for the Bruce Beresford film Paradise Road in 1998.
Guest speaker Victoria Johnstone, Inner West Council Arts Projects and Partnership Leader will also talk about the restoration and history of the prominent centrepiece sculpture of the Winged Victory, an integral part of the Marrickville Town Hall corner.