Event Information
Location
Sara Hammer's Garden
33 Searle Street
South Toowoomba, QLD 4350
Australia
Refund policy
Contact the organiser to request a refund.
Eventbrite's fee is nonrefundable.
Permaculture Toowoomba Inc. will be visiting Sara Hammer's urban garden in South Toowoomba.
About this event
Garden Insights + Share Table
Sara Hammer's Garden
Changed date - now
Sunday 13 March 2022
2.00 pm to 4.30 pm
at 33 Searle Street, South Toowoomba, Q 4350
This is an Event organised by Permaculture Toowoomba Inc.
Bookings are Essential
This is a COVID-safe event so it's essential that you book so that we have contact details and know how many will be attending.
Sara has asked that all attendees please wear masks during the visit to her garden. This will keep us all safe. Everyone is welcome including members who are not double vaccinated.
What We'll Do
We'll start at 2.00 pm with a welcome and introduction. We like to visit a range of different gardens, each as unique as the gardeners who live there. It's wonderful to see the diverse garden styles, approaches and plants that can be grown in our bio-region.
So this month Sara Hammer will show us an example of what can be achieved in a 1/4 acre urban garden.
What We'll See
We'll see a quarter acre block that is being slowly adapted toward Permaculture design principles since the purchase of the property 11 years ago.
Key features include:
a front yard with a roof-fed swale-bed system, which supports an orchard and ornamental perennial flower and support species mix;
locally made, wicking veggie beds and bathtub beds with insectary/herb/mulch production borders, composting bays and worm farm,
a classic zone 3/4 food forest at the back of the block with hardy fruit trees, natives, support trees and mixed annual and perennial edible and non-edible, ground covers.
Sara will have a few surplus perennial edible and insectary seedlings and cuttings to share, free of charge, on the day.
The Story Behind the Garden
Sara first heard about Permaculture from a friend in the early 1990s and did her Permaculture Design Certificate (PDC) with Geoff Lawton in 2009 on his farm in the Channon, NSW. She also visited his Greening the Desert project in Jordan, in 2011. Her design focus has been strongly influenced by these experiences, and she is passionate about designing regenerative, natural systems that support desirable food crops - sometimes more than the crops themselves!
Sara is currently completing a certificate in Horticulture (Permaculture) in distance mode. She is also a climate activist, and believes Permaculture provides a viable model for low carbon living and sustainable communities.
What to Bring
Face Mask (all adults are asked to please wear a face mask)
Water Bottle
Hat and Sun Protection
Closed in Shoes
Clothes suitable for the outdoor weather conditions
Donations of surplus produce for the Share Table
Light Afternoon Tea
A light afternoon tea will be served (with Gluten Free and Vegan options). 
Parking and Access
Parking is available on the street.
This garden has some access for wheel chairs, walking frames and strollers if needed. Everyone is welcome including children with close parent supervision for their safety.
Bookings are essential to ensure we have your details if contact tracing is required. Our aim is to keep everyone safe.
Cost
Financial Members of Permaculture Toowoomba Inc. - Free
First-time Visitors to a Permaculture Toowoomba Inc. Event - Free
Non-Members - $10 per person
Children attending with an Adult - Free (but please book so we know total numbers)
Membership
Annual Membership of Permaculture Toowoomba Inc. is due by 31 December each year. It's only $40 per person or $30 for a second or subsequent adult living in the same home.
If you join now, membership will be valid right through until the end of 2022 and members can attend all events and workshops during the year at no cost. There's an option to pay your membership at checkout when you book to attend this event.
Membership forms will be available at the event for anyone wishing to join, or available here for download at http://www.permaculturetoowoomba.com.au/membership/.
Share Table
Do you have surplus?
We encourage you to bring your surplus produce, plants, seeds, books, craft supplies and resources to share with others.
Some ideas of what you could bring include - fruit, vegetables, herbs, eggs, honey, milk, jams, pickles, preserves, jars, ferments, starters, SCOBYs, seeds, plants, seedlings, cuttings, tubers, pots, tools, gardening magazines, permaculture books, recipes, patterns, manure, coffee grounds, compost additives, worms, meal worms, wool, fabric, craft supplies, soap, natural cleaning products, plastic alternatives, produce bags - the list is extensive.
Please bring whatever you can and then take home whatever you need within our culture of generosity and free sharing.
COVID-19
Your safety is a priority. During the COVID-19 pandemic we're taking careful steps to make sure everyone stays healthy and safe.
This is a shared responsibility and includes:
Wearing masks whenever required.
Checking in on arrival.
Maintaining physical distancing.
Please don't attend if you or anyone in your household is unwell, or you're self-isolating because you are at risk of becoming unwell with COVID-19.
Staying informed and following all Queensland Health Directives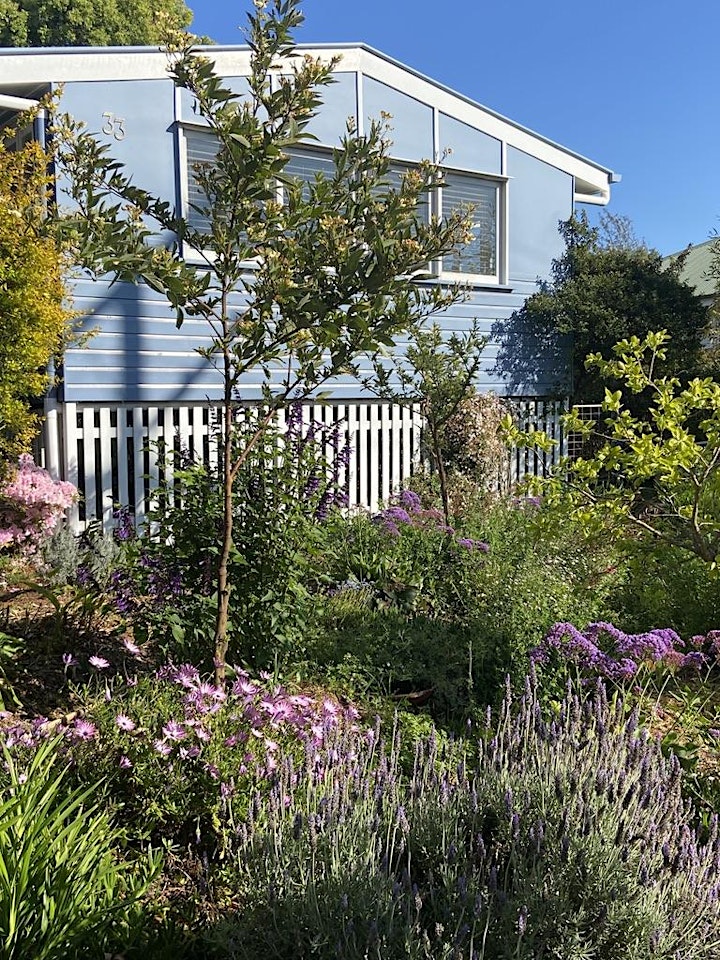 Date and time
Location
Sara Hammer's Garden
33 Searle Street
South Toowoomba, QLD 4350
Australia
Refund policy
Contact the organiser to request a refund.
Eventbrite's fee is nonrefundable.