Description
Game Plus Fest is a celebration of game development and STEM.
You'll find stalls showcasing the work of game and STEM businesses in Canberra, plus short, focused, practical talks and workshops. Experience and learn about fields like game development, robotics, 3D printing, gamification, virtual reality, augmented reality, and more!
Come along to Game Plus fest to see some of the amazing work coming out of the game and STEM industries, and learn how to get involved in these industries yourself! You can see our fantastic stallholders and presenters below. RSVP to stay tuned for more updates.

Food and drinks will be available onsite for the length of the entire event through Soul Cartel.
We'll also have a free boardgame library for those who want a break between stalls and talks.
Follow and post with the hashtag #gameplusfest to share the excitement!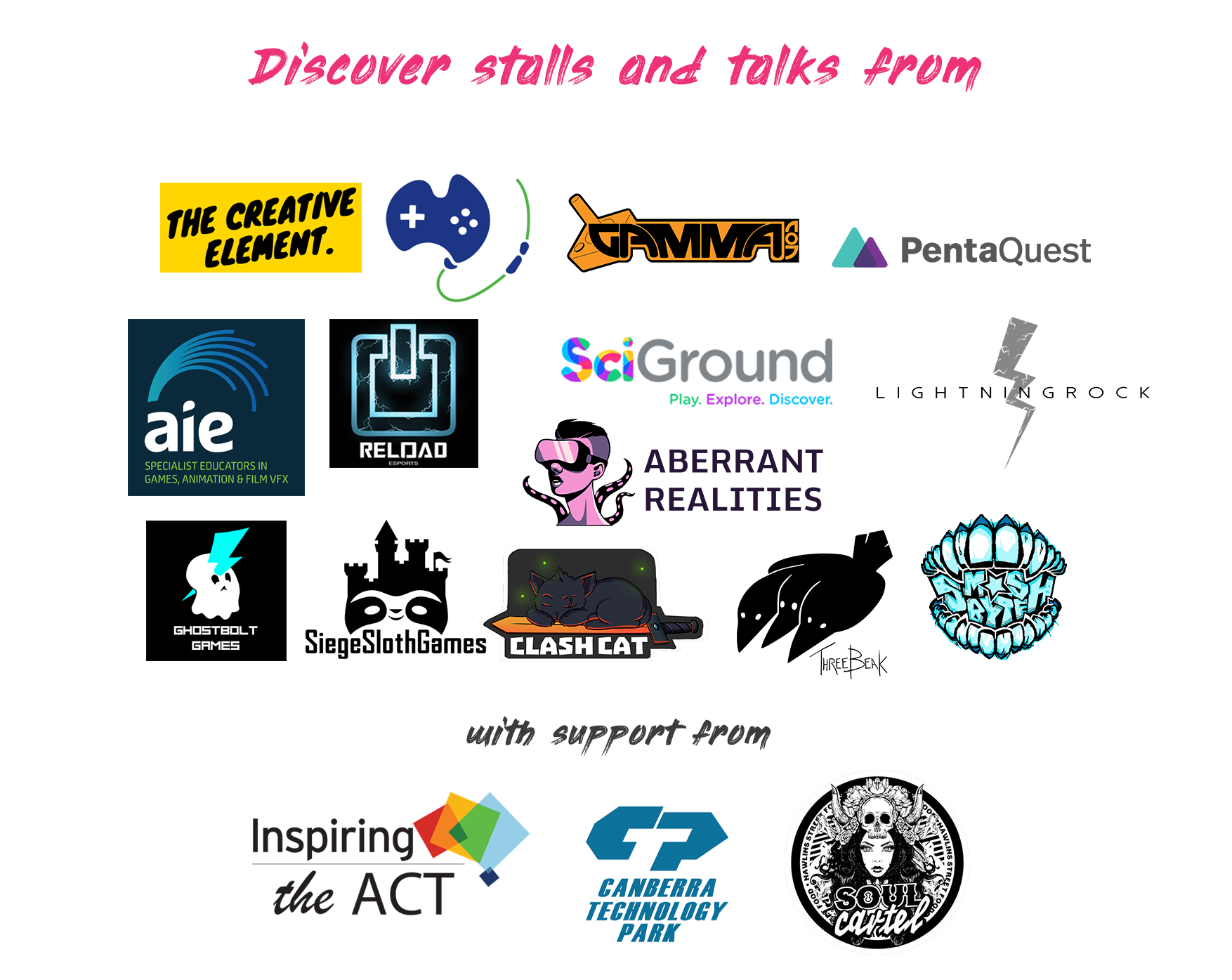 SCHEDULE OF PRESENTATIONS & WORKSHOPS
10:30-10:50
More Than Just Games
with Serious Games Australia & New Zealand
11:00-11:10
eSports Has Arrived
with Reload eSports
11:15-11:25
Game Design with Robotics & Electronics
with The Creative Element
11:35-12:00
Indie Game Developer Q&A Panel
with GamePlus,
Siege Sloth Games,
GhostBolt Games,
Aberrant Realities, and
ClashCat
12:00-12:45
Robotics Programming (Workshop)
LIMITED SPACES: SIGN UP AT THE CREATIVE ELEMENT STALL
12:45-1:00
Introduction to Gamification
with PentaQuest
1:10-1:40
Rapid Prototyping for Games (Tutorial)
with Academy of Interactive Entertainment (AIE)
1:45-2:00
Sharing Learnings from Game Design
with Savage Yeti Games
Organiser of Game Plus Fest: a celebration of game development and STEM
Game Plus is Australia's first national non-profit co-working space for game developers. Established in September 2016 to support the needs of small independent studios, the space has been custom built to enhance collaboration and innovation. Game Plus currently has locations in Canberra, Adelaide and Sydney.