Description
Being a leader in an area where the future is up for design comes with a unique set of challenges. Please join us to hear from three leading women and their experience working within the STEM framework who navigate ambiguity, challenge the status quo and turn imagination into reality.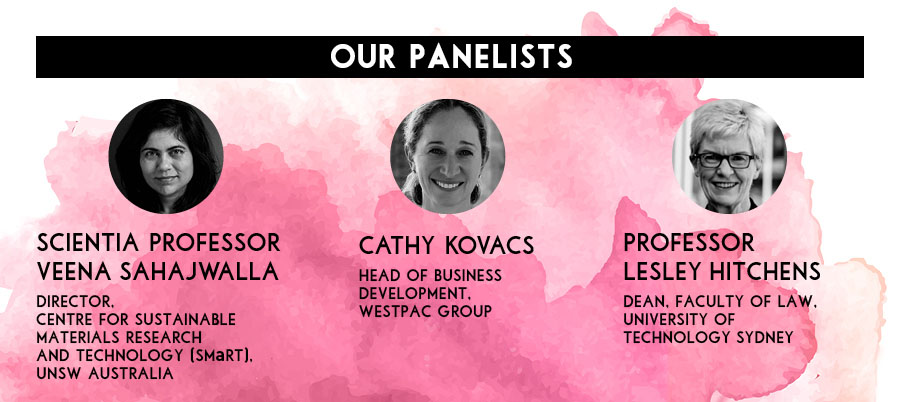 Professor Veena Sahajwalla:
Australian Research Council (ARC) Laureate Professor Veena Sahajwalla is an internationally recognised materials scientist, engineer and innovator revolutionising recycling science. She is renowned for pioneering the high temperature transformation of waste in the production of a new generation of 'green materials.' Veena recently launched the world's first e-waste microfactory. As a materials scientist and engineer and founding Director of the Centre for Sustainable Materials Research and Technology (SMaRT) at the University of New South Wales, Sydney, she is producing a new generation of green materials, products and resources made entirely, or primarily, from waste. Veena also heads the ARC Industrial Transformation Research Hub for 'green manufacturing', a leading national research centre that works in collaboration with industry to ensure new science is translated into real world environmental and economic benefits.
Numerous international and national honours have recognised Veena's research and leadership; in 2018 she has elected as Fellow of the Australian Academy of Science. In 2017 Veena has received PLuS Alliance Prize for Research Innovation and awarded the prestigious Jubilee Professorship by the Indian Academy of Sciences.
Cathy Kovacs:
Cathy is Head of Business Development for Westpac with responsibility for building a portfolio of innovative and disruptive businesses in areas that are complementary to Westpac's core businesses. This role sees her collaborating with the FinTech community to meet the needs of Westpac customers and help small companies accelerate their growth through strategic partnerships with Westpac
Cathy is a Graduate of the Australian Institute of Company Directors, and currently serves as a Non-Executive Director on the Boards of FinTech companies including Equitise and Uno. Cathy has 25 years' experience in financial services building innovative businesses and customer solutions for leading companies including BT Financial Group, Macquarie Group, and Ellerston Capital.
Cathy was named the FemTech Leader of the Year by FinTech Business Awards 2017.
Professor Lesley Hitchens:
Lesley Hitchens joined UTS in January 2008, serving as Associate Dean (Research) from June 2008 until early 2013. She commenced as Dean of the Faculty in February 2013. She is a member of the NSW Legal Profession Admission Board and the Legal Services Council Admissions Committee, and in 2015 was elected as a Fellow of the Australian Academy of Law. Lesley is also a graduate member of the Australian Institute of Company Directors. Prior to commencing her academic career, she practised as a commercial lawyer for seven years, first in Sydney with Allens and later with Herbert Smith (now Herbert Smith Freehills) in London.
She spent 14 years in the United Kingdom commencing her academic career there with the University of Leicester. She subsequently held academic positions at Universities of Warwick, Melbourne, and the University of New South Wales.
Her main research area is communications regulation and she has focused on broadcasting and electronic media regulation, publishing extensively in the field. She has taught corporate law and courses in media and communications law at undergraduate and postgraduate levels.
In the past few years, as UTS:Law Dean, she has contributed to the debate on the future of the legal profession and the impact of technology and the skills needed for future lawyers. In 2018 she was awarded the Financial Times Australian Legal Innovator Award.
Our Facilitator:
Amelia Kennedy:
Amelia Kennedy joined ANZ Wealth, in 2014 as Direct Securities Manager, before being promoted to lead the research capability for all investment products. Her team provides investment solutions and research for the ANZ Wealth businesses. Today, she works within the Project Office managing communications and engagement with all intermediary clients regarding the sale of ANZ Wealth.
Prior to joining ANZ, Amelia worked in distribution at Colonial First State, distributing their asset management capability to the intermediary market. This position followed roles she held at Bell Potter Securities, namely as a Designated Trading Representative.
Amelia is passionate about digital innovation as a means to all people having access to some level of financial advice. She is skilled in managing the logistics of human capital and stakeholder engagement under resource constraint. All Amelia does is driven by her obsession of the customer.