Description
The G16 Jazz Ensemble meets weekly to explore the exciting dynamics of small group improvisation in jazz; from blues to bebop to fusion to free jazz.
The UNSW Guitar Ensemble brings together classical guitarists to enjoy ensemble music across a range of musical styles.
Join the music stars of the future for a thrilling concert exploring music – past, present and future.
Finding us
Io Myers Studio is located at the entrance to Gate 2 High St, Kensington. Look for the Creative Practice Lab neon sign in our foyer windows.
Parking
There is limited parking in the Gate 2 area around Io Myers Studio but free parking is available from 6:30pm in the car park next to NIDA accessed through Day Ave.
Links
More information on getting to UNSW.
Download a campus map. (PDF)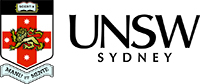 Produced by the UNSW Creative Practice Lab