Description
As 2018 moves ahead some critical trends are shifting from future possibilities to current realities. At the same time other over‑hyped trends continue to distract many organisations.
So which is which?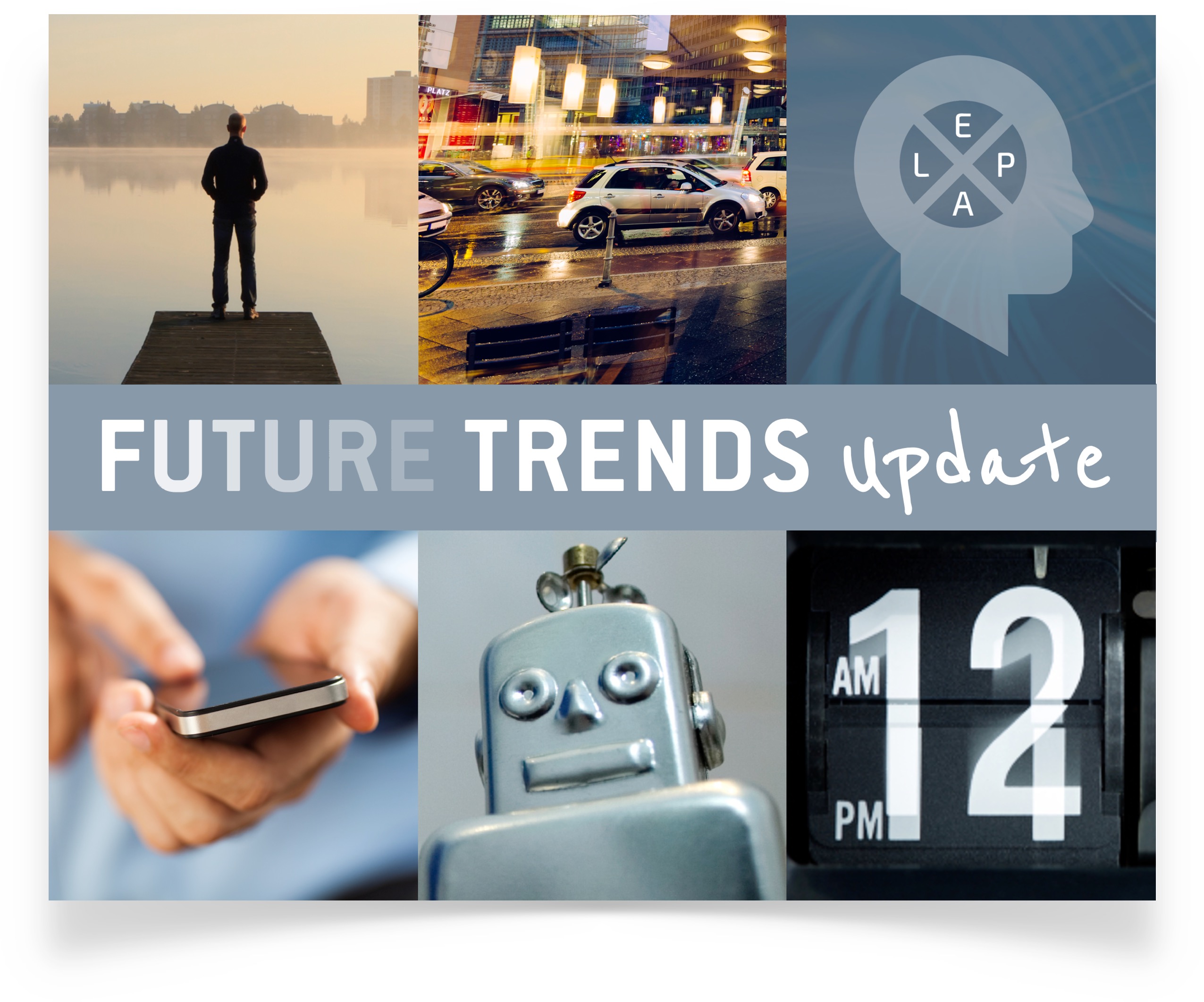 From artificial intelligence to mindfulness, fake news to virtual reality, space exploration to self-driving cars, the Future Trends Update will help you sort signal from noise...
For example do you start your workday looking at your inbox? If you've ever tried reaching a teenager by email, you know that the inbox isn't the centre of their digital lives. Just as workplace communications shifted away from memos and faxes, we can confidently predict another shift is well underway.
Similar shifts are happening all around us – how we travel, what we eat, how we relax, what we spend our money on and how we spend it. To see these changes, all you have to do is shift your perspective. Instead of just staring into the haze of the complete unknown, look more closely at the likely future that exists all around you in the present.
At the Future Trends Update you'll not only get ahead of the latest trends, you'll also learn how to track emerging trends for yourself using a Futuremap.



---
ABOUT FUTURIST DAVE WILD
Dave Wild is a Futurist who facilitates strategy sessions and runs innovation workshops – helping leaders and teams achieve more through greater imagination and faster action.
He works with organisations of all sizes including Westpac, KPMG, Red Cross and Toyota. Dave has led workshops in Australia, New Zealand and the United States.
His experience covers a broad range of expertise including strategy, leadership, branding, digital and innovation. He has extensive experience working with leadership teams to accelerate progress through clarity of strategy and innovative action plans, while inspiring and unifying teams by creating a powerful vision and meaningful purpose.
Through this work he's learnt that the best way to predict the future, is to be the ones creating it. Unique to Dave's approach is a Futurist focus on the new, identifying megatrends across markets while applying new insights from global innovation leaders.
Find out more: dave-wild.com
Read: How to think like a Futurist
"Dave's facilitation is engaging and challenging. He takes you to places you'd never considered and supports you to imagine a very different future and direction. He is motivating and stimulating! He leaves you with an energy and enthusiasm for the future." — Sally Pitts-Brown, Chief Executive, Pathways
"Dave challenged us to move our modes of thinking towards longer-term future possibilities and away from just the obvious and immediate. Dave's impact on our organisation has been profound. We have aimed to develop a more free-thinking, creative approach to problem-solving and really try to continuously imagine what the future could look like and determine how Bluelab will evolve and thrive in that future state." — Greg Jarvis, Chief Executive, Bluelab
"Dave Wild is a genius. A futurist, strategist and provocateur. One of the things I love about his style is his ability to project thinking into the future in a pragmatic, relatable way – he connects the information to the audience, making the future relatable and relevant to their world. He is generous with his knowledge and keen to help other people navigate their path to better thinking. He's one of those people that you can relax and let loose on a group knowing it will go well and deliver outstanding results."— Anna Campbell, Chief People Officer, The Warehouse Group