Learn how to build a resilient business through asset protection, business structure, risk management, digital tools and cyber security.
About this event
Due to public demand, our team pleased to table this year's "FUTURE-PROOF YOUR BUSINESS: Plan your year ahead with TaxSmart Cafe"
This seminar focuses on helping business owners through topics to be tackled namely:
-Asset protection
-Business structure
-Risk management
-Digital tools
-Cyber security
Book your calendar area on July 1st, Thursday, 5:30 pm to 7:30 pm and the venue would be at 480 Collins Street Melbourne, VIC, Australia 3000.
Lastly, it is a paid engagement of $40 per person that includes refreshments.
Book your slots while it lasts!
At TaxSmart Cafe, we support small business succeed!
Website:www.taxsmartcafe.com.au
Messenger Link:m.me/taxsmartcafe
Email: hello@taxsmartcafe.com.au
Instagram: @taxsmartcafe
Facebook: TaxSmart Cafe
YouTube: TaxSmart Cafe
Phone: 03 9909 7072
#taxsmartcafe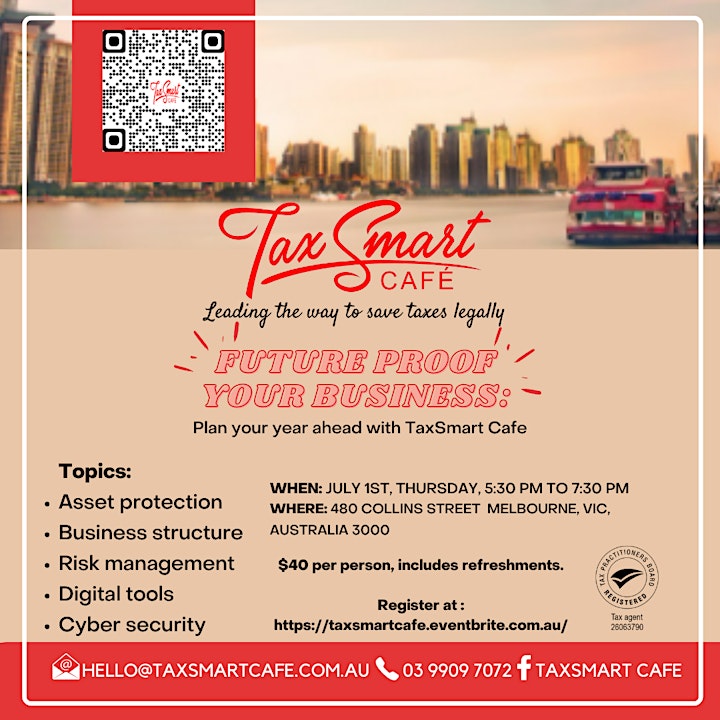 Organiser of Future-proof your Business: Plan your year ahead with TaxSmart Cafe