Future in Foodservice 2021 - Explore the Possibilities - Onwards with Confidence
About this Event
After a challenging year for our industry, it is time to look forward and move Onwards with Confidence!
Future in Foodservice 2021, is a unique event looking into future evolving technologies and digital disruption in the Foodservice Industry .
This event is being organised and powered by Food Industry Foresight, FoodLogic, Fine Food Australia, FIA Foodservice Industry Association & Learning Vault.
Live attendee ticket price includes networking lunch & refreshments .
A hybrid event which will be streamed live, globally.
We welcome Food Industry Leaders, Managers, Suppliers and Operators to come together, as we present keynote speakers covering - News and Insights about new innovations, technologies and industry restructuring, all of which affects our industry.
Each attendee will receive a Micro-Credential Digital Badge. You can upload the badge to your LinkedIn profile to demonstrate that you attended, Future in Foodservice 2021.
Speakers
Wes Lambert - CEO Restaurant & Catering
R&C have shown the lead for our industry during Covid-19 by lobbying with Federal and State Governments. This has benefited the entire industry & well beyond the membership of R&C.
Sissel Rosengren - Managing Director, Food Industry Foresight
Never have market insights been more relevant than now! Sissel will walk you through the current market size and the immediate post-Covid future.
Adam Moore - Culinology Innovation Director, Culinary Revolutions
Respected Chef Adam Moore will share his thoughts on how chefs keep up to date with the evolving changes to our culinary landscape? He will explain how to introduce and create trends in your repertoire.
Thomas King - Founder & CEO, Food Frontier
Plant-based meat – a global and local outlook, and the real drivers and opportunities in an industry projected to be worth $3B in Australia by 2030. Seize your piece of the plant-based-pie!
Lunch & Networking
Craig Rispin - Business Futurist and Innovation Expert
The Future of Food - What are the trends and technologies that will drive how we produce, develop, distribute and consume food in the future? Craig will present the key technologies and areas that are attracting billions of dollars in investment globally.
John Ha - Founder & CEO of Bear Robotics Inc
Bear Robotics is one of the most successful foodservice robot companies in the world. Having recently raised capital for expansion into Asia. What are the real benefits of robotic waiters? Why it was never about replacing staff.
Nicholas Robert - Learning Vault
Nicholas is the king of Micro-Credential learning. He will explain why they are the Ultimate Resource Solution for the Future of Learning. The world is changing rapidly, to stay relevant, we must work and learn at the same time.
Rod Fowler - Futurist, Director, Food Industry Foresight
Our industry has just proven that we can move quickly and pivot in a crisis. What are the immediate opportunities for innovation within the Australian Foodservice sector? What should we be looking to change? Why are we slower to embrace change and what should we be doing to catch up?
At the conclusion of the event there will be a MAJOR INDUSTRY ANNOUNCEMENT
*If COVID restrictions change, we reserve the right to change to an "online only" event and we will refund the ticket price difference between the price paid and the equivalent online ticket price*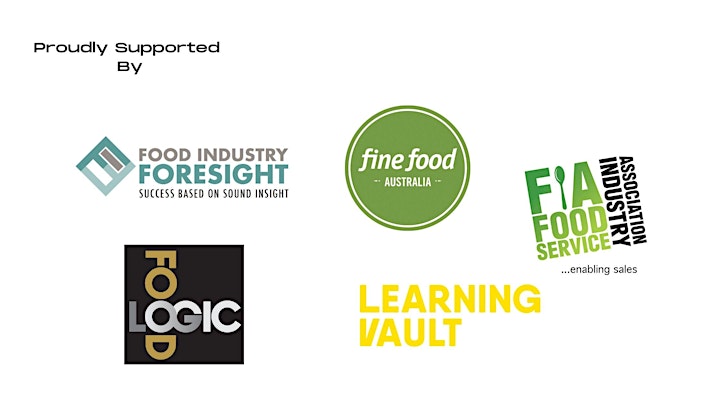 Rosehill Gardens is situated approximately 20km west of the Sydney CBD in the geographical heart of the city and free parking is available for this event, enter via Grand Ave and parking attendant will direct you to the conference.
Attendees can also travel by train to Parramatta Station or by ferry to Rydalmere to connect with regular bus services to Rosehill Gardens.
Visit https://transportnsw.info/ for up to date details.
Upon arrival in the public area there will be notices directing you to the Grand Pavilion.
FREE PARKING AVAILABLE