Future Energy Week: connecting organisations with global leaders and innovators contributing to the clean energy transition.
About this event
Be a part of the conversation with researchers, innovators, policy makers and global leaders in clean energy, renewables and climate solutions.
Future Energy Week is brought to you by the Tonsley Future Energy Consortium, and is hosted at the Tonsley Innovation District, South Australia.
This series of events will showcase the best and brightest in energy and will connect organisations with current and emerging innovators that are all contributing to the much-needed clean energy transition.
The Tonsley Energy Consortium was founded in 2018 by EfficientSee to realise a vision of strong collaboration between current tenants and solution providers in energy. The group of founding members that included Zen Energy, SAGE Group, CleanPeak Energy, AZZO and EfficientSee has since grown to include the City of Marion, Flinders New Venture Institute, TAFE SA, Tesla, Danfoss, Rockwell Automation and Phoenix Contact. This dynamic group represents a unique model of collaboration that is the way of the future.
Through this collective the Tonsley Innovation Precinct is becoming recognised as the Future Energy Hub and is known for many 'firsts' including Australia's largest rooftop solar array and Hydrogen electrolyser.
Future Energy Week has three key aspirations:
• Collaborate: To encourage and demonstrate the power of collaboration.
• Educate: To equip those facing the challenges of Australia's energy transition.
• Elevate: To highlight the precinct, region and state as global energy leaders and problem solvers.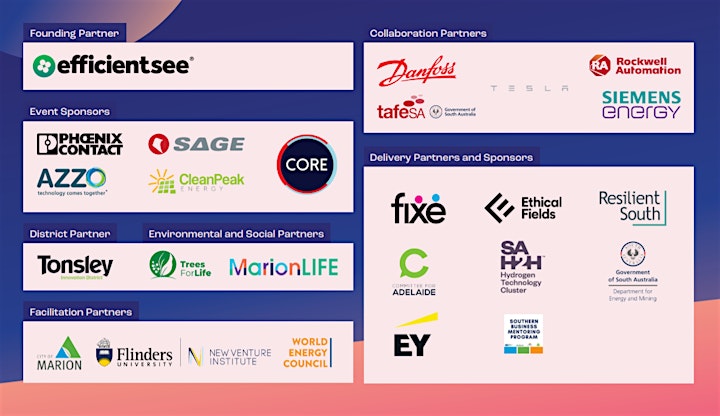 For detailed program, please visit our webpage or download here .
Program Highlights:
ENERGY NOW (November 16)
The current state of play – hear what energy leaders around the world have to say.
8:30: Registrtions / Networking (meet us at Tonsley Pod)
9am: Welcome from City of Marion, Flinders University, World Energy Council and the Event Director
9.30am - Keynote: 'South Australia's Energy Transition' - Richard Day (Director Strategy, Policy and Communications - Growth State and Low Carbon Transition Division at Department for Energy and Mining, South Australia)
10am - Keynote: 'Climate Change 2021: Why we are facing an emergency' - Prof Will Steffen (Councillor, Climate Council)
11am - Case Studies: SAGE Group, AZZO, CleanPeak Energy
12:30pm - CORE Innovation Hub Delegate Lunch
1:30pm - Tonsley Tours
2:30pm - Energy Jargon Buster - with EfficientSee, Tesla, Danfoss, SAGE Group, AZZO, CleanPeak Energy
3:30pm - Keynote: 'The All-Electric Society' - Dr Rüdiger Meyer (Application Expert Energy Storage for the Business Area Device Connectors at Phoenix Contact)
4pm: Keynote: 'How does Australia compare to the rest of the world in its energy transition?' - Dr Angela Wilkinson (Secretary General and CEO, World Energy Council)
4:30pm: Tonsley Connections / CleanPeak Networking Drinks & Nibbles
ENERGY NEXT (November 17-18)
Smart modelling around inclusive energy generation, and consumption.
November 17:
With City of Marion, Resilient South, Committee for Adelaide, Ethical Fields and World Energy Council.
November 18:
With SA-H2H™, Department for Trade and Investment, Australian Hydrogen Council, NERA, H2U - the Hydrogen Utility™, AGIG HyP SA, Department of Energy and Mining, TAFE SA.
ENERGY FUTURE (November 19)
Building resilient and sustainable futures with innovation.
With SA Chief Scientist, HILT-CRC, Flinders University, University of Adelaide, World Energy Council, Department for Innovation and Skills, Office of the South Australian Chief Entrepreneur, FIXE.
ENERGY TRANSFORMATHON (November 19-21)
Accelerating Australia's energy transformation.
With Flinders New Venture Institute, World Energy Council and Menzies Foundation.
All tickets sold for Tonsley Future Energy Week are carbon neutral & socially responsible with contributions going to Trees for Life & MarionLIFE
Please note, tickets are GST inclusive.