Location
Storey Hall Conference Room
342-348 Swanston Street
Melbourne, VIC 3000
Australia
Description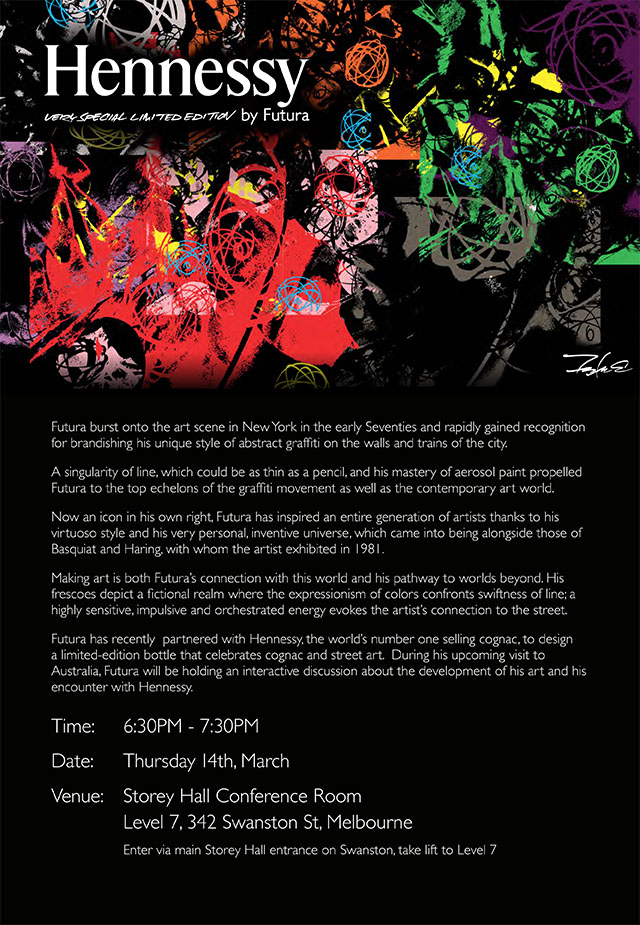 Futura burst onto the art scene in NewYork in the early Seventies and rapidly gained recognition for brandishing his unique style of abstract graffiti on the walls and trains of the city.
A singularity of line, which could be as thin as a pencil, and his mastery of aerosol paint propelled Futura to the top echelons of the graffiti movement as well as the contemporary art world.
Now an icon in his own right, Futura has inspired an entire generation of artists thanks to his virtuoso style and his very personal, inventive universe, which came into being alongside those of Basquiat and Haring, with whom the artist exhibited in 1981.
Making art is both Futura's connection with this world and his pathway to worlds beyond. His frescoes depict a fictional realm where the expressionism of colors confronts swiftness of line; a highly sensitive, impulsive and orchestrated energy evokes the artist's connection to the street.
Futura has recently partnered with Hennessy, the world's number one selling cognac, to design a limited-edition bottle that celebrates cognac and street art. During his upcoming visit to Australia, Futura will be holding an interactive discussion about the development of his art and his encounter with Hennessy.
Time: Date: Venue:
6:30PM - 7:30PM Thursday 14th, March
Storey Hall Conference Room Level 7, 342 Swanston St, Melbourne Enter via main Storey Hall entrance on Swanston, take lift to Level 7