Description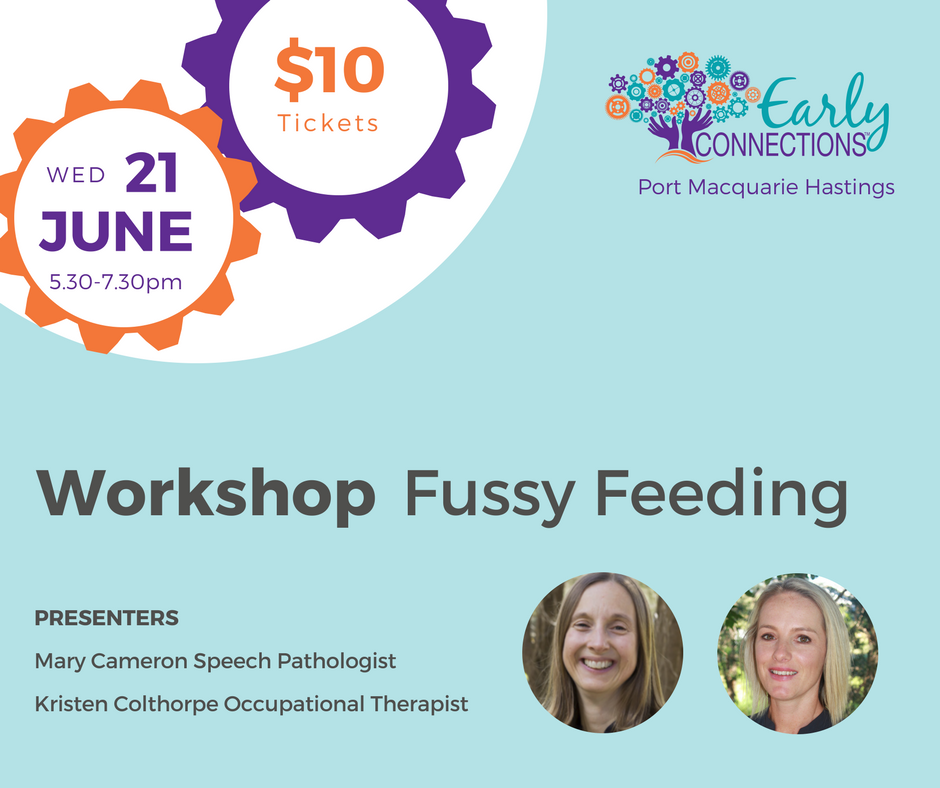 Presented by Mary Cameron, Speech Pathologist & Kristen Colthorpe, Occupational Therapist
This workshop will provide information for parents and carers about Fussy Feeding and tips for helping children with their food difficulties.
This workshop is relevant for all parents but particularly parents with children with disabilities who may have challenges around what they eat. Targeted at children aged 1 - 6 but relevant to those a little older.

If you have a very fussy eater join us in Port Macquarie for a practical workshop.
The main focus of the presentation is sensory issues including severe food aversion. With a speech pathologist and occupational therapist presenting, there will be plenty of opportunity for questions.
There will be case studies and information on all the different sensory inputs with strategies for you to take home. We will help you:
1) Identify the 6 areas that affect eating skills and exploration of eating.
2) Offer strategies to improve food fussiness and picky eating.
3) Create a personal action plan for better eating habits.
Early Connections offer multidisciplinary early childhood intervention services.
Successful management of food aversion may need a multidisciplinary approach:
* Speech Pathologist
* Occupational Therapist
* Psychologist
* Dietician

A "resistant" or "problem" eater will often:
* Eat 15 to 20 foods or fewer
* Refuse one or more food groups (often preferring carbohydrates)
* Refuse one or more texture type (often preferring crunchy or soft foods, not both)
* Tantrum or melt down at meal times
* Prefer one flavour (often sweet or salty)
Join us at Early Connections 41 Munster Street Port Macquarie.