Jenni will introduce students to an unorthodox approach to painting with acrylics.
About this Event
Be prepared to scrape, spray and roll paint and leave the brushes to last.
Working with warm and cool colours as well as transparent colours for glazing, exploring thick and thin possibilities. Starting with the abstract to reality in other words layering of paint, students will be encouraged to unleash their untapped creativity without restriction.
Students will leave with a new found creative confidence and a greater understanding of managing acrylics. No previous experience is necessary-just an open mind.
Materials are not included in this class. To view the materials list please click here.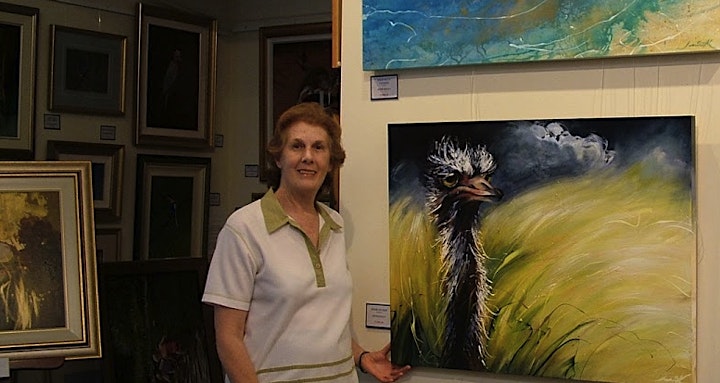 About the Tutor: Jenni Kelly
Jenni was born in Kerang, Victoria and lived and was educated in Bendigo, where her interest in painting began while viewing the great Australian masters at the Bendigo Regional Art Gallery. Thus started a life long love affair of viewing galleries Australia wide. After marriage and family and living in such places as Mackay, Isisford, Cardwell, Augathella, and Clifton she continued to do some painting and was a member of The Flying Art School for many years, travelling hundreds of kilometres to designated centres.
Jenni is self-taught and is constantly improving her skills by attending other artist's workshops. These include McGregor Summer School in Toowoomba, Mitchell Summer School in Bathurst and Clifton Art workshops. She achieves a realistic expression in her creative freestyle painting leaving the viewer free to exercise their own imagination.
These paintings have an appealing sense of colour, freedom, and movement with subjects close to nature. Twenty-one Pieces of Jenni's paintings are hanging throughout the Holy Spirit Hospital at Chermside Brisbane. Jenni's work is continually on display at Hearts and Minds Gallery Hasting Street, Noosa.
MyArt Studio Workshop booking and cancellation policy
The 16 Duggan Street entrance to the classroom will be opened 15 minutes prior to commencement of the class. Students are responsible for their own artists materials unless otherwise stated. A materials list is available for each class and will be emailed to you once your booking is confirmed. Materials lists are also available on our website. Tea and coffee will be provided, and students have access to the kitchenette and toilet facilities. No parking facilities provided. Street parking is time limited and shopping centre parking is at your own expense. Classes with outdoor activities are attended at your own risk.
Fees
Please book into a workshop at least one month prior to its commencement if possible. This will secure your spot in the class and allow us to confirm tutor bookings. If there are insufficient number workshops may be cancelled.
Cancellation of enrollment by you
If you choose to withdraw from a course or workshop up to one month before its commencement, you will be charged a $25 administration fee. The remainder (minus Eventbrite fees) will be refunded. If you choose to withdraw from a course or workshop within 1 month of its commencement, you will be charged a $25 administration fee and the remainder (minus Eventbrite fees) will only be refunded if the position can be filled.
Missed Classes
Once a workshop has commenced there are no refunds. MyArt Studio cannot accept responsibility for changes to students' personal circumstances that prevent attendance. Classes missed are the student's responsibility and are non-refundable. Students are not entitled to a discount or 'make-up' class if they miss a class for any course they are enrolled in.
Cancellations of workshops by us
In the event of a class being cancelled due to insufficient enrollments, a full refund will be given.