Description
Professional fundraiser and experienced non-profit strategist, Bianca Crocker, aka The Fish Chick, will be hosting Fish Community Solutions' very own Fish Fundraising Webinar Series. The series will consist of five webinars over a period of two months to help you learn more about fundraising and making your organisation financially sustainable.
These webinars are an affordable option for smaller, budget-conscious organisations and help provide more accessible education opportunities to fundraisers from small and emerging non-profits, especially for those in regional areas.
Details about each webinar, including the topic and date, are below.
You can register for one or more of the webinars, with a discount applying for attendance at three or more webinars. Tickets start from $35. Please click on the green 'get tickets' box for pricing info.


---
Webinar 1: Planning for Fundraising Success
Monday 26th September, 3pm-4pm
Fundraising always works best when it is planned yet so many charities work reactively in fundraising.

This webinar will help you understand the importance of fundraising planning and give you some key tips for how to choose what fundraising programs might best suit your charity. Plus, you'll also learn a suggested format for developing your fundraising strategy.


Webinar 2: Developing your Case for Support
Monday 10th October, 3pm-4pm
A Case for Support is said to be the most valuable tool a charity can have, yet so many charities, especially smaller ones, operate without one.
This webinar will explain why a Case for Support is so important in fundraising and will go through the vital information that needs to be included when developing one. We'll look at some others as case studies and see what works and what doesn't.

Webinar 3: The Importance of Donor Engagement
Monday 24th October, 3pm-4pm
Individual donors make up the majority of support for Australian charities, yet many organisations do not invest enough time building these relationships.
This webinar will examine the concept of donor stewardship and how we can best build strong relationships with our supporters. It will include tips on communicating with our donors, as well as thanking them.

Webinar 4: Connecting with Businesses
Monday 7th November, 3pm-4pm
There are many great reasons why a charity should consider working with the business community including to grow both brand awareness and fundraising outcomes.
This webinar will look at how to best create opportunities with businesses, including how to determine the types of businesses that would be most suited to your charity.

Webinar 5: Building relationships with your Community
Monday 21st November, 3pm-4pm
Charity is all about community and the relationship between the two is integral to an organisation's brand awareness, ability to attract new supporters and volunteers.
This webinar will examine the fundraising opportunities that help foster relationships with your community. This will touch on peer to peer fundraising, community events and crowd funding.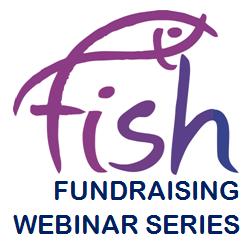 ---
FAQs
Where can I contact the organiser with any questions?
For any questions about the Fish Webinar Series, please contact Bianca Crocker (aka The Fish Chick) at bianca@fishcommunitysolutions.com.au or on +61 409 869 855.
You can also learn more about Fish at our Facebook page www.facebook.com/FishCommunitySolutions
Is my registration/ticket transferrable?
If you have purchased a single session webinar ticket and you later decide you would like to attend a different webinar, Fish Community Solutions can consider changing this for you on the following conditions:
1) There is more than 24 hours until your original chosen webinar is due to begin,
2) You have chosen your new preferred webinar date and time,
3) You contact us via email (bianca@fishcommunitysolutions.com.au) with details of your booking and your new webinar preference and we will determine each case individually.
Can I update my registration information?
For any changes to your registration or booking, please email bianca@fishcommunitysolutions.com.au