There's more than one way to fund your new business idea or transform your existing business. Join us at this unique panel event over Zoom.
About this event
We're excited to bring you this exclusive online panel event within the Commerce Ballarat B31 program and the Bendigo Digital Innovation Festival.
Funding Your Business Journey
Do you think you have to seek outside investment for your business to be successful? Join the conversation with a group of women who have unique ideas and advice, based on experience and industry knowledge, that you will not find anywhere else.
Whether you have a new business idea or are looking to transform your existing business, this experienced panel of women founders will offer practical and unbiased discussion on the ways they've funded their enterprises.
The Funding Your Business Journey Workshop is a unique panel event followed by conversations around different funding methods where you will have a chance to connect, learn and give your business the best chance of success. Thanks to LaunchVic for providing the ability for us to deliver this workshop, and also to our panellists for their expertise and generosity.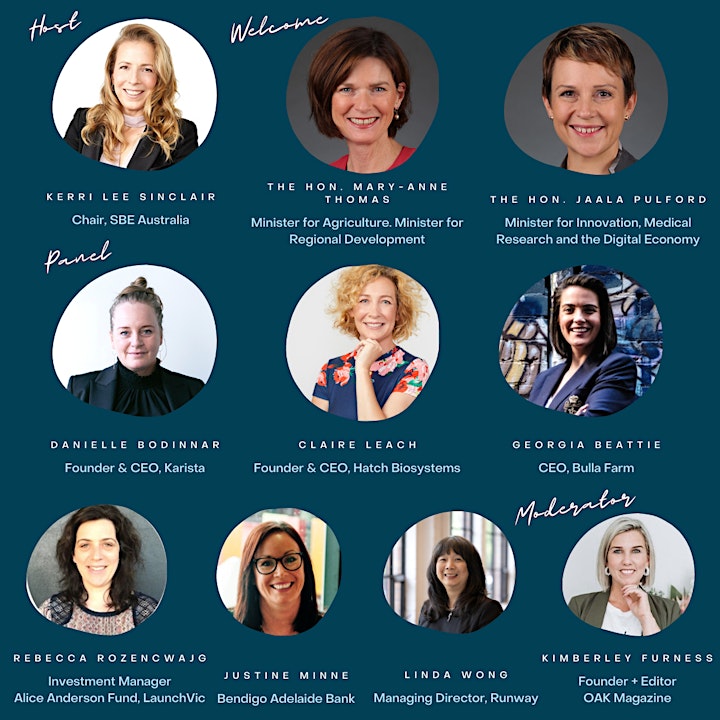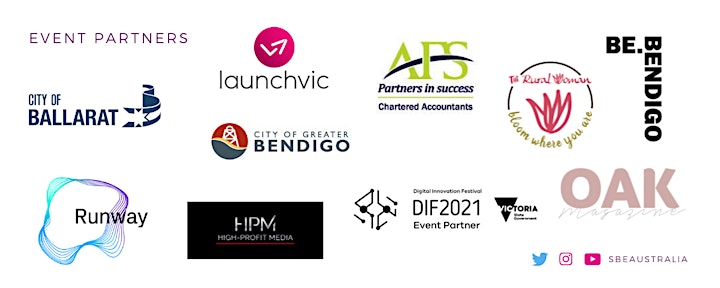 MC - Kerri lee Sinclair, Chair, SBE Australia
Kerri Lee has over 15 years experience working across the high-growth eco-system, from co-founding her own startup, to working with some of Australia's leading tech businesses, including Intelematics and Aconex. She recently has moved into leading technical investment/venture capital in a family office. An alumnae of the SBE Australia by Springboard Enterprises Program in 2000, she has been involved since the early days of the program being in Australia. She is also an Innovation Expert on the Victorian Government's Innovation Expert panel.
Panel Moderator - Kimberley Furness Founder + Editor, OAK Magazine
Kimberley Furness is a magazine publisher, social media trainer and podcast host who spends her time creating content to inspire, influence and resonate. From her hometown in Bendigo, Kimberley started her first business in 2014, digital and content agency Write Style Communications, as a vehicle to share her extensive knowledge and skills to support and empower small business owners. In 2017, Kimberley launched OAK Magazine, an independent print publication dedicated to female entrepreneurs and women in business in regional and rural Australia.
Questions?
As always, we want to ensure the content is relevant to you, if there is anything specific you would like us to cover or if you have any burning questions for our panel - please drop us a note at info@sbeaustralia.org.
We hope to see you there!
Organiser of Funding Your Business Journey
Founded in 2013, SBE Australia is a not-for-profit organisation dedicated to supporting women-led tech and life sciences companies grow and scale their businesses. SBE Australia aims to empower women-led businesses by providing experience, knowledge, tools, training, networks and partners, without taking equity.
We are best known for running the Springboard Enterprises Tech Program for the past eight years and the Springboard Enterprises Life Sciences Program since 2018. Our impact and success is evident from our impressive statistics: over $600M raised by accelerated companies, 85% have raised capital, 2 IPOs and 9 exits plus an alumnae of 143 Evolve (early stage) founders. We have a highly-vetted network of innovators, investors, corporate partners and influencers who are dedicated to building high-growth companies led by women.