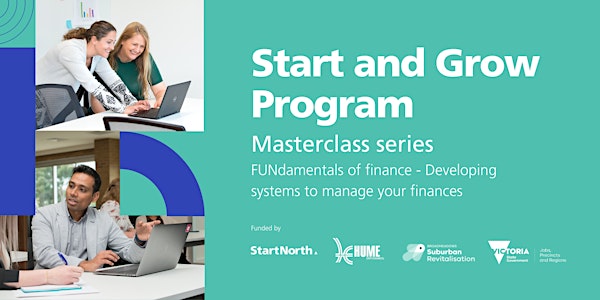 FUNdamentals of finance - Developing systems to manage your finances
Location
Town Hall Broadmeadows
10 Dimboola Rd
Broadmeadows, VIC 3047
Australia
Learn how to recover and grow your business in 2022. Masterclass six of the Start and Grow Program by StartNorth.
About this event
It's time to get back to business!
How many of us can say that reading bank statements, balance sheets and understanding our business financial position is fun?
How many of us can say that we 100% know what all the statements are about and how we can use the information to inform our business decisions?
And yet, we have to understand money before we can make money and so we don't lose money.
These Masterclasses are designed for business owners without financial backgrounds and make understanding financial statements, strategies and systems easy.
Developing systems to manage your finances
This free, 3 hour Masterclass will help you to:
know which financial policies and procedures are priorities for your business
set up good record management systems
create a financial health check
What you will take away
A better understanding of the steps you can take to stay on top of financial management systems in your business
New network of like-minded business owners who have attended the session
A workbook with tips for developing systems to manage your finances
What to bring
A notebook or tablet or laptop to take notes. Food is provided but you are welcome to bring your own.


About your presenter
For more than 30 years, Enterprising Partnerships has assisted thousands of small, medium and large businesses to start and grow. With offices in Australia, Colombia, Mexico, Thailand and Botswana, we are committed to assisting people around the world to achieve their dream of independence and business ownership.