Come join Bess, Jess & Destiny from Udaya Retreats Collective for the Bondi Beach Babes Free Online Spring Equinox Full Moon Ceremony
About this event
Come join Bess, Jess & Destiny from Udaya Retreats Collective for the Bondi Beach Babes Free Online Spring Equinox Full Moon Ceremony on Thursday 23 September at 7.00pm-9.00pm.
The Spring Equinox is the time of equal day and equal night, the balance of light and dark, and so at this time we have the chance to invite balance into our lives.
During Spring, everywhere in nature, we see, feel and hear, the energy, the pulse, the sound of new growth. The rebirth of life and manifesting our dreams to see them come to fruition.
Under the Full Moon in Pisces this creative Water Sign, who is deeply connected, emotionally attuned, artistic, changeable and wise. We will collectively release anything that is no longer serving us.
A nourishing cacao ceremony will drop us into our hearts to express our dance on a magical movement journey. Then we will surrender into peace in a blissful sound healing transporting us to another realm of deep relaxation.
What you need:
☽ Sacred space )somewhere special for you)
☽ Yoga mat or (comfortable area)
☽ Journal and pen
☽ Cacao, Tea, Hot Chocolate or (any warm drink)
☽ Free movement dance moves
☽ Any props you like (blanket, pillow, bed etc)
☽ Candle, crystals, sage or cleansing spray (if you have any)
Sending so much love,
Udaya Retreats Collective & Bondi Beach Babes xxxx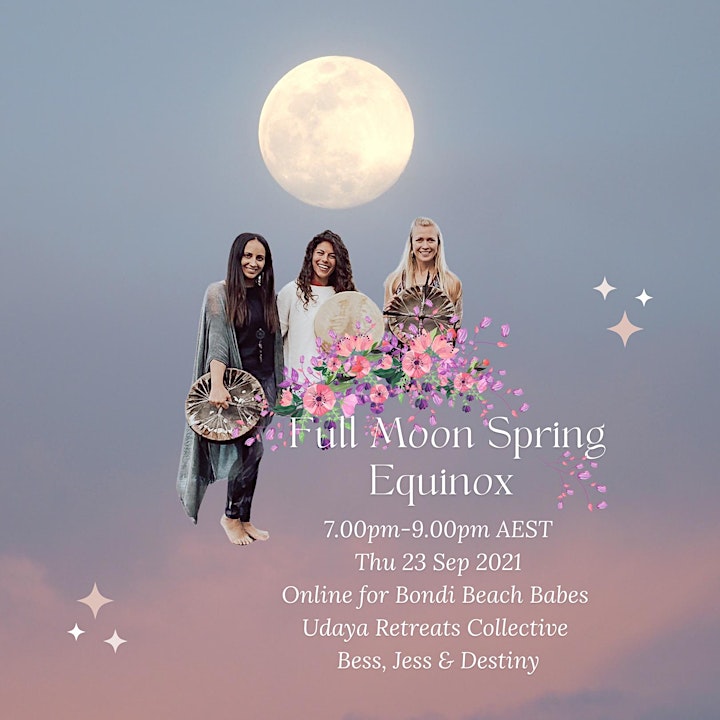 Organiser of Full Moon Spring Equinox: Udaya Retreats Collective & Bondi Beach Babes
Destiny is a Yoga and Meditation Teacher, Sound Healer, and Rebirthing Breathwork Facilitator. She offers holistic movement, breath, meditation, and sound practices to help you feel nourished, connected, and empowered in your wholeness and belonging. Destiny's journey led her to facilitate holistic healing practices, as she witnessed powerful transformation and healing in her own life. Her deepest desire is to share these dynamic tools of liberation with others to help them feel nourished, accepted, balanced, encouraged and connected to their wholeness.