Getting your dance on is back on in Queensland! Come celebrate at Full Moon Disko THIS Sunday
About this Event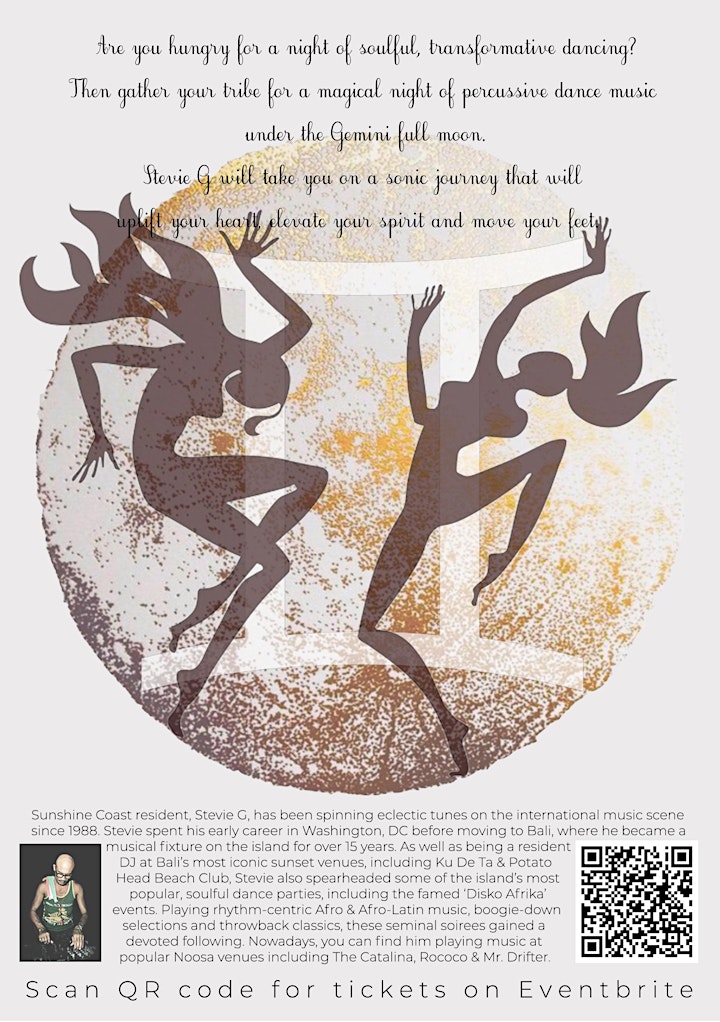 Are you hungry for a night of soulful, transformative dancing? Then gather your tribe for a magical night of percussive dance music under the Gemini full moon.
Stevie G will take you on a sonic journey that will uplift your heart, elevate your spirit and move your feet.
Mark your diary, spread the word and book your ticket as space is limited for this special event!
Kyeos on drums and also introducing Plantation Organic locals who will be serving home brewed herbal elixir drinks on the night! Elixirs are essentially herbal tea lattes that uplift your energy, great for enhancing your dancing
https://plantationorganicsnoosa.com.au/
https://instagram.com/plantationorganics_noosa?igshid=x9cd8jmqr2vu
MUSIC
Sunshine Coast resident, Stevie G, has been spinning eclectic tunes on the international music scene since 1988. Stevie spent his early career in Washington, DC before moving to Bali, where he became a musical fixture on the island for over 15 years. As well as being a resident DJ at Bali's most iconic sunset venues, including Ku De Ta & Potato Head Beach Club, Stevie also spearheaded some of the island's most popular, soulful dance parties, including the famed 'Disko Afrika' events. Playing rhythm-centric Afro & Afro-Latin music, boogie-down selections, throwback classics, these seminal soirees gained a devoted following. Nowadays, you can find him playing music at popular Noosa venues including The Catalina, Rococo & Mr. Drifter.