Description
The inaugural South Western Sydney Wellbeing Collaboration Symposium focuses on the wellbeing of people from refugee backgrounds and asylum seekers in South Western Sydney.


Aims of the conference
To bring together refugees, asylum seekers and local community services, to develop recommendations for policy makers and organisations

To focus on ways to strengthen mental wellbeing

Hear about and build on strengths in the refugee community

Discuss the diverse challenges to wellbeing,

Develop strategies for collective impact
Who sho
u

ld attend:
Representatives from refugee communities


Refugee support and cultural organisations


Researchers and academics


Representatives from health, social services, education, law, and religious institutions


Program
8am Registration
Opening Plenary
9am Welcome
9.15am Dr Munjed Munderes
9.45am Najeeba Wazafadost
10.05am Atem Atem
10.25am Phil Glendenning
10.45 Choir of Love
11am Morning Tea
11.30- 1pm Concurrent Workshops
Session A
A1 "Tell Your Story" Men's refugee Project- Dr Yulish Byrow (UNSW)
Applying Wellbeing to the Phases of Settlement- Tadgh MacMahon (SSI)
A2 Fitting in: Youth Culture and the wellbeing of people- Alexandra Long (MYAN)
An LGBQTI Refugee Experience- Richard Ezomoh (Australian Society of Viral Hepatitis HIV and Sexual Health Medicine)
A3 Living in Uncertain Times- Kerry O'Neill (Asylum Seeker Resource Centre)
ADAPT- A program for newly arrived refugees- Professor Silove (UNSW)
A4 Wellbeing for people with disabilities: Sandy Eagar (NSW Refugee Health Service)
Settlement and Disability: Iman Partoredjo (Western Sydney Migrant Resource Centre)
A5 Improving Mental health literacy of refugee communities: Lessons for mental health
promotion- Dr Shameran Slewa- Younan (WSU)
Living Well: Recovering from Trauma and Torture- Andrea Pritchard (STARTTS)
A6 Resiliency and Self Agency in Refugee Communities: Om Dhungel
Community Builiding: Dor Achiek
A7 The Afro-Latino Women's Partnership- Amparo Landman (GRUMAST)
Older people in cultural transition: Growing Older in a different culture- Sue Cunningham (STARTTS)
1pm Lunch
2pm3-30pm Concurrent Workshops
­Session B
B1 Women Led Housholds- Gail Westcott and Shrijana Sangroula (SSI)
I am settled, now what? Social Determinants and degrees of disadvantage- Jasmina Bajraktarevic- Hayward (STARTTS)
B2 Family Reunification as an enabler of wellbeing- Sahar Okhovat (Refugee Counil of Australia)
Law, policy and mental health of refugees- Rebecca Eckard (Refugee Council of Australia)
B3 Faith and Wellbeing: Interfaith panel- Sheik Sayed, Pastor Sami Youkhana and An Abbot Phalla Lonh
Safety and Inclusivity: The Impact of racial and religious tolerance to the wellbeing of refugees- A human rights perspective- Shukufa Tahiri (Refugee Council of Australia)
B4 Football United: Dr Ann Bunde-Birouste (Football United)
Oceans without Borders- Brett Hattfield (Refugee Health)
B5 Guarding Against Exploitation- Catherine Robinson (Red Cross)
B6 Education of young Refugees- Milad Kader (Lived Expereince)
Settlement and Learning for Primary Schools- Deserae Horswood (UNSW)
Creativity and Wellbeing: Bashar Hannah (Prairiewood Highschool)
B7 Capacity Building – Mahir Momand (Thrive Enterprise)
Social Enterprise- Issam Chahola (SWSLHD)
3.30pm Afternoon Tea
Wrap Up Session
4pm Playback Theatre
5pm Close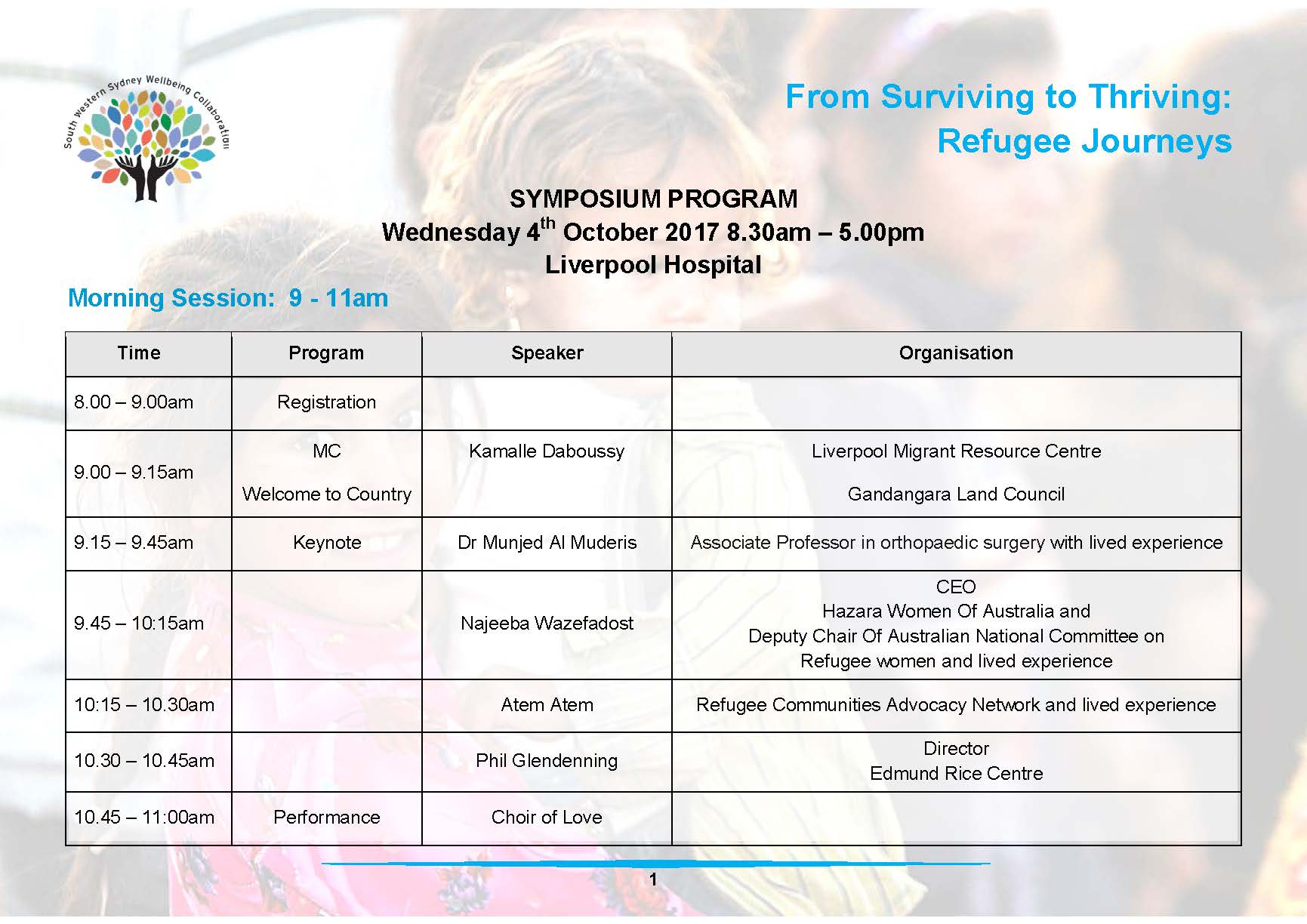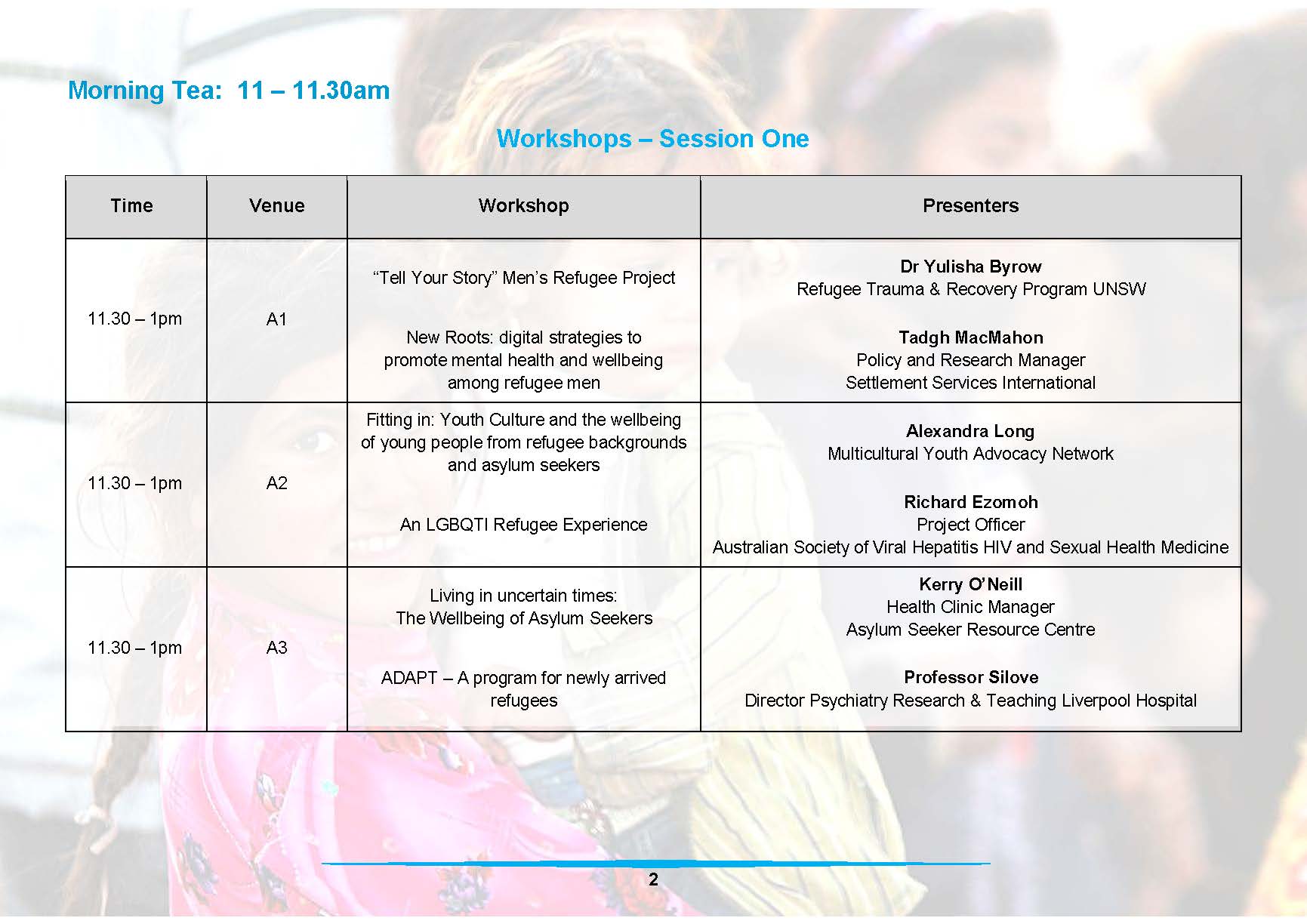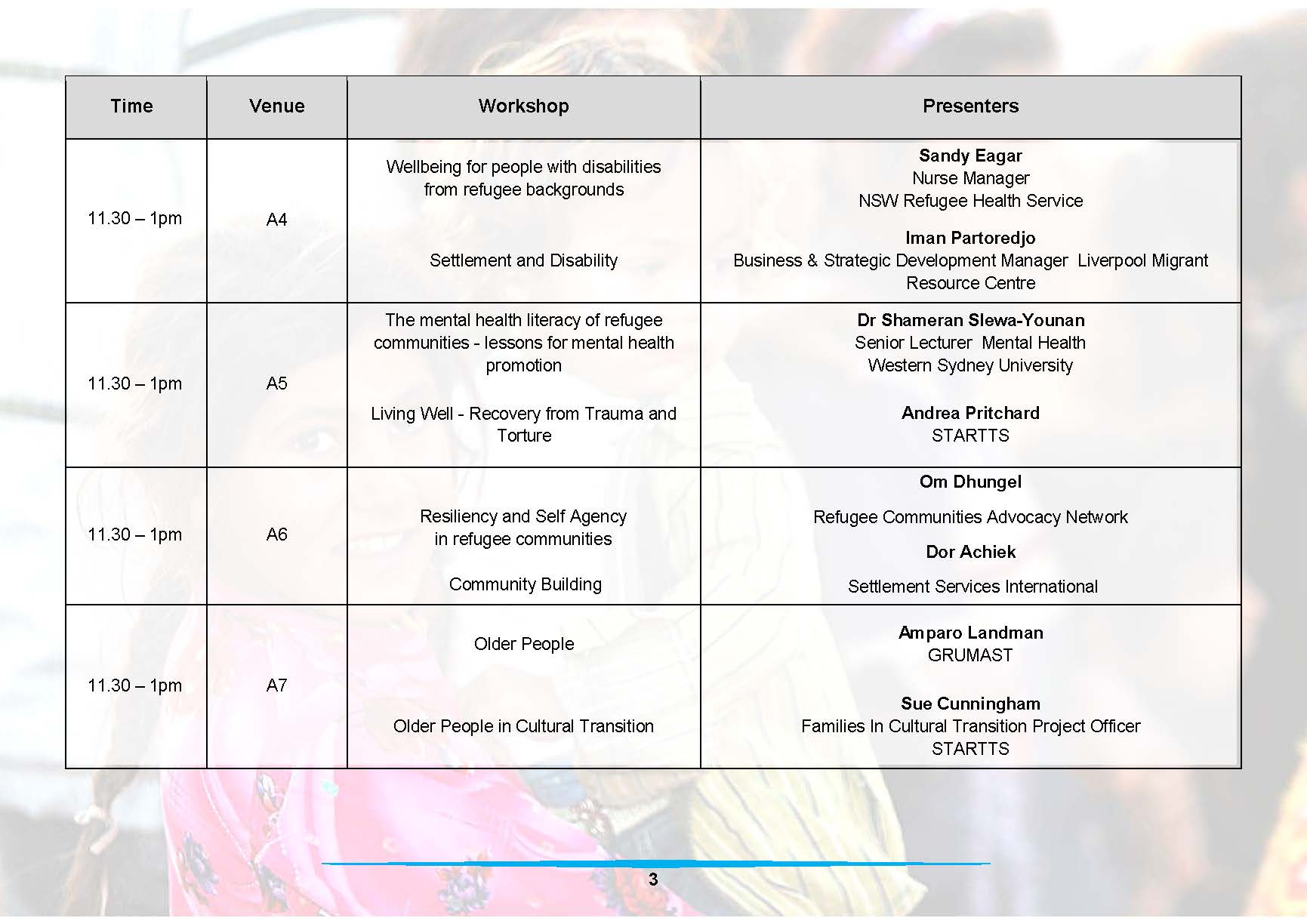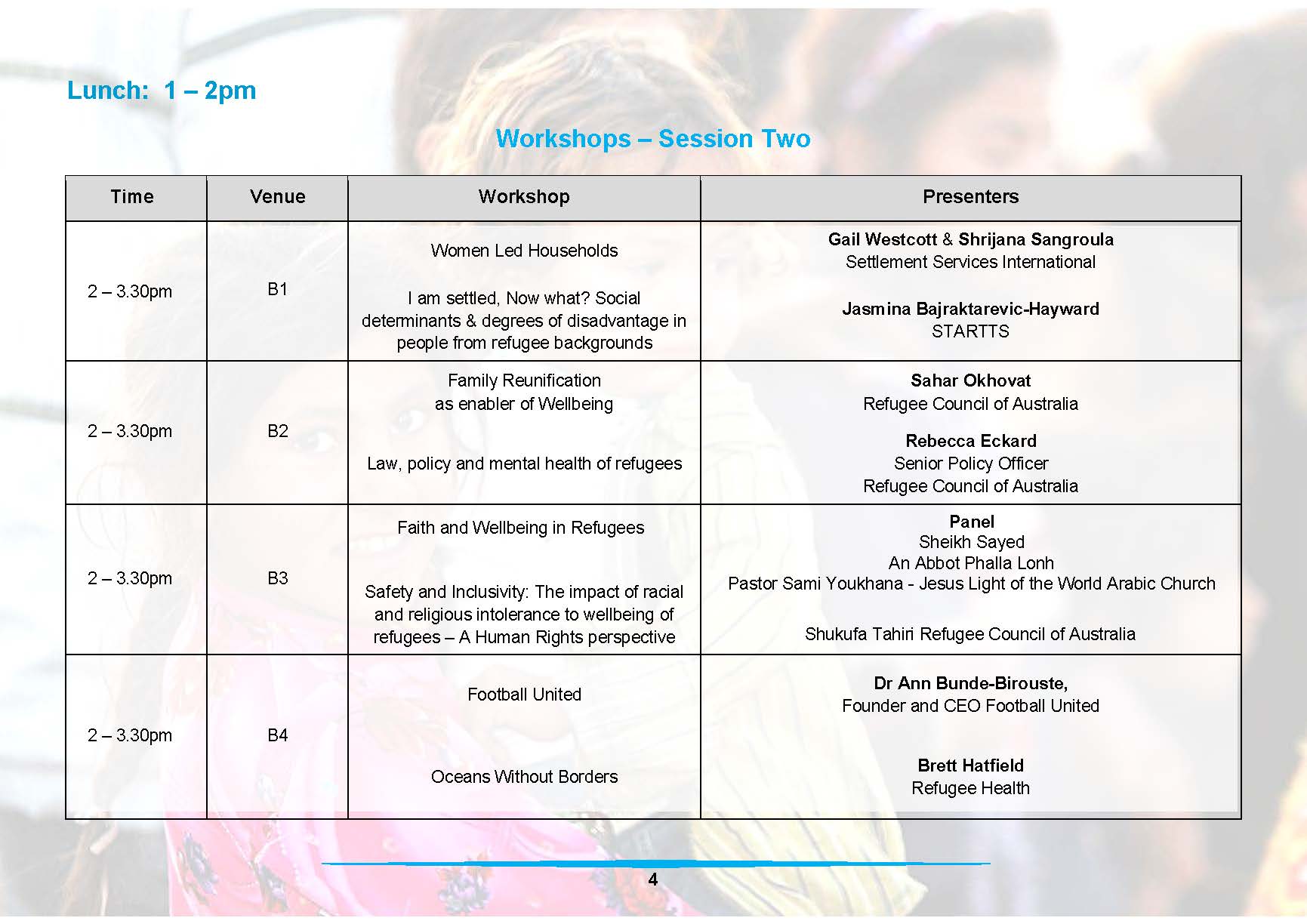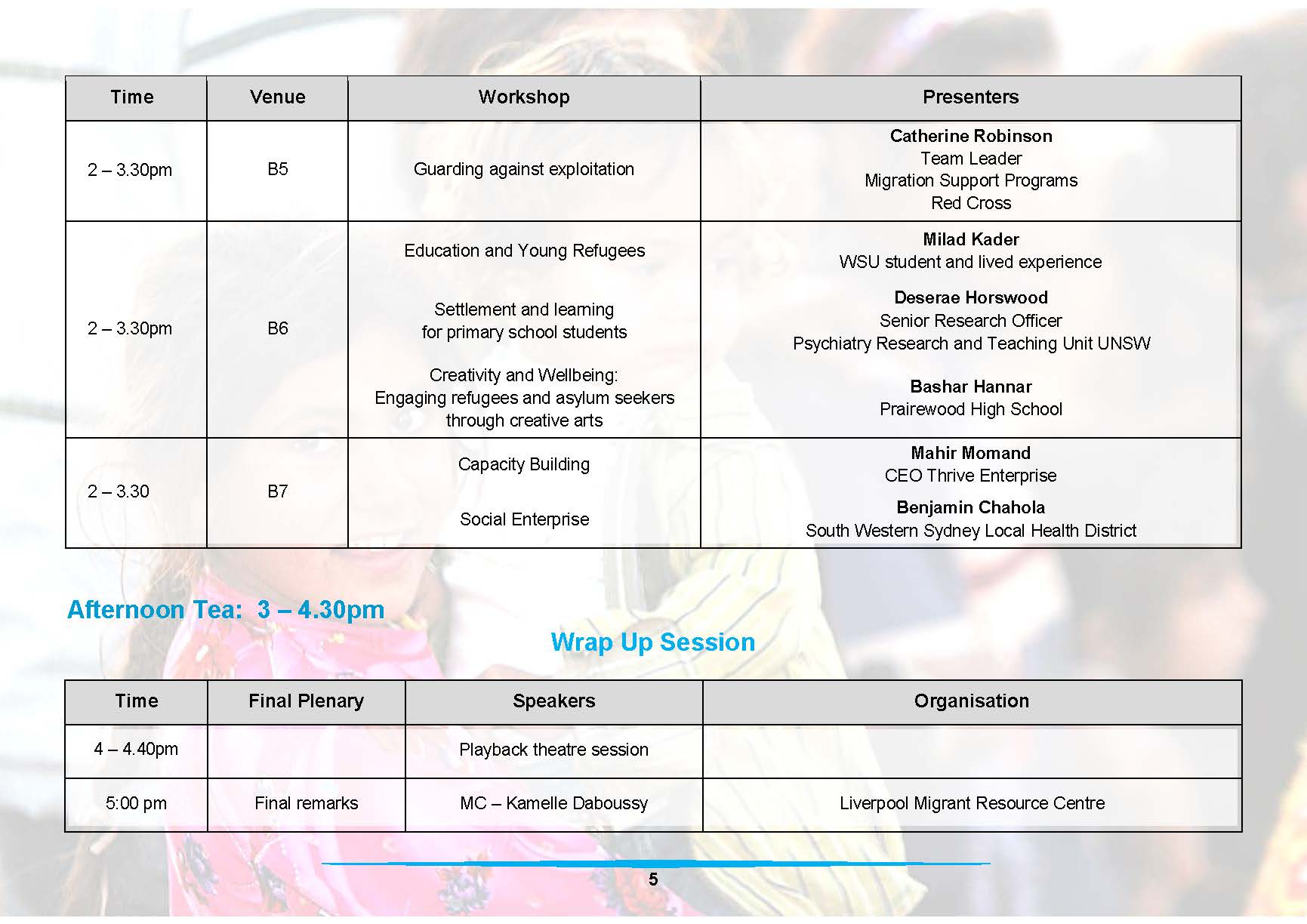 Cost
Early Bird registration (closes 18th September ) $80
Full registration $100
Scholarships will be available to refugee and asylum seeker participants through partner organisations
FAQs
What are my transport/parking options for getting to and from the event?
Parking
Car parking is available for a cost under the Thomas and Rachel Moore Education Centre with further spaces available in the multi-storey parking station in Campbell Street.
https://www.swslhd.nsw.gov.au/liverpool/parking.html
Map
http://www.swslhd.nsw.gov.au/liverpool/pdf/Liverpool_Map.pdf
Transport
http://www.swslhd.nsw.gov.au/cewd/pdf/venues/Liverpool_TAG.pdf
How can I contact the organiser with any questions?
Please contact Emily on 46836000 or emily.mason@sswahs.nsw.gov.au