Description



"Enjoying whisky shouldn't start when the dram touches your customers' lips, it should be an event to anticipate, a noteworthy encounter, a special meeting."


Meet like-minded whisky enthusiasts and sample the world's finest single malt whiskies with Tom Fastier and Servcorp.
The evening will see you spoiling your palette with a selection of William Grant & Sons' finest whiskies.
This exclusive opportunity will boost and upskill your knowledge of whisky. Tom will guide you through the seven drams of William Grant & Sons' whiskies curated for this event, and share his top fail-safe tips on Whisky 101.
You will gain a better understanding of how to pair it with cheeseboard and delicacies, use it as a base for menu inspiration, and learn of new and novel ways to marry your dining and bar experiences. Or perhaps you want to know how William Grant & Sons' whiskies can be put in front of your customers?

Whatever your reason may be, this Community Meets is a must to attend.

About Tom Fastier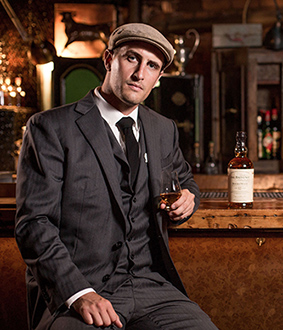 Tom Fastier is the New Zealand National Spirit Ambassador to Glenfiddich and The Balvenie.
Surrounded by some of the world's best whisky, Tom gets to share his love of a good yarn while imparting his knowledge of what makes a good dram. He is passionate about whiskies and dedicated to ensuring everyone who comes into contact with Glenfiddich and The Balvenie in New Zealand have an unbeatable experience.
About William Grant & Sons

William Grant & Sons is a family-owned Scottish company which distils Scotch whisky and other selected categories of spirits. It is the largest of the handful of Scotch whisky distillers remaining in family ownership.
In 1887, William Grant set out to make the best single malt whisky in the Scottish valleys. Stone by stone, he and his nine children spent a year building the distillery he named Glenfiddich – Valley of the Deer. More than 130 years later, William's legacy is the most awarded single malt whisky in the world.

William Grant & Sons The Balvenie is Scotland's most hand-crafted single malt. Hands have been favoured over mechanical temptations, expertise developed and refined, and ambition has remained strong and true to master their five rare crafts.

Door Prize:
Bottle of single malt
Wholesale rate whisky available for purchase after the event.
Getting there:
Airport: 30 - 35 minutes by taxi from the Auckland Airport.
Train: Short walk from Britomart Station.
Bus: Departs outside PwC Tower.
Questions: If you have any questions of the event, please contact Tanzi Rose, tanzi.rose@servcorp.co.nz or 09 363 2700.

Please note that the number of tickets are strictly limited at this event.