From a War on Waste to Creating Wealth in the $Trillion Circular Economy

Tuesday, 11 September 2018 from 12:00 pm to 2:00 pm (AEST)
Event Details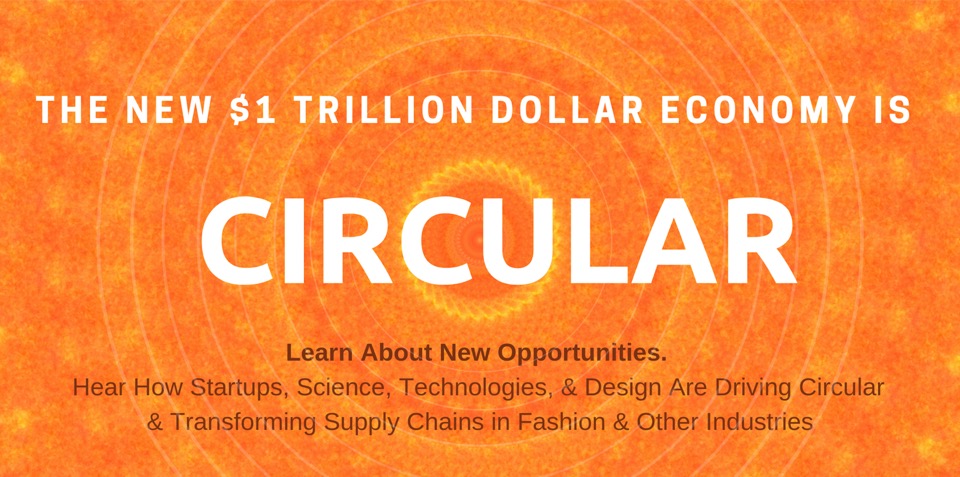 From War on Waste to Wealth Creation in the Trillion Dollar Circular Economy
Exploring New Opportunities & the Circular Economy
The World Economic Forum* has stated that continued wealth generation and growth will come from a circular economy which values natural capital and stops wasting materials, energy, products and assets. 
What is The Circular Economy?
"A circular economy is an industrial system that is restorative or regenerative by intention and design. It replaces the end-of-life concept with restoration, shifts towards the use of renewable energy, eliminates the use of toxic chemicals, which impair reuse and return to the biosphere, and aims for the elimination of waste through the superior design of materials, products, systems and business models"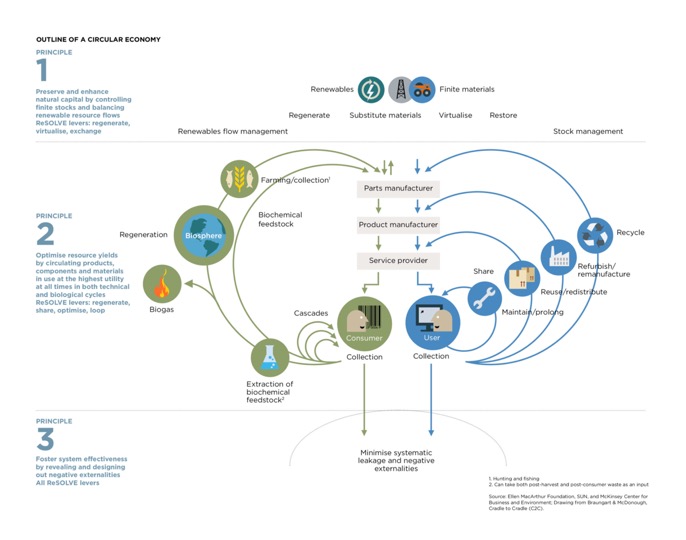 The transition away from a 'take-make-dispose' culture and toward a circular economy is driven by necessity, awareness and opportunity.  


We need to make this transition, to avoid a myriad of problems - such as the estimated 8 billion ton gap between natural resource supply and demand that would otherwise be created by 2030**.
As citizens and consumers, we're more aware of the problem with initiatives such as the "War on Waste" targeting problematic areas including fashion and food.
The Circular Economy is a massive opportunity - which could unlock a tremendous $4.5 trillion in growth by 2030**.  
So how do we transition to the Circular Economy?
What principles, materials, design, manufacturing, business models, and trade work in the Circular Economy?  
Who's successfully making and accelerating the transition?
What are the opportunities in the Circular Economy? 
Why is the multi-trillion dollar bioeconomy (biology & bioscience economy) important to the circular economy?
We will explore these questions and more.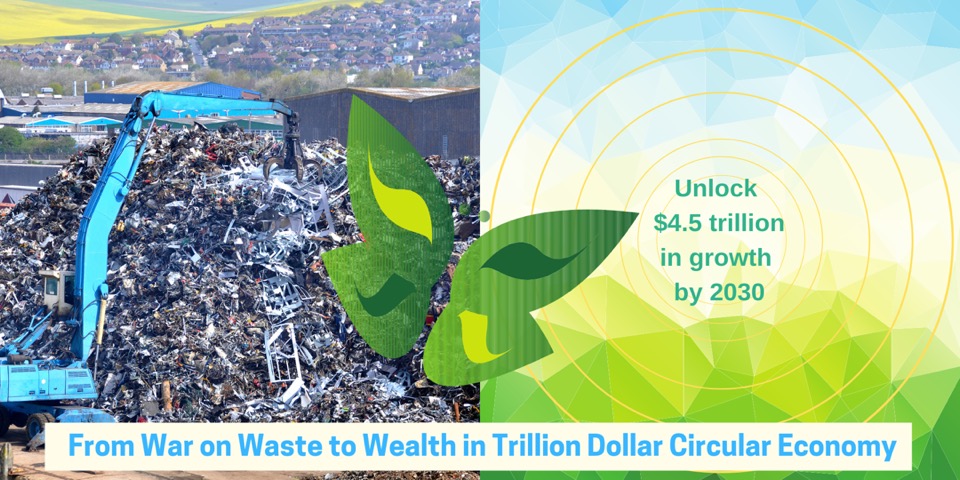 The Event:
Please join us for:
A diverse line up of Guest Speakers sharing experience & expertise

: Be informed & inspired by the opportunities with the circular economy.  Learn by examples targeting the fashion industry - wherein scientists, designers, researchers, innovators & entrepreneurs are imagining & unlocking new possibilities - including new materials, new businesses, and new technology platforms, to solve problems and create new value and wealth.

A showcase of some exciting inventions, creations, ventures & a technology platform

 embracing circular economy principles

A Panel Discussion: 

providing a forum to ask questions, 'what if', & hear diverse viewpoints, including from a founder, scientists, technologists, entrepreneurs, innovators, business advisors & experts

Connecting:

 connect with our diverse community including innovative startups, business leaders, educators, social change agents, professionals, industry representatives, government, students, & scholars.

 

Fashion Startup Weekend:

 hear more about Australia's Fashion Startup weekend by QUT Creative Industries Australia and get a headstart on problems worth solving & opportunities to pursue at this special forum.
Join us for inspiration, connection and opportunity enablement!
DETAILS
Why Focus on The Circular Opportunity?
We are focussing on the circular opportunity because of: the necessity; the awareness; and; the opportunity.
The necessity:
We need to make the most of the value inherent in materials, products, parts, and assets.
Our linear model of resource consumption is wasteful, harmful and unsustainable.   Resources are extracted and harvested to create products for mostly single-use and, once used/consumed, these products largely end up as waste or incinerated. Many billions of tonnes of raw materials enter the economic system annually -  with primary inputs increasing to an estimated 82 billion by 2020*.  This is straining our systems on which we depend - and cannot be sustained. Plus the demand for natural resources will soon exceed supply, causing significant problems. Already, we see this model gives rise to corporate and supply chain risks, including from higher resource prices, volatility and disruptions to supplies.  
There is an imperative to do more with less - and scale an economy based on circular principles.

The awareness:
Organisations including the World Economic Forum have warned multiple "trends indicate the power of the linear model is reaching its limits".  
As consumers we are now more aware of our 'waste problem', including with the #WarOnWaste initiative. Plus we're expecting more of companies and brands in relation to their impact on the environment and society.
Many businesses, innovators and entrepreneurs have realised 'circular' principles can be good for business, stakeholders, and the environment.  Decoupling revenues from material inputs can also realise economic benefits.
In industrial contexts, early adopters of circular principles have been profitable by implementing operational changes and new business models. Such changes include: re-manufacturing processes; re-design of products and parts; better management of materials for retention of (technical and economic) value in products across life cycles; and recycling, upcycling, and downcycling.
New business models need to balance valuing natural capital, customer needs, and business needs, including revenue and profit generation.  There are numerous business models which can enable this.
The opportunity:
New knowledge, discoveries, and inventions can enable new opportunities - and we have many here at QUT to show you (including from science, engineering, design, fashion, and the Institute for Future Environments (QUT IFE)).
According to the World Economic Forum* and Accenture**:
The circular economy is worth at least $1 trillion*

It will unlock $4.5 trillion in growth by 2030**

The concept of 'circularity' can drive R&D, innovation, value creation and new business opportunities for the global economy.

Circular economy businesses can increasingly gain a competitive advantage for greater value from resources (and savings, including from higher resource prices and landfill).

Supply chains are key to accelerating the growth of the global circular economy.

There are successful supply chains based on circularity.
Business Models
Business models helping to drive the circular economy include:
platforms for efficiently sharing & trading things

product-as-a-service (shifting from transacting for consumption to service relationships)

product life-extension, recovery & recycling

subscription models
Bioeconomy
<p style="margin: 0px; padding: 0px; line-height: normal; color: #666a73; font-family: 'Benton Sans', -apple-system, BlinkMacSystemFont, Roboto, 'Helvetica Neue', Helvetica, Tahoma, Arial, sans-serif; font-size: 15px; text-align: justify;" data-mce-style="margin: 0px; padding: 0px; line-height: normal; color: #666a73; font-family: 'Benton San
Have questions about From a War on Waste to Creating Wealth in the $Trillion Circular Economy?
Contact QUT foundry
When & Where

OJW Room
Level 12, S Block
QUT, 2 George Street
Brisbane City, QLD 4000
Australia

Tuesday, 11 September 2018 from 12:00 pm to 2:00 pm (AEST)
Add to my calendar