Description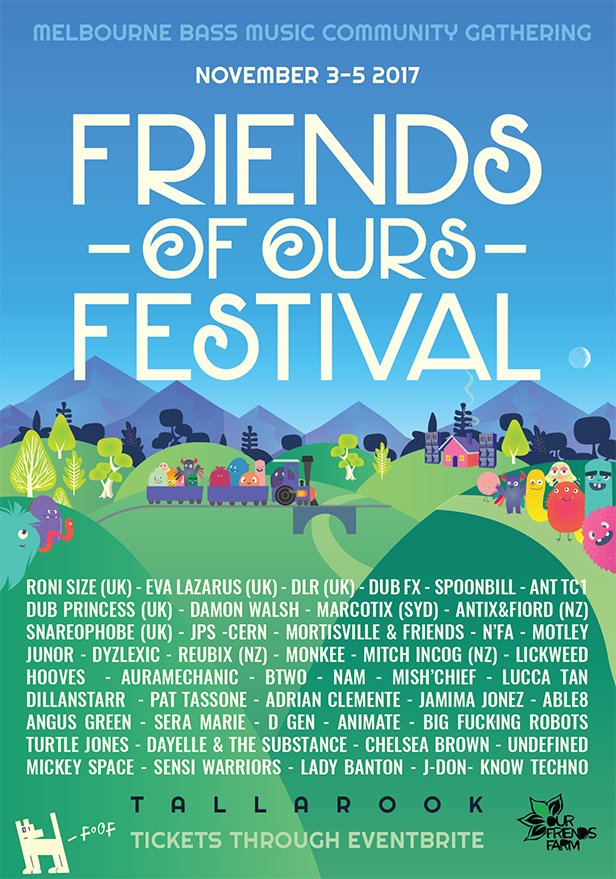 Come play at our house!!

The team behind Brunswick party palace, Rubix Warehouse, Free Dope, Techno Mansion and a lengthy list of Melbourne's best underground parties, are paving the yellow brick road to the ultimate happy place, for all who dare to stare down the looking glass.

The Rubix crew have taken over a 221 acre farm only 1 hour out of Melbourne and your invited to the house warming party, of the century. This Melbourne cup long weekend Nov 3-6, join the whole family as we celebrate the launch of Our Friends Farm – Melbourne's newest and largest outdoor venue and the home of the Rubix crew.

Dig out your doof gear, this party goes for 3 days, complete with boutique waterside and tree line camping, endless million dollar views and all your closest friends dancing under the stars to the most ridiculous line up any house warming party has ever plugged in!

The venue previously known as 'Bruzzy's Farm' has been home to Boogie Fest and EVIE for the last 11 years, designed and built specifically for outdoor festivals and large events creating endless fields of fun for the Melbourne music and art community, so BRING YOUR TOYS!!!

Tickets are a super friendly $100 bucks pre sale, and gets you into the farm from Fri – Mon and the after party at Rubix on Monday night (cup eve).

Get $100 presale tix here (more on the gate): bit.ly/FriendsOfOurs2017

Feat: Roni Size, Dub Fx, Spoonbill, Eva Lazarus, Dub Princess + heaps more of the awesome friends we've made through Rubix and the Melbourne music scene over the last 10 years!

LINE UP!!!

RONI SIZE - EVA LAZARUS (UK) - ANT TC1 - DLR (UK) - DUB FX - SPOONBILL - DUB PRINCESS (UK) - DAMON WALSH - MARCOTIX (SYD) - ANTIX/FIORD (NZ) - SNAREOPHOBE (UK) - JPS -CERN - MORTISVILLE & FREINDS - N'FA - MOTLEY - JUNOR - DYZLEXIC - REUBIX (NZ) - MONKEE - MITCH INCOG (NZ) - LICKWEED - HOOVES - AURAMECHANIC - BTWO - NAM - MISH'CHIEF - LUCCA TAN - DILLANSTARR - PAT TASSONE - ADRIAN CLEMENTE - JAMIMA JONEZ - ABLE8 - ANGUS GREEN - SERA MARIE - D GEN - ANIMATE - BIG FOOK-ING ROBOTS - TURTLE JONES - DAYELLE & THE SUBSTANCE - CHELSEA BROWN - UNDEFINED - VERSE@ILLE - JDON
_____________________________________
LOCATION: 'OUR FRIENDS FARM' - Tallarook, VIC (1 hour from Melbourne CBD)

WHEN : 3 - 6 November 2017
Gates open Midday Friday 3rd November
Gates close 5pm Monday 6th November
___________________________________________
HOW TO GET THERE

BY CAR (1 hour from Melbourne CBD) - Drive straight up Sydney rd until you reach the Tallarook turn off then look for the FOOF signs.

BY TRAIN - 2 hour train ride from Southern Cross to Tallarook. Free shuttle busses will be operating between the festival and the train station.

CARPOOL - Pile in to minimise environmental footprint and save space for more campers.

GET A SEAT ON THE PARTY BUS - Need a ride to the farm?? FOO got you covered.
Get a bus pass here through this ticket page.
~BUS TIMES~
~Leaving Rubix (36 Phoenix St Brunswick)~
Friday Nov 3rd - 12pm, 8pm, 3am (after free dope)
Saturday Nov 4th - 10.30am, 2pm, 7pm
Sunday Nov 5th - 11.30am
~From FOO (Tallarook)~
Friday Nov 3rd - 6pm, 1.30am
Saturday Nov 4th - 9am, 12.30pm, 5.30pm
Sunday Nov 5th - 10am
Monday 1pm
____________________________________________
BOOK A PIMP TENT

Don't want to haul out your camping gear? never fear.. we've got a whole bunch of 4 x 4 pimped out camping set ups that you can can just rock up and move into.
Each tent sleeps 4 and comes with bedding so all you gotta bring is your party pants.
One night = $250 ~ Two nights = $350 ~ Three nights = $450
Email ourfriendsfarm@gmail.com for more info or click this link to book one > http://bit.ly/2zDmTR2
____________________________________________
SUSTAINABILITY POLICY

- All recycling (even food scraps) is done on site so please put your rubbish in the correct bins provided during the festival and leave your campsite how you found it when you leave.

- LEAVE NO TRACE: Please take what you bring and only bring what you need. This is our home, lots of animals live here too and the farm

- Strictly no glass permitted on site, there are over 200 sheep who live on the property and they don't like walking on glass anymore than you do. Any glass brought into the festival will be confiscated.

- Showers and drinking water provided throughout the camp sites, please be mindful of water usage as the whole property survives on tanks.

- Bring a reusable drinking vessel.

- Bars and food vendors to use bio degradable straws and cutlery.

- Please be mindful with your purchases before coming to the festival and shop locally where possible.
_______________________________________________

FAMILIES

This is a child friendly event. We encourage families to come and enjoy the adventurous weekend at the farm. All children must be cared for by a responsible adult at all times. We suggest pitching up with other friends with families so you can take turns on free time.
Kids under 12 get in for free but you MUST get a free kids ticket through eventbrite. You may be asked for proof of age for older kids.
_________________________________________________
GATE TIMES

Gates open midday on Friday 3rd November.
All campers must be off site by 6pm Monday 6th November
______________________________
AFTER PARTY

The party will continue on Monday 6th (cup eve) at Rubix Warehouse from 2pm 3am- Lineup announced soon... your festival ticket also gets you into the after party ;)
Rubix Warehouse ~ 36 Phoenix St ~ Brunswick ~ 2pm - 3am
_______________________________________
GET INVOLVED

Work at FOO: kirsten@rubixwarehouse.com
Play at FOO: tanz@rubixwarehouse.com
Vollunteer Register : https://goo.gl/forms/mycprJOoHbOM41uU2
________________________________________
TICKETS ON SALE NOW THROUGH EVENTBRITE

FIRST RELEASE $100 - SELLING NOW
More on the door..

Ticket price includes camping from Fri Nov 3 - Mon Nov 6 plus the after party at Rubix Warehouse on Monday cup eve.

TICKET LINK: http://bit.ly/FriendsOfOurs2017
FACEBOOK EVENT PAGE: https://www.facebook.com/events/1970557656537656/
SEE YOU AT THE FARM!!!!